A hand grip camera strap keeps your camera in your hand giving you a secure grip on your camera at all times. A hand grip camera strap is great to be used by photographers, as it prevents them from accidentally dropping their camera.
A hand grip camera strap is a very important accessory as it improves your response time as a photographer. You can respond faster since the camera is in your hand.
There are different camera straps, in this article we will be reviewing the best hand grip camera straps you should pick from if you are considering buying a hand grip camera strap.
Best Hand Grip Camera Strap to pick from
#1. Peak Design CL-3 Clutch Camera Hand Strap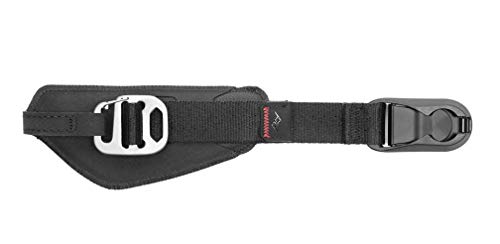 The Peak Design CL-3 Clutch Camera Hand Strap is a hand grip strap made from nylon, hypalon, and aluminum, and is best for all photographers.
Peak Design is a popular brand known for having the best photography accessories, their hand grip camera strap is no exception to this. Peak's CL-3 is of a good quality, affordable, and serves its purpose well. Very suitable for photographers from all levels.
Photographers are assured of security when working with heavy cameras, as well as with DSLR and mirrorless cameras. Its camera anchors can hold up to 200 lbs. (90 kg.) very tightly so your camera doesn't come loose.
The materials this hand grip is made of are very reliable, we have the Hypalon strap which is strong and durable, the aluminum adjuster is a robust piece of hardware, and the microfiber pad is quite comfortable for the user.
With its aluminum clutch adjuster, you can tighten the strap against your hand, and keep it tight so you have control of your camera. However, the tightness is adjustable, you can loosen it when it is too tight.
The CL-3 is compatible with DSLR cameras, including Nikon, Canon, Pentax. It is also tripod compatible, that is you can use it with a tripod.
You can get this camera on online retail stores like Amazon. Etsy, etc.
#2. Altura Photo Rapid Fire Grip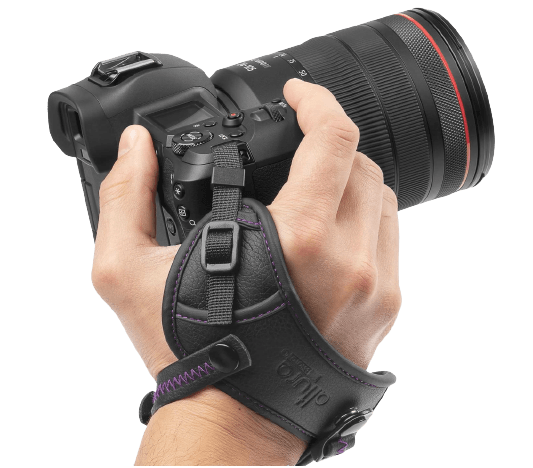 The Altura Photo Rapid Fire Grip is the second on our list, another best hand grip camera strap made of leather and nylon. It is best for full frame mirrorless and DSLR cameras.
The Altura grip camera strap gives users comfort and control. It has a large padded section for the back of your hand, with a wrist strap that keeps the camera secure and prevents accidental drops.
Tightening the straps to make you comfortable takes a while, but if you get it right, be assured of security.
The Altura hand grip strap is very strong, durable, and reliable when shooting. Very compatible with major camera brands such as Sony, Nikon, and Canon. Also it goes with the best Olympus and Fujifilm cameras and very suitable for all photography styles.
There are two connectors you can use to attach the Rapid Fire Grip. The top of the padded strap connects to the camera's strap ring, the lower part has a mounting plate that screws into the tripod mount at the bottom of the camera. Once you have connected it this way, it offers you a great deal of protection.
The Altura Photo Rapid Fire Grip is versatile, that is it can be used by any kind of photographer. It is also very affordable.
#3. Peak Design Cuff Wrist Strap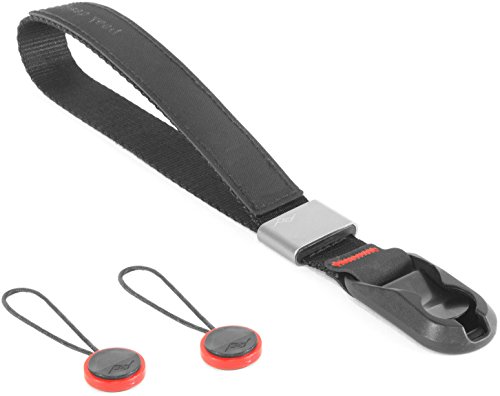 The Peak Design Cuff Camera Wrist Strap is made by the Peak Design brand, the strap type is a wrist strap made from nylon and leather materials. It is best used for APS-C mirrorless and compact cameras, but in a way can be used by any kind of photographer.
The Cuff wrist strap has a dynamic anchor, with a quick-connecting buckle. It is the perfect blend of form and function, and serves the exact purpose it was made for.
The fact that it is made out of nylon makes it feel smooth against the wearer's skin. Because of that it is less likely to cause chafing or discomfort even when the user is shooting for long periods. You can easily adjust the size of the strap loop with a slider, the padded leather section gives extra durability and comfort.
The anti-abrasion anchors help the wrist strap hold the camera so well. This grip supports weights up to 200 lbs. (90 kg.). All in all Peak Design's cuff wrist gives you the control and mobility to move the camera quickly as you want.
#4. VKO Camera Wrist Strap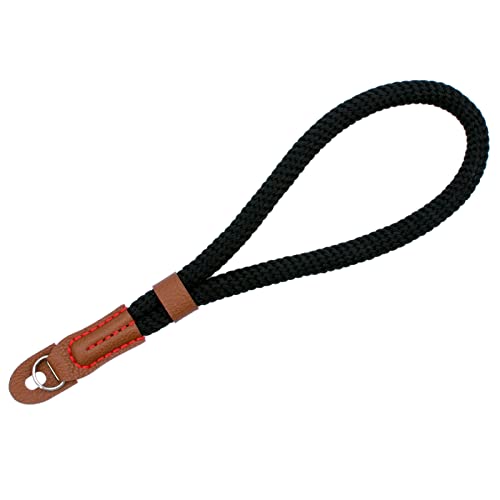 The VKO Camera Wrist Strap is a product of the brand VKO, it is made out of Microfiber leather, and nylon. It is really lightweight, weighing only 0.5 oz. / 16 g, the good thing is it can fit into your pocket.
The soft nylon the strap is made of gives the users a gentle feel on their skin so no chafing or discomfort. It is strong for cameras with a bit of heft, like the Canon AE-1. It has a leather hoop adjuster that allows you to tighten it around your wrist and gives you a more secure hold on your camera.
This wrist strap looks great with any camera, go for it if you are using a point-and-shoot camera. It's also perfect for street photography cameras. And that's why everyone needs one in their camera backpack.
#5. USA Gear Professional Camera Grip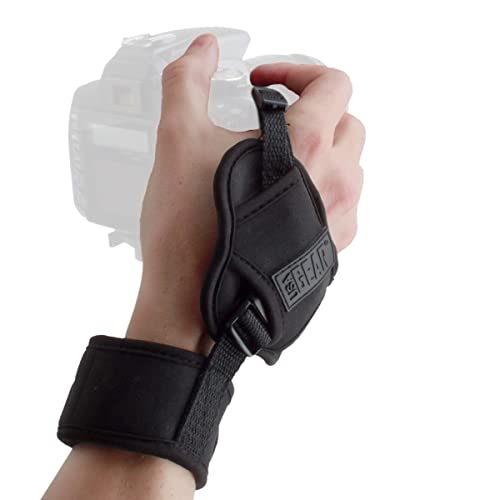 The USA Gear Professional Camera Grip is a product of the USA Gear brand. It is a Hand grip strap type made of nylon and neoprene
It is a wrist support strap, with a quick-release buckle. The USA Gear hand strap has a two-point connection system that hooks onto the top and bottom of your camera simultaneously. The bottom connection screws into the tripod mount so no need to fear it will slip off your hand.
If you are on a tight budget, check out this hand grip camera strap with its affordable price. It is also suitable for heavy cameras and DSLR cameras.it is also perfect for heavy full frame mirrorless cameras. This hand strap pad ensures comfort, you can adjust it to a tight fit. It also comes with a wrist strap that gives you added security, providing wrist support, distributing the weight of the camera, whilst helping you shoot longer without you feeling pain.
#6. AQAREA Camera Wrist Strap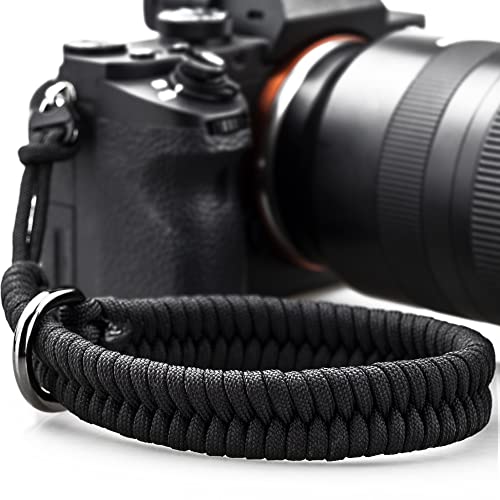 The AQAREA camera wrist strap is made from parachute rope and leather. It has a metal ring and a leather loop. Very suitable for casual Photographers
This strap is made from real parachute rope making it super strong. There is a metal ring that you can loop back on itself. It slides up and down the rope to be tightened around your wrist.
The parachute rope is strong but also very lightweight. You can use this wrist strap with full frame cameras as well as smaller, more compact cameras.
#7. Gitzo Century Leather Hand Strap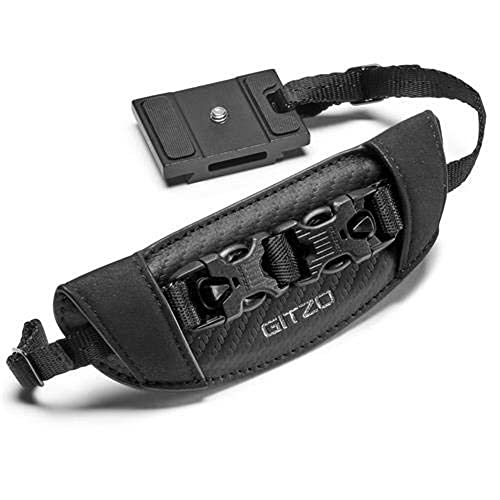 Gitzo Century Leather Hand Strap is a hand grip strap made from leather and nylon. There is a base plate with adjustable clips. It has a simple D-shaped design, and the hand strap provides extra support when shooting by hand. You have full camera control when using a tripod. The base plate here is attached to the tripod mount, but you can use a tripod and the camera strap simultaneously.
Made of Italian leather that is soft and subtle, causes no irritation but provides extra security and support. You can adjust the strap to fit you tightly.
#8. JJC Pro Hand Grip Strap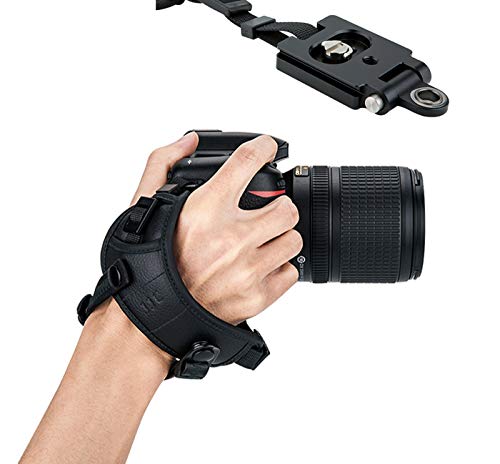 This hand grip strap is made from microfiber leather and nylon. It has a wrist support strap, comes with an Arca-Swiss plate, and is tripod compatible. mirrorless camera users will definitely love this grip camera strap. It offers users the much needed security. Because the hand straps have cushioned padding that helps you hold even heavy cameras and lenses, without fear of it slipping off. Also the adjustable wrist straps provide added security because they are padded, so you won't experience any irritation.
The Arca-Swiss quick-release base plate keeps your camera attached and suitable to use with heavy-duty or travel tripods.
It works well with Sony cameras, Panasonic cameras, Fujifilm and Olympus cameras.
#9. Altura Photo Wrist Strap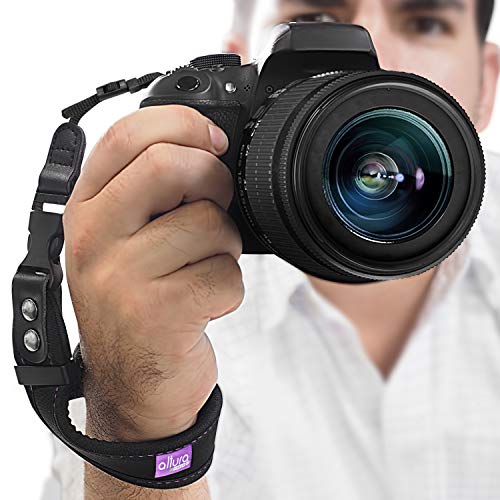 The Altura photo Wrist strap is made of neoprene, and best for heavy cameras. It has a quick-release connector, a tightening hoop, and a quick-release camera system
This secure wrist strap can handle large and heavy cameras as it boasts of strength and durability. Its ultra-secure design can keep your camera safe.
You can also pull down the hoop to tighten the strap around your wrist. Then use the quick-release connector to easily connect and disconnect.
#10. Ricoh GS-2 Leather Hand Strap with GR Logo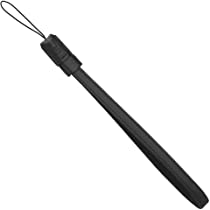 The Ricoh GS-2 is a simple leather hand strap designed to protect the camera from falling. Photographers who don't need extra hand support and just want to have a small strap around their wrist to protect the camera can go for this brand. It gives you the control you need of you camera, while giving you comfort at the same time.
#11. Spider Holster V2 Camera Strap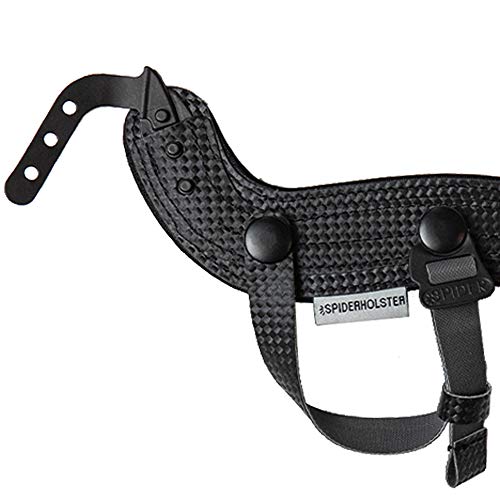 The Spider Holster V2 Camera Strap is made from Hypalon. If you want a hand grip camera strap with a compact hand grip strap, here's one for you.
There are three snap connections for added security. This brand is known for making them slim and not bulky. Even with its slim state, it can support heavy cameras.
The hand strap has foam padding covered in a soft material to give you the comfort needed to shoot for hours.
Is a hand grip camera strap better than a neck strap?
A brand new camera comes with a neck strap, but a  hand grip camera strap is an add-on accessory. A hand grip camera strap is worn on the hand, while the neck strap is for the neck. A hand grip camera strip is a better option. This is because, if you are using a neck strap for heavy cameras, you will get fatigue in your neck. 
Also neck straps let the camera hang against your body when you're standing upright, when you lean forward or turn quickly, the camera can swing and sway. Causing knocks that can damage your camera.
A hand grip camera strap is free from these issues. When you hold your camera with a hand grip, you gain better control. Also, the camera's weight will be distributed across the hand and arm, thereby stopping a chafing of the wrist and helps avoid fatigue in your hands, wrists, and arms.
We recommend the Peak Design CL-3 Clutch Camera Hand Strap which provides a secure grip for your camera, the Altura Photo Rapid Fire Grip for its versatility, and the Altura Photo Wrist Strap because it is the strongest wrist strap.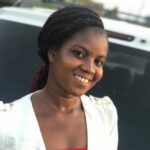 I am an experienced tech and innovation writer. It's been 2 years+ I started writing at Terecle, covering mostly Consumer electronics and Productivity. In my spare time, I enjoy reading and learning the latest happenings around the tech ecosystem.
Was this article helpful?