The Ultra-luxurious British car designers manufacturers and marketers simply and popularly referred to as Bentley has again launched a 2023 Bentley Continental GT. I'm certain you are eager to see what this Sedan is equipped with, that there is exactly what this article is dedicated to, as well as to guide fervent lovers of grandeur and class to know exactly where to invest their money.
Bentley has done amazingly great for its name, we can think of just a few automakers that competes in its class as well as tackle a cross-country drive like the 2023 Bentley Continental GT.
As a grand touring car the 2023 Bentley Continental GT comes in two trims, one as a coupe body type and the other as a convertible, both of which has two doors and offer upper-class styling and sumptuous luxury considered worthy their six-figure price.
Bentley isn't apologetic about class which is carefully engraved in their use of the choicest, finest, and best materials such as fragrant leather, rich wood, and textured metal and the likes packed with features to make the journey both very comfortable and sport-like agility.
2023 Bentley Continental Gt Features
What's New for 2023? Well, the most striking addition to the 2023 Bentley Continental GT is it new S trim which is added to both the Continental GT coupe and convertible lineup for 2023.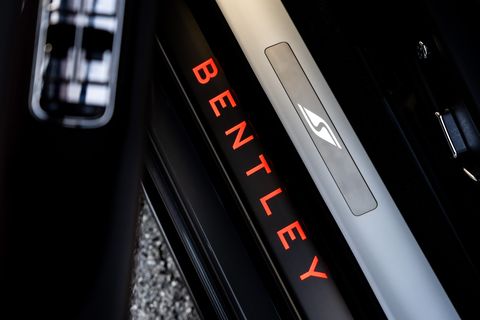 The special model are perceived to be more sophisticated and aggressive due to it blacked-out exterior trim, there is also a sport exhaust system, and quite unique wheel designs. The S is particularly available only with the V-8 engine, and a variety of S badges adorn the plush interior.
Exterior colors available
Blue options include: Portofino, Sequin Blue, and Windsor Blue.
For Green Hues, colors include: Apple Green, Midnight Emerald, Verdant, and British Racing Green.
While other available colors are: Bronze, Camel, Orange Flame, and Rose Gold.
Engine and performance
The 2023 Bentley Continental GT is sufficiently powered by a 4.0 liter V-8 or 6.0 liter W-12 engine under the hood—both are twin-turbocharged, and intercooled DOHC 48-valve.
While the former makes 542 horses, launching the 4926-pound coupe to 60 mph in 3.4 seconds. The more expensive later W-12 engine makes 626 horsepower in non-Speed models and can motivate a coupe to 60 mph in 3.3 seconds.
The same engine has been tuned up to 650-hp in the Speed model, and we estimate it can reach 60 in as little as 3.1 seconds. Both engines function on an eight-speed dual-clutch automatic transmission that snaps off on quick, and very smooth shifts.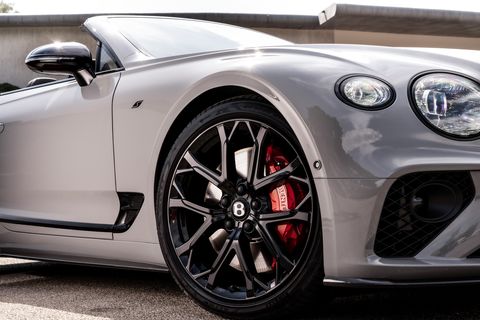 Though, customers are allowed to choose, they can order the coupe or convertible trim with either engine type of which all Continental GTs are made with a standard all-wheel-drive system, which have proven to be suitable for road types.
Bentley's V-8 is a finely polished gem that gives up peak horsepower and makes for a coupe that's virtually as quick and smooth running in real-world conditions.
Also, the coupe offers arching roofline that ties together the car's style so elegantly but of course we cannot fail to admit that the convertible can be more or just as fun depending on the personality behind the wheels, having all that wind in your hair whenever you like must be worth every penny.
Exhaust
Fuel Economy and Real-World MPG doesn't seem to be on the priority list of the Bentley, judging from it most fuel-efficient offering being a twin-turbo V-8 in a particular model, and this doesn't seem to be a deal breaker for its customers.
The EPA statistics of the carmaker, rates the Continental V-8 at 16 mpg city and 26 highway.
2023 Bentley Continental GT interior design
Cabin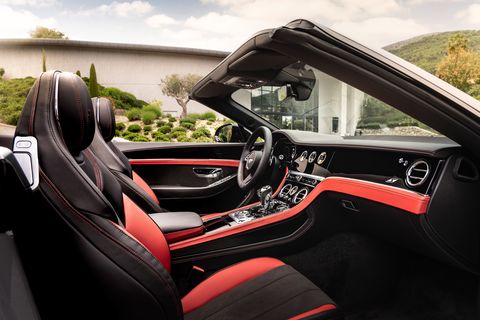 As usual this brand, most usually when you wonder if you could ever get more of luxury, Bentley comes equipped with every shade of more in every new model launched.
Well, you can expect the cabin of the 2023 Bentley Continental GT proudly wears the Bentley badge, in swathed luscious, aromatic leather and fine wood veneers interior. Yes, your thoughts are confirmed, nearly everything about the Continental GT is customizable if you want and you just have to pay just a bit more.
Bentley's designers show thorough consideration in every design detail and in either the coupe or convertible you will find expertly knurled control knobs and double-stitched diamond-pattern seat trim.
Infotainment and connectivity
The 2023 Bentley Continental GT comes with cutting edge technology that is displayed in a number of features like the provision of a 12.3-inch infotainment display that rocks the center of the dashboard.
A three-sided rotating unit that has a panel with three small analog gauges for (exterior air temperature regulation, time, and compass heading), and a side that shows matching instrument-panel trim.
Apple CarPlay and Android Auto capability are standard to help driver sync his/her devices with the car's console, there is a digital gauge display that gives the driver control over most of the Continental GT's functions using buttons on the steering wheel. The Continental GT provides two optional audio systems: a Bang & Olufsen arrangement and a spectacular Naim system.
Safety and driver-assistance features
Bentley as much as is dedicated to comfort, luxury and speed is no less dedicated to safety. The car is fully equipped with a range of modern safety features to assist the driver attain optimum safety like it rival brands.
Some of these features are: Adaptive cruise control, automated emergency braking with pedestrian detection, a night-vision system, a rearview camera, Frontal and side-impact airbags and lots more. In addition, the chassis has control arms/multilink.
Brakes (F/R): 16.5-in vented disc/15.0-in vented disc and tire details are: Pirelli P Zero (PZ4), F: 265/40ZR-21 (105Y) R: 305/35ZR-21 (109Y). Other safety detail of the Continental GT are:
Available lane-departure warning with lane-keeping assist
Available adaptive cruise control
Warranty and Maintenance Coverage. This means Bentley covers everything for three years regardless of how far the car is driven. The automaker also provides complimentary maintenance visit at first year or 10,000 miles.
Seats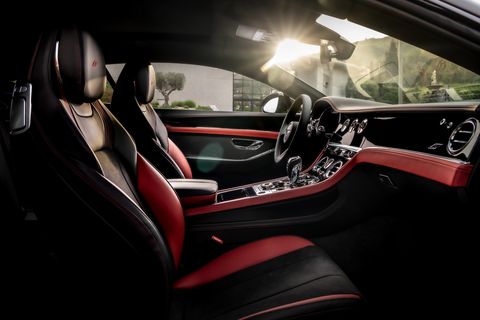 The 2023 Bentley Continental GT has a comfortable seating room and seatbelts for four persons, though the rear seat have limited head and legroom which may haul adult-size people. The trunk can fit in five carry-on or suitcases and still afford plenty of space for a weekend away.
2023 Bentley Continental GT Price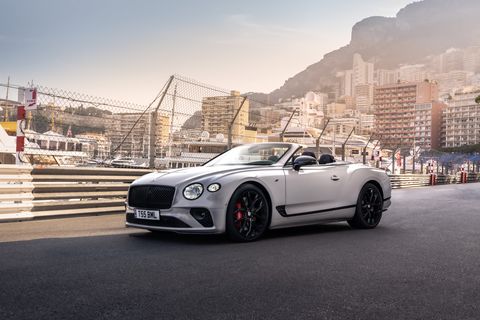 Apparently, being an all round luxurious car, and a latest model. The 2023 Bentley Continental GT start price for the Coupe is currently at $238,325; while the Convertible, $293,700.
More on Pricing:
Azure Coupe: $284,925
Speed Coupe: $291,225
S Convertible: $295,225
Mulliner Coupe: $309,325
Azure Convertible: $313,725
Speed Convertible: $320,025
Mulliner Convertible: $328,925
Final thoughts
If luxury in all its meaning is your aim, then the 2023 Bentley Continental GT might just define all that, giving you just the satisfaction you desire and yes, owning this means you too can confidently sway in the tidal wave that say you've arrived.
Was this article helpful?