The 2024 Rolls Royce Spectre is an envisioned automobile saturated with luxury on all standards. It is a sporty electric vehicle that is both promising and rich on every level conceivable in the history of luxurious cars and stands out in a class of its own among rival brands.
Rolls-Royce is clearly unrelenting in its designs, as they are ever inspired to take ultimate luxury to newer realms aiming only for the zenith. The 2024 Rolls Royce Spectre coupe is hopefully proof of the automaker's dream.
It's a no-brainer that the Spectre is Rolls-Royce's first EV series, the company plans on phasing out its gasoline-powered models out of the lineup and replacing them entirely with those only EV powered by 2030.
Though Rolls-Royce's new addition to the lineup is expected to take delivery by the end of 2023 and you can be among its first customers.
What does the 2024 Rolls Royce Spectre offer?
The Rolls Royce Spectre offers individual owners an opportunity to customize any way they want, which is, of course, deserving of a car, with a price tag this high, it is expected buyers will wish for something truly personalized to their taste.
Though, even as these anticipated additions are particularly captivating, how many services will it be for buyers who can comfortably afford $450,000 or more to purchase the most recent Spectre model? Since, it's less likely they will road trip, this is expected as their private jet is most usually on standby, at a nearby airfield for any necessary commute.
But of course, this can't go without saying, the Spectre may prove quite for short engagements, both business and social, while still offering them the needed ultimate luxury.
The Spectre is Rolls-Royce's first in a series of EVs, and the company says that its gasoline-powered models will be phased out of the lineup and replaced entirely with EVs by 2030.
2024 Rolls Royce Spectre Specifications
EV Motor and performance
As an all-electric car that is envisaged to be just as intriguing and agile in performance as the Phantom sedan and Cullinan SUV, the 2024 Rolls-Royce Spectre will be powered by a fully electric powertrain consisting of dual electric motors that pump about 577 horsepower and 664 lb-ft of torque. Using a driving range estimated at around 260 miles per charge.
The 2024 Rolls Royce Spectre is estimated on its electric powertrain to move the 6559-pound coupe to 60 mph in 4.2 seconds. Which of course is slower compared to rivals like the Tesla Model S Plaid which hits 60 mph in 2.1 seconds or the Bentley Continental Gt that covers 60mph in 3.4 seconds. Though, worthy of note is that Rolls-Royce's brand ethos is more geared towards quiet cruising than speed.
The adaptive suspension has also been installed in the 2024 Rolls Royce Spectre model to ensure an appropriately isolated ride over bumps and the engineers also made room for a massive amount of sound-proof materials to maintain a tomb-like cabin on the road up until about 80 mph and the wind starts to only slightly penetrate into the quiet cabin.
Fuel Economy and real-world MPGe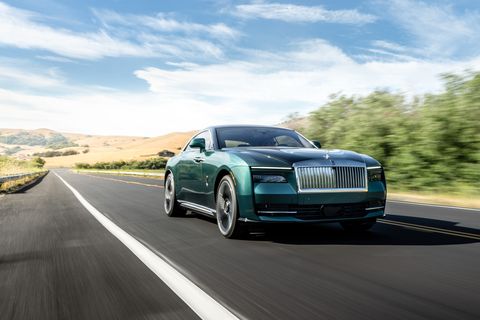 While the EPA hasn't weighed in just yet, we expect the Spectre to receive fuel economy ratings of 72 MPGe city and 75 MPGe highway. When we get a chance, we'll take the Spectre on our 75-mph highway fuel economy route and update this story with test results.
Range, charging, and battery life
The Spectre is most likely to charge through a system installed at owner's estates so they won't be forced to wait around in the parking lot and should have a full battery in about five hours if it uses a 102.0-kWh battery pack like the BMW and can cover about 260 miles.
2024 Rolls Royce Spectre Features (Interior)
Comfort, and cargo
As an ultra-modern luxurious car, the 2024 Rolls Royce Spectre offers a breathtaking interior space that can conveniently fit four persons and it comes with bucket seats in both rows, and we expect that the company will add several unique design features to Spectre.
Such as, alongside the brand's signature starry-night headliner, the Spectre's door panels will twinkle with tiny LED lights sparkling in the area surrounding the armrests, and of course, we expect a seemingly endless array of personalization options and plush material choices.
Infotainment and connectivity
All Spectres come with cutting-edge technology that is even more advanced with every new model, well-integrated into the interior design, and doesn't distract from the ambiance which is what we can expect in the 2024 Rolls Royce Spectre.
A touchscreen infotainment system perfectly fitted into a finely-trimmed dashboard. A digital gauge display is standard too, and a bespoke Audio stereo system with sports attractive aluminum speaker grilles.
Safety and driver-assistance features
Rolls-Royce makes a high-end statement by offering several driver-assistance features as standard, proving safety is a top priority in its designs. This includes automated emergency braking and adaptive cruise control.
Key safety features include:
Standard lane-keeping assist
Standard automated emergency braking
A four-year warranty and maintenance coverage package on the Spectre that comes doesn't expire at a certain mileage limit.
Standard adaptive cruise control with a lane-centering feature
2024 Rolls Royce Spectre Price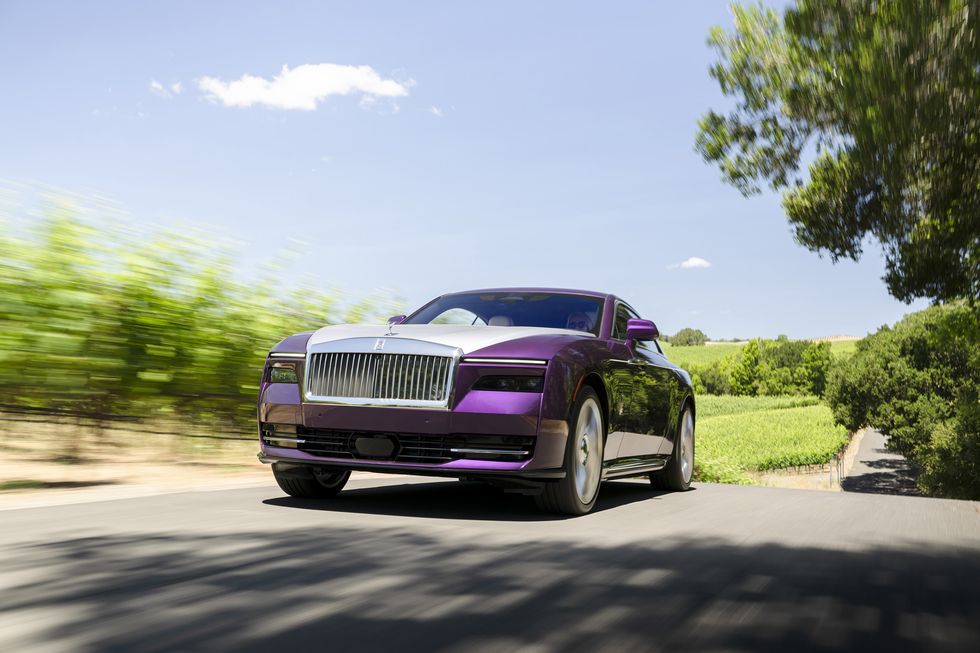 The luxuriously built all- wheel drive, 2 door coupe. 4 passenger Spectre car start price for the Base model is expected to go for $422,750. While prices will likely in the higher trims with more amenities such include:
Rolls-Royce Phantom
Starting at: $460,000
Rolls-Royce Ghost
Starting at: $400,000
Final thoughts
The 2024 Rolls Royce Spectre's first EV is no doubt a spectacular vehicle and offers a great range of features that are committed beyond luxury but eco-friendly motoring and maximum performance and safety.
Was this article helpful?