This is an article that is fully dedicated to the 2024 Toyota bZ5X, in it we will be discussing as much as we have learned about the upcoming electric SUV, which happens to be one of Toyota motors.
We know Toyota to be a trusted yet very innovative brand name when it comes to automobile delivery, they remain a part of a few popular names and with excellent results. In, that light it is no longer a mere perception that the Father of Corollas among other popular models and Lexus is cooking up a tasty broth as far as car designs are concerned.
These two companies, looking forward to launching their 30 new EVs by 2030 on bZ Lineup.
Toyota seems to be very keen on its moves and has revealed its conceptual electric vehicles that will form a part of the bZ lineup.
This is a third-row SUV that is expected to be bigger than the Toyota bZ4X and bZ3X is expected to launch soon as the 2024 model year.
To further throw more light on what to expect from this vehicle, the bZ lineup stands for Beyond Zero which is a battery EV platform by which EVs are built by manufacturers.
The 2024 Toyota bZ5X is currently only a futuristic electric SUV and no official information has been released by Toyota but according to media reports and pictures gathered unofficially, it looks bigger than the bZ3X and bZ4X.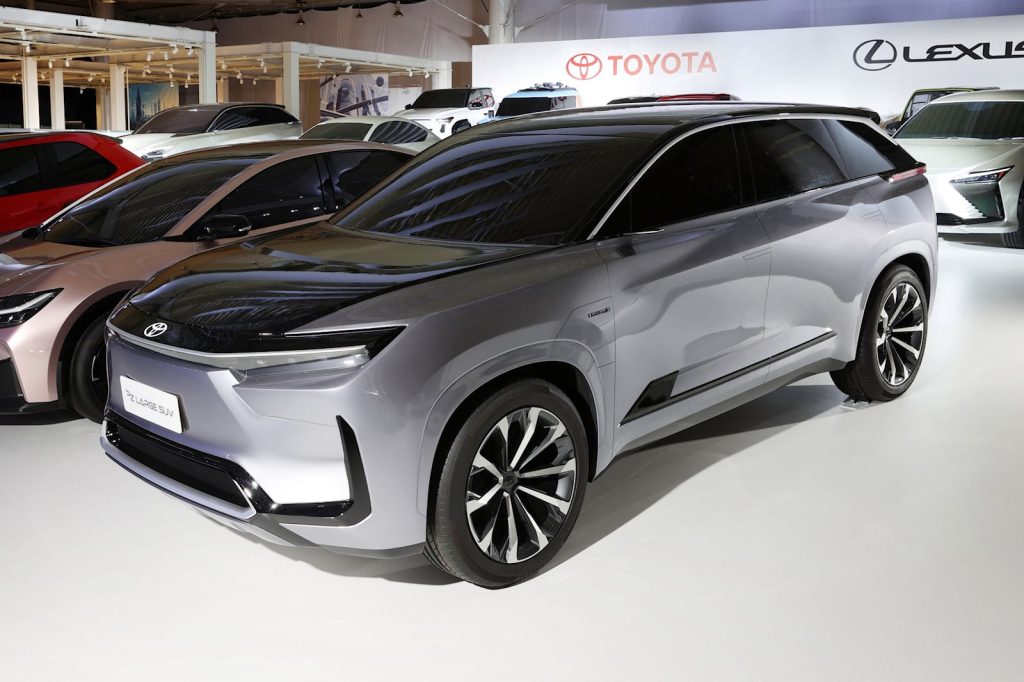 2024 Toyota bZ5X Features
The 2024 Toyota bZ5X is expected as part of its features to have a three-row seat, this will make it the ideal EV companion to Toyota's gas-powered Highlander three-row crossover.
It will also look modern, classy, and futuristic on the exterior, this clouds our information on the automobile's interior as it hasn't yet been revealed.
This explains, why we don't know what the dashboard design will look like for now.
Though Toyota is yet to intimate and reveal more on the powertrain, we have reasons to suspect that it could possibly have solid-state batteries—instead of the more-common lithium-ion variety of over 80 kW that will be capable to give a range of over 250 miles on a single charge.
The automobile SUV may include a dual-motor option and an all-wheel-drive electric drivetrain.
2024 Toyota bZ5X Price
The exact price of the 2024 Toyota bZ5X has not yet been officially revealed. But according to media reports, expectations, and estimated value, it may likely be priced beginning from that $50,000 and we have reasons to believe that it will go for a little higher price than the offer of the XLE and Limited model like bZ4X does.
Toyota bZ5X Release Date
The 2024 Toyota bZ5X is envisioned to be available for sale soon. Toyota has also not released its exact launch date but it is expected that it may be available for sale in 2024 as 2024 is the model year.
Also, though there has not been an exact date beyond just a timeline, we do it could arrive sooner rather than later in the model year.
The upcoming Toyota bZ5X is an electric SUV that will be larger in size than the existing bZ4X that's set to go on sale soon.
Was this article helpful?