This article on upper booty workouts is useful for anyone looking to grow their bum? Are you looking to develop your glute, we have compiled the right article for you.
These upper booty workouts are easy to perform and all it takes is discipline, and you will see improvements after a little while and can get more pronounced after an even more committed duration that your friends may very well notice.
Upper Booty Muscles
There are muscle at the top of your buttocks is called the gluteus medius, commonly referred to as the upper glute or the glute shelf.
The gluteus medius is one of three main muscles in your buttocks. The other two are the gluteus maximus and the gluteus minimus.
This gluteus medius is a stabilizer muscle, this means that it helps keep your pelvis balanced while you walk.
It also helps rotate your leg outward (external rotation).
How To Make Your Glute Medius Bigger
There are a few key things to remember when trying to gain lean muscle mass, especially in your glutes.
1. Eat enough calories to produce the energy to build new muscle tissue. To know just how much you need, take your body weight in pounds and multiply it by 13. You now have your bare minimum!
2. Consume lots of protein, as it is the most important and most thermogenic macronutrient for building and maintaining lean muscle tissue. So, how much protein do you need to grow your glutes? You need to consume at least half of your body weight in protein daily.
Some of the best types of protein are:
Lean chicken breast
Wild-caught salmon
Legumes
Turkey
Tofu
Edamame
Greek yogurt
3. Carry out resistance-based exercises to target the glutes. Develop them through
external weights
resistance bands
and your body weight.
What Upper Booty Workouts Target your glute Top ?
The gluteus medius aids in hip abduction, which translates to moving your leg away from the midline of your body. Any type of upper booty workouts that abducts your hip will train the top part of your glute.
You can do these exercises from positions such as: standing position, side-lying position, quadruped position, supine position (on your back), or prone position (on your belly).
5 Types of the best Upper Booty Workouts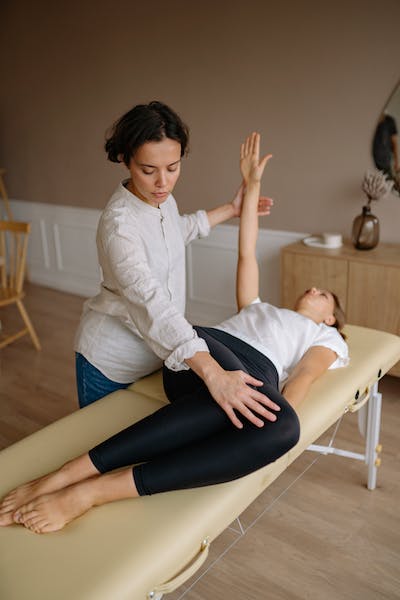 These upper booty workouts can be classified into three types, weighted, body weight, and banded.
1. Standing Weighted Hip Abductions
How to perform
Begin this upper booty workouts by standing on a raised platform with your feet together and one hand against your hip or a wall.
Hold a dumbbell, with your other hand or a kettlebell, against your leg.
Now, abduct the leg with the dumbbell against it but keep the other leg straight with your foot planted on the ground.
Hold the top position for 1 second.
Bring your leg back to the center and repeat.
Be sure to train both sides equally.
2. Elevated Dumbbell Romanian Deadlifts
Romanian deadlifts are a great type of upper booty workout because it is a compound exercise that trains many muscle groups in the lower body.
How to Perform:
Grab two dumbbells and hold them at your sides downward.
Next, stand on a platform with your feet hip-width apart. The platform will prove helpful if you have the flexibility to go past your toes.
Then bend at the hips while maintaining a neutral spine, and try to push your butt back as if to feel an imaginary wall behind you.
You can make a slight knee bend, but ensure your arms are straight down at your sides.
Return to the start position and repeat.
3. Side-lying Hip Raise
The Side-lying Hip Raise is a type of upper booty workouts that is classified in the bodyweight exercise category.
How to Perform:
Lie on your side on a flat surface preferably the floor and rest on one elbow/forearm.
Bend both your knees.
Raise your hips off the floor and abduct the top leg simultaneously.
Keep the bottom knee firm on the floor and keep both knees bent.
Return your hips to the floor gently.
Repeat the movement and make sure to train both sides equally.
4. Dumbbell Lateral Lunge
This type of upper booty workouts also targets the inner thighs.
How to Perform:
Hold two dumbbells at your side, and stand straight with your feet together.
Next step out with one floor laterally, but keep your toes pointing forward.
Squat towards the side that you stepped out to.
Keep your other leg straight and your foot firm on the ground.
Straighten back up with your feet together and repeat the process. If balancing is difficult, hold onto a chair instead of dumbbells.
5. Weighted Hip Thrust
How to Perform:
Sit in front of a bench with your upper back leaned against the bench.
Keep your two knees bent and your feet flat on the ground.
Put a dumbbell, weighted plate or barbell across your hips.
Then, lift your hips by pressing down your heels and squeeze your glutes.
Your upper back will naturally lay flat on the bench at the top.
Hold this position for about a second, then return to the starting position and repeat.
Was this article helpful?