Cooking
8 Delicious Dishes with Recipe for 8 Days of Hanukkah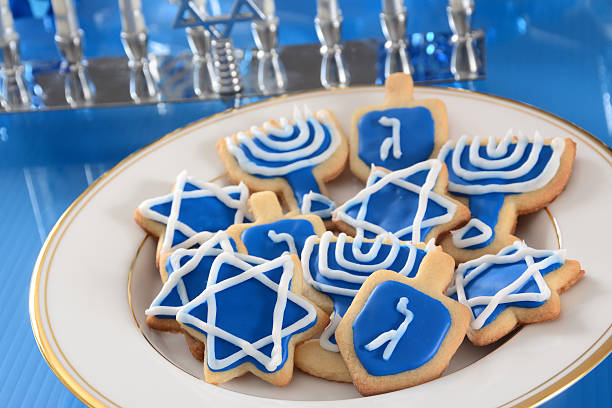 Hanukkah is here and for eight straight days, the Jews are going to bask in the spirit of its celebration, while commemorating one of the significant history of Judaism. This year, we carefully handpicked the best dishes that are both delicious and sentimental to the Jewish celebration, to aid celebrate better the festival of light and re-dedication, in the best possible ways, recreating new memories that will drive off darkness even with just a bite from our line-up delicacies. Our choice of Hanukkah dishes below does not discriminate against age or gender, it serves equally and yet leaves that imprint, we so desire when the Hanukkah holidays are over. To crown, it all we are ready to guide you through their recipes, your family and friends can be sure of the tastiest Hanukkah dishes ever, but you may need a helping hand.
POTATO LATKES
Latkes could almost be referred to as old and sacred as Hanukkah itself, it is a household name among the dishes eaten during Hanukkah, and good thing it is quite tasty and can conveniently serve a crowd. The ingredients for making mouth-watering potato latkes are easy to gather and you probably have them already in your kitchen too.
Ingredients
2 lbs potatoes (about 4 potatoes)
1/2 onion, shredded
2 large eggs (3 medium eggs)
2 tbsp breadcrumbs
1/2 tsp salt
1/4 tsp pepper
Canola oil
Applesauce
Sour cream
Rinse potatoes properly in clean water, avoid peeling, the skin gives the Latkes an added touch, cut in half to shred by hand or with a food processor.
Shred your onion in the same way
Squeeze shredded potatoes liquiod as much as you can with a cheese cloth into a bowl
At the bottom of the bowl with the liquid, you'll notice a settled white-like debris, called the potato starch.
Blend properly all ingredients in the potatoes starch-the shredded potatoes, onions, breadcrumbs, salt, eggs, and pepper. Remove the liquid in the smaller bowl and scoop out the potato starch with a rubber spatula, adding it to the larger bowl with all the ingredients. You could you hands for ease but they must be well washed.
Place a pan with canola oil on low heat for about 4 minutes, scoop the latke mixture (about 1/4 cup per serving) into your hand and squeezing out any excess moisture introduce the latke to the pan.
Cook each latke for about 5 minutes on each side, or until they are crispy and golden brown. Avoid turning up the heat so they don't get burned. Once they are fully cooked, remove onto a plate lined with a paper towel.
Serve hot with applesauce
Crockpot Applesauce recipe
Ingredients
Apples (different mix prefarably) for unique flavor
Honey
Cinnamon Stick
Pumpkin Pie Spice- contains nutmeg, ginger, and cloves etc
Lemon Peel – to balance the honey and makes the apples taste even better.
Recipe
Core and slice your Apples. into a fairly even size even when they are big about 1 1/2 inches.
Place Your Apples in the Crockpot, preferbly a slow cooker.
Chunky apple pieces with honey and cinnamon in a slow cooker for making healthy and naturally sweetened Crockpot Applesauce
Add the remaining ingredients and a low amount of honey. To add more later, if you want.
Slow cook the applesauce on LOW for 6 hours or HIGH for 3 to 4 hours.
Stir the applesauce a few times while it cooks, keeping an eye on the texture. The apples (including their skin) will blend into applesauce.
NOODLE KUGEL
of eggs, sour cream, cottage cheese, and cream cheese as the base for the custard. I replace the cottage cheese with half & half because cream makes for a silkier custard with no curds. While many old-fashioned kugel recipes call for a crushed cornflake topping, I cover the noodle custard with a thick and crunchy cinnamon streusel instead. the streusel not only tastes better than cornflakes, but it also takes care of the problem of all those hard-to-eat crunchy noodles on top. Finally, I cook my kugel at a low temperature so that it's ultra-creamy.
HOW TO MAKE NOODLE KUGEL
Boil the noodles and drain them well.
Combine the brown sugar, flour, cinnamon, and salt in a medium bowl to make a streusel topping
3. Using your fingers, mix properly until no lump of brown sugar remain.
4. Rub the butter in with your fingertips until the mixture becomes crumply in texture.
5. Refrigerate until ready to use.
6. Next, make the custard. Begin by whisking the eggs in a bowl.
7. Add the sour cream and softened cream cheese
8. Whisk properly, then add the half & half, sugar, salt, vanilla, and cinnamon
9. Whisk again until well smoothened, then spread the cooked noodles in the prepared baking dish evenly and pour the custard mixture over top.
10. Cover the dish with aluminum foil tightly and bake for 35 minutes. The custard should be just set, sprinkle the streusel topping over the top, making sure to cover all the noodles.
Bake until the streusel topping is crisp, say 40 minutes or more.
Let cool for about 20 minutes, then cut and serve.
Matzo Ball Soup
Matzo ball soup is a popular recipe in Jewish cuisine. This particular recipe couldn't be easier: seven ingredients and just three steps. This is one side you'll want to make plenty of, as guests will be coming back for seconds of this comforting soup. And lucky for you, it really is simple to prepare in large batches! Make a big batch, and eat it long into winter.
Ingredients
4 large eggs
¼ cup schmaltz (rendered chicken fat), coconut oil or vegetable oil (kosher for Passover)
¼ cup chicken stock or vegetable stock
1 cup matzo meal
¼ teaspoon ground nutmeg
1 to 2 tablespoons freshly grated ginger
2 tablespoons finely chopped parsley, dill or cilantro
1 teaspoon salt, more for cooking
Black pepper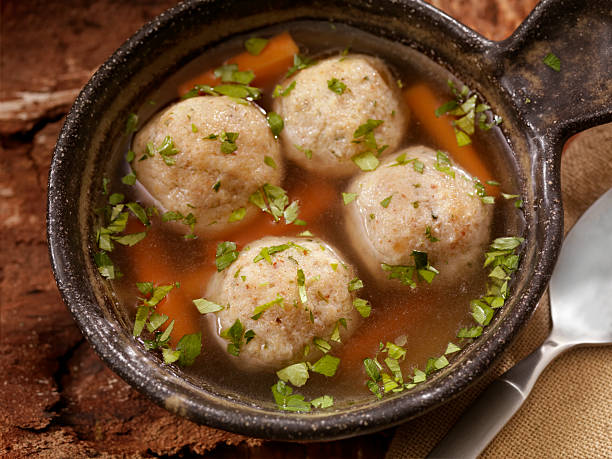 In a large bowl, combine the eggs, schmaltz, stock, matzo meal, nutmeg, ginger and parsley. Season with 1 teaspoon salt and a few grinds of pepper. Gently mix with a whisk or spoon. Cover and refrigerate until chilled, about 3 hours or overnight.
To shape and cook the matzo balls, fill a wide, deep pan with lightly salted water and bring to a boil. With wet hands, take some of the mix and mold it into the size and shape of a Ping-Pong ball. Gently drop it into the boiling water, repeating until all the mix is used.
Cover the pan, reduce heat to a lively simmer and cook matzo balls about 30 to 40 minutes for al dente, longer for light. If desired, the cooked matzo balls can be transferred to chicken or vegetable soup and served immediately. Alternatively, they may be placed on a baking sheet and frozen, then transferred to a freezer bag and kept frozen until a few hours before serving; reheat in chicken or vegetable soup or broth.
Chocolate babka
Babka is a perfectly sweet addition to a Hanukkah spread. This recipe is quite forgiving for the beginner baker, and the author offers plenty of tips and tricks to simplify the process, too.
Salmon Gravlax
Salmon is popular as a main dish for Hanukkah, but it also makes an ideal companion to latkes. Gravlax is a fancy addition to the dinner table, it tastes incredible with latkes, and it takes just 10 minutes to prepare.
Roast Chicken and Vegetables
A great dish for a crowd or large family.
1 whole chicken (about 4 lbs)
2 Tbsp fresh thyme leaves
1 Tbsp Dijon mustard
4 cloves garlic, minced
Grated zest of 1 lemon
2 Tbsp olive oil
Salt and black pepper to taste
2 medium onions, quartered
2 cups peeled and chopped butternut squash (The chicken can be roasted with any firm vegetables: potatoes, carrots, parsnips, turnips. Vary at will; just be sure to cut into equal pieces.)
4 cups Brussels sprouts, ends removed
Recipe Below by Mitch Mandel and Thomas MacDonald :
The morning of the day you roast the chicken, rinse it and pat it dry.
Combine the thyme, mustard, garlic, lemon zest, and 1 tablespoon olive oil and rub over the chicken.
Season the chicken with salt and black pepper.
Refrigerate until you're ready to cook, up to 12 hours.
Preheat the oven to 425°F.
Place the vegetables in a large roasting pan.
Add the remaining 1 tablespoon olive oil, plus salt and pepper, and toss.
Use kitchen twine to tie the chicken legs together with a knot at the end of the drumsticks.
Use another piece of twine to tie the wings together tight against the body of the chicken by looping the string around the wing tip, then running it under the chicken back.
Place the chicken in the roasting pan and roast on the middle rack for 45 to 55 minutes, until the skin is deeply browned and an instant-read thermometer inserted into the thigh registers 170°F.
Rest the chicken for 10 minutes before carving and serving with the vegetables.
Beef Tzimmes Whole Meal
Tzimmes is a hearty stew that is often enjoyed on Jewish holidays. It takes a few hours to come together, but the process is easy to follow with a big pay-off of warming, comforting stew that will have everyone coming back for seconds.
INGREDIENTS
3 pounds boneless beef chuck (well-marbled), cut into 1-1/2-inch pieces
2 teaspoons salt
1 teaspoon freshly ground black pepper
3 tablespoons olive oil
2 medium yellow onions, cut into 1-inch chunks
5 large cloves garlic, peeled and smashed
2 tablespoons balsamic vinegar
1 tablespoon tomato paste
1/4 cup all-purpose flour
1/2 cup orange juice, from 2 oranges
1/2 cup water
4 cups beef broth
1 bay leaf
2 sprigs fresh rosemary
4 teaspoons fresh thyme leaves, divided
1 tablespoon brown sugar
4 large carrots, peeled and cut into one-inch chunks on a diagonal
1/2 cup dried apricots
1 pound sweet potatoes, peeled and cut into one-inch chunks
1/2 cup prunes
HOW TO MAKE BEEF TZIMMES
Begin by removing any large chunks of fat that are easy to get to but don't overdo it with the trimming, as the fat helps make the beef tender.
Pat the beef dry and season with the salt and pepper.
After heating the oil over medium-high heat until it's hot and shimmering, place half of the beef in the pan and brown, turning with tongs, for about 5 minutes
To sear the meat properly, let the meat develop a nice brown crust before turning.
Add the onions, garlic, and balsamic vinegar to the pot; cook, stirring with a wooden spoon and scraping the brown bits from the bottom of the pan, for about 5 minutes.
Add the tomato paste and cook for 1 minute more.
Add the beef with its juices back to the pan and sprinkle with the flour.
Stir with the wooden spoon until the flour is dissolved.
Add the orange juice, water, beef broth, bay leaf, rosemary, 2 teaspoons of the thyme, and the sugar. Stir to loosen any brown bits from the bottom of the pan and bring to a boil.
After the stew has cooked for 2 hours, add the carrots and apricots. Cover and continue cooking for 30 minutes
Add the sweet potatoes and prunes and cook for 30 minutes more.
Fish out the bay leaf and rosemary sprigs and discard. Taste and adjust seasoning, if necessary. Serve the stew or let it come to room temperature and then store in the refrigerator overnight or until ready to serve. (The flavor of the stew improves if made at least 1 day ahead.) Reheat, covered, over medium heat until hot throughout. Garnish with the remaining fresh thyme leaves.
Roasted Winter Vegetable Rainbow Salad
To balance out the fried foods around the table, this simple salad makes the most of fresh winter produce, such as carrots, beets, squash, sweet potato, and Swiss chard. Best of all, you'll be eating the rainbow in a delicious way
We trust you liked this article, please subscribe to our YouTube Channel for our videos and you can also be a part of our Facebook family.