What is the function of a Telescope Eyepiece?
Astrophotographers take pictures of the planets using the eyepiece projection method. They sometimes attach the camera to a telescope using a T-Ring.  A telescope eyepiece works as a magnifying glass; it enables your eye to focus more closely to the object than normal.
A telescope eyepiece allows you to inspect the image formed by the objective lens from a distance; maybe an inch or more. The image on your telescope can be viewed on your laptop or desktop PC, this is made possible with a USB telescope eyepiece camera.
Best USB Telescope Eyepiece Camera
#1. Orion StarShoot USB Eyepiece Camera II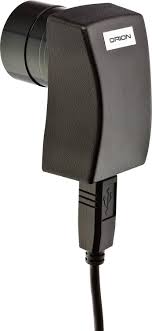 This eyepiece camera fits into a telescope with a 1.25″ focuser, or a 2″-to- 1.25″ step-down adapter. You can attach a tracking motor to a telescope when it is attached to a mount to get the best results for nighttime use. During the day, this USB Eyepiece Camera II can add crowd-pleasing performance to any telescope, the telescopic views of birds, wildlife, and scenery can be seen and enjoyed via your laptop or desktop PC screen. You can even share the beautiful scenery with your friends, family, and fellow astronomical enthusiasts.
This Eyepiece Camera also features a CMOS sensor chip with an 8-bit output and an RGB 24-bit color resolution. This enables you to share telescopic views of brighter objects within the solar system, for example the Moon. Although it is not sensitive enough to capture images of faint deep space objects.
The 1.25″ nosepiece on this eyepiece is threaded for use with 1.25″ eyepiece filter, to enable the enhancement of the view, you can use a Moon filter, light pollution filter, color planetary filters, and many more filters which are sold separately. To view a wider area, you have to purchase the 0.5x Focal Reducer.
With the included AmCap a capture software; you can save and process the views transmitted through the eyepiece. This USB Eyepiece is able to capture up to 24 frames per second because its native resolution of 640 x 480 pixels is considerably higher than the original model. The progressive scan imaging feature means information from each and every pixel is delivered to your computer for each frame. All power on this camera is supplied to the StarShoot USB Eyepiece through its USB connection to your computer.
The Orion AmCap image video capture software is compatible with the Windows XP/Vista/7 OS.
#2. Celestron NexImage 5 Solar System Imager (5MP)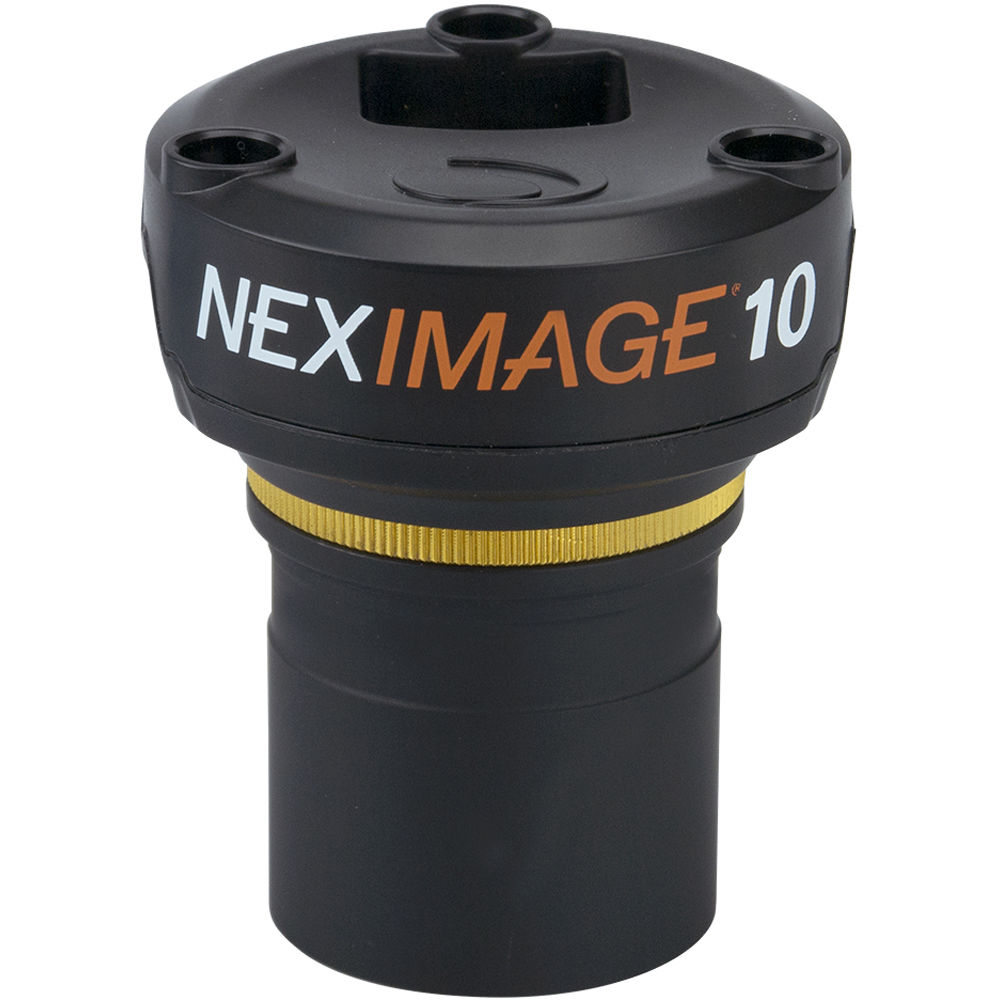 The Celestron NexImage 5 Solar System Imager (5MP) is a 5 megapixel color sensor. With the sensor you can capture still images of your celestial subjects on a computer, you can view and capture the live video as well.
It comes with a small pixel size that provides planetary detail, then the Micron DigitalClarity technology reduces image noise levels. There is software included into it that automatically filters out video frames affected by poor atmospheric seeing leaving only the sharpest, clearest frames to be stacked and aligned into one high quality image. This software also lets users manually change the gain, contrast, exposure time, frame rate and color saturation of the camera through their computer system.
Its aluminum 1.25 inches adapter barrel accepts standard 1.25inches eyepiece filters. The camera body features integrated C-threads affording users a direct threaded connection to the telescope. Then the optical window is IR-cut to achieve greater precision. Celestron's NexImage 5 has 2×2 and 4×4 binning capability, progressive scanning, with a high speed USB 2.0 cable included.
#3. iOptron – iCAM464C Color CMOS Camera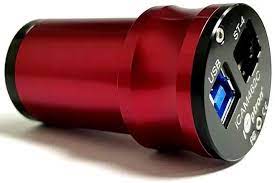 The iOptron iCAM464C camera uses a Sony IMX464 color sensor, has an imaging area of 1/1.8", a2.9um pixel size, a 4.2MP resolution (2712*1538) and a diagonal of 9mm.
This USB telescope eyepiece camera has very high sensitivity therefore an ideal camera for planetary imaging. The camera has a very low readout noise; as low as 0.75e and a gain of 350 and around 0.71e at a gain of 400.
The camera comes with a unique Dead Pixel Suppression (DPS) technology which eliminates dead pixels as it analyzes the camera dark frames. There is a unique HCG mode turned on when the camera gain setting is ≥ 80. The HCG mode also helps reduce the readout noise while retaining the same high dynamic range at a low gain. This camera uses an IR850 or CH4 filters for infrared imaging.
The actual recording speed during image recording is affected by the hard drive writing speed. Use a high-quality solid state drive to record data to fully enjoy the full benefit of the USB 3.0 data speed. With the ST-4 guiding port you can connect the camera to a mount GUIDE port for ST-4 auto guiding.
To get clearer images of your telescopic photographs, an eyepiece definitely comes in handy. A USB telescope eyepiece camera has the potential of making your work easier as an Astrophotographer, its important to invest in a good one. Hopefully this review helps you make the right choice.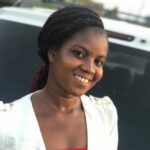 I am an experienced tech and innovation writer. It's been 2 years+ I started writing at Terecle, covering mostly Consumer electronics and Productivity. In my spare time, I enjoy reading and learning the latest happenings around the tech ecosystem.
Was this article helpful?