Hearing about the phrase " brother may I have some oats ", one might think that it's a title or lines in a movie. Well, this is not the case as it is not any movie of sort but whereas it is a meme. Yeah! you heard me well, a meme. So, we will be delving into it cause I know I got your attention there.
The phrase " brother may I have some oats" involves a 19th century painting about two pig which was titled "A Pair of Pigs". It was listed in Compton Verney Art Gallery as a part of their British folk art and created in 1850 by an anonymous artist.
The painting shows a pig eating while the brother looks on in hunger. But as time went on variations of these phrase have been as a caption on various social media sites.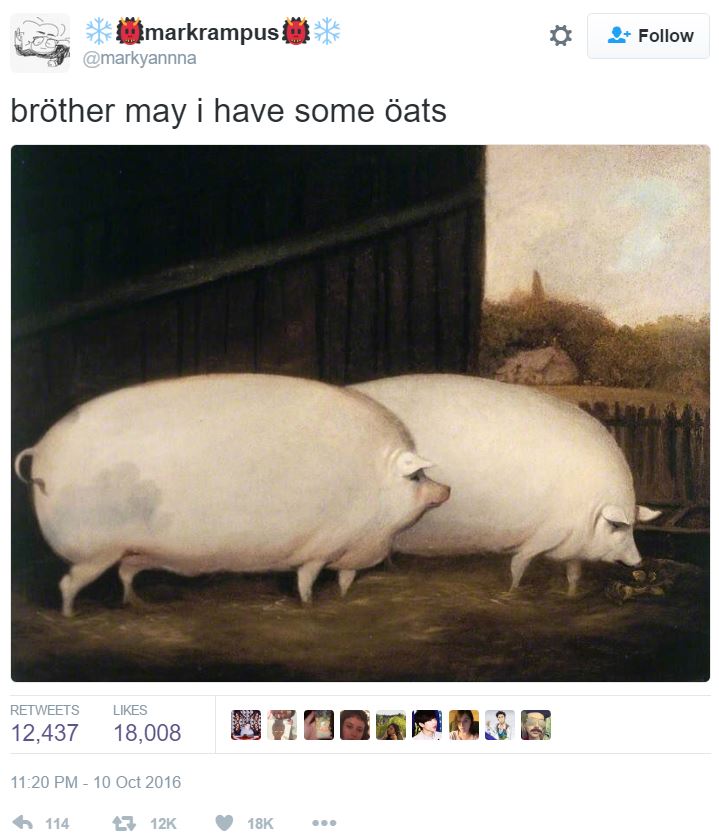 It first came to limelight when a twitter handle @markyannna on 10th October 2016 tweeted of the painting with the caption " brother may I have some oats which amassed to 18, 000 likes and 12,400 retweets in the following three months .
This tweet brought a fast spread when a Tumblr user nanalie posted a screenshot of the tweet and in the next two months amassed 68,000 notes. The meme itself seems to carry a humorous effect on both the caption and the picture associated with the caption.
According to Know your Meme, the picture and it's caption gained traction as meme early 2017 on 4chan when it was posted on the site by one of its anonymous users. Meanwhile on the 4th of January, 2017, a YouTuber with the user Joe Capo made a video titled "Brother, I require oats" which had much attention on social media because of the catchphrase " brother may I have some oats".
The meme originated in the year 2016 but it was not until early to mid- January 2017 , did it come to limelight on Tumblr and it gained traction as one of the platforms meme.
Was this article helpful?