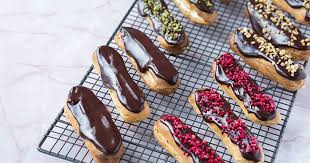 An eclair is an oblong pastry made with choux dough filled with a creme and topped with chocolate icing. The dough which is the same as that used for Profiterole is typically piped into an oblong shape with a pastry bag and baked until it is crisp and hollow inside. Once cool, the pastry is then filled with a vanilla-coffee or chocolate flavored custard (creme patissiere) or with whipped cream or chiboust cream and then iced with fondant icing. The word comes from the french "Eclair" , meaning "flash of lightning". It is so named because it is eaten quickly ( in a flash ).
Ingredients for making these are:
125g unsalted butter
125g plain flour sifted
250ml water
4 eggs lightly beaten room temperature
300ml cream whipped
150g dark chocolate chopped.
Method for preparation:
pre heat oven to 210c. grease out two baking trays.
Combine the butter and water in a sauce pan. stir over medium heat until the butter melts. increase the heat bring to the boil then remove from the heat.
Add the flour to the saucepan and quickly beat into butter mixture with wooden spoon. return to heat and continue to beat until mixture leaves the sides of the pan to form a ball.
Transfer to a large bowl and cool slightly. Beat mixture to release any remaining heat. gradually add the egg, 3 teaspoons at a time.
Beat well after each addition until all the egg is added and the mixture is glossy. The wooden spoon should be able to stand upright. If the mixture is runny, beat for several more minutes or until thickened.
Spoon into piping bag fitted with a 0.5cm plain nozzle. sprinkle the baking trays lightly with water. pipe 15cm lengths onto the trays, leaving room for expansion. bake for 10-15 minutes
Reduce heat to 180c and bake for another 15 minutes or until golden and firm
Splitt each eclair and remove any uncooked dough. fill the eclairs with cream.
Top with melted chocolate
We trust you liked this article, please subscribe to our YouTube Channel for our videos and you can also be a part of our Facebook family.