Aptly named for its Coconut trees, this is a favorite beach in the coastal town of Badagry. The beach is located about 20 miles towards the border of Nigeria and the Republic of Benin. Coconut Beach is a great place to visit as a couple because it is far removed from the noise of suburban. It is instead surrounded by holiday resorts, vacation huts, fresh air, palm trees, fresh air and an open sky.
The environment portrays an idyll defined by rural nature and nostalgia, a place where you can walk barefoot on the beach-white sand. Coconut Beach is one of the most popular beaches in Badagry, especially towards the end of the year during the Christmas and New Year celebrations.
You can enjoy different types of music played at the beach. Many people visit Coconut each for the entertainment is available many times of the week and they are never disappointed. You can also enjoy a drink of fresh coconut juice from the husk. In fact, it would be a crime to visit this beach named after its delicious coconuts and not try some of it.
Horse riding is another fun thing you can do at this beach. Enjoy the galloping ride as the ocean breeze uplifts your spirits. Coconut Beach is surrounded by holiday resorts where revelers could refresh while visiting the beach, with the kind of tropical sun that could be enjoyed within the environment.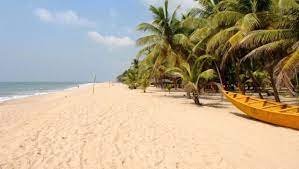 Coconut Beach is an ideal destination for lovers of fun and holidaymakers. Revelers are often left with options of enjoying the ocean breeze or watch the ocean as it rages and roils. Waves race and rise against the pebbled sands of the beach at any time of the day. Tall coconut trees form bewitching scenery. The sun seems to be resting on the edge of the horizon where sky and water meet, creating a kind of colorful contrast.
This beach is known to have similar features of many beaches in Lagos State. The beach entertains various fun-seekers with music and other musical jamboree. It is an ideal destination for any fun-seekers during the holiday or yuletide season. It is usually agog with Tourists and revelers at the weekend. Fun-seekers who desire a memorable moment away from home could consider Coconut beach as his or her destination. It provides shades and peaceful environment for travelers and tourists.
Was this article helpful?