How-tos
Crafts to do when you are bored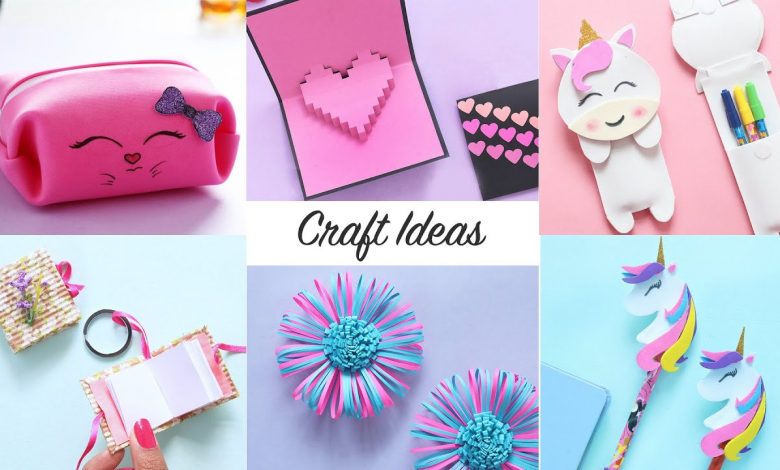 Make boredom history with a fun, productive good craft project. Crafting brings so much satisfaction knowing that you made something with your own hands that actually turned out not just beautiful but useful is one of the nicest feelings in the world, especially from the comfort of your hope.
Here are a few options of handmade crafts ideas that will interest you. They are also very easy to pull off and as well as super budget-friendly. Since many materials needed are already stuffs you might already have lying around your house.
Let's get started:
Comic Phone Case: Place the case on the back of a comic book page and trace around it and inside the camera hole. Cut it out, using a blade or some not so sharp knife. Colour and smoothen out paper before sticking it on the phone.
Printable Coloring Cards: Download free, printable coloring card templates designs for a virtual craft, colour off neatly and send them to friends with beautiful write ups in adorable fonts. Kids love them too, they could help and get to learn more about DIY arts, sending them to their colleagues, and family as an interactive gift, You also might personally fall in love with your work and decide to save some copies for yourself.
Zigzag Wastebin: To make this craft for your wastebin. Place your wastebin on the back of your paper and trace each side. Cutting each piece of paper a bit bigger than what you originally traced. Brush Mod Podge onto the basket and stick it on each piece of paper, slightly overlapping the edges.
Paper Towel Roll: Recycle used or abandoned paper towel rolls to make easy, colorful castle your kids will love. You can make amazing designs and creativity such as boats, houses, flower vases etc.
Wine Cork Board: This will need a number of wine corks, so you just may want to start saving up yours to make this simple recycled memo board. Get the right number of wine corks to fit into your round tray board, colour them to make them beautiful and glue the wine corks to the tray. Glue a handle to the board and hang it over your wall.
Cardboard and Newspaper Seed-Starter Pots: Growing plants and seeds just got even more interesting and lovely to watch especially when done around the yard. You want to fill your yard and garden with bright color for the cost of just a few packets of seed. Get a cardboard or newspaper and turn it into your seeds pot, in just a few minutes, you can turn them into perfect containers for starting seeds.
Tin Can Utensil Storage : Recycle your beverage cans and coffee tins and make them beautifully colored utensil-storage. Dress them up with nice unwashed paint and tape, then use a hook to attach to a kitchen towel bar. The same procedure can be followed for brightly colored stationery storage.
Hand-Painted Bracelets: You can have a stylish bracelet, in a simply super way and these is something your young daughters will love too. It is easy to create and will make anyone smile, because it's away from the ordinary. Using fingerprints, polka dots, stripes and shapes, kids can get creative making and using these hand-painted bracelets too.
Indigo-dyed Tote bags:Tye and dye has always been a huge thing in this contemporary age. Hit the farmers and grocery stores in style with an amazing rare custom tote. Indigo-dyed tote bags make for adorable blend of pattern and style.
Recycled T-Shirt Foot Rug: Do you have multi colored Tshirts and you're thinking of discarding them. How about I say Don't. Your old Tshirts can admirably be turned into a one-of-a-kind doormat or footrug for the bathroom or even your bedside.
Wine Corks Trivets: This is beautiful to own and very comfy for your hot pots and pans too. All you need is a number of wine corks then transform them into a beautiful and functional kitchen trivet
Frame an Old Family Photo: Preserve a treasured family photo card from future decades of mishaps by framing it. Just a few easy steps will turn a go-to family photo into beautiful home decor.
We trust you liked this article, please subscribe to our YouTube Channel for our videos and you can also be a part of our Facebook family.