TV Show
"Don't Look Up" official teaser trailer-Netflix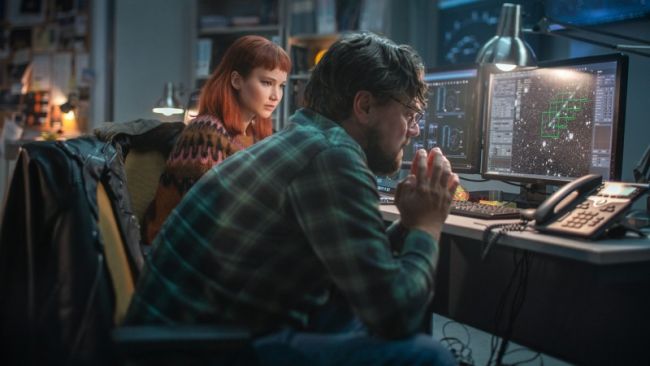 "Don't Look Up" will be available to stream on Netflix Dec. 24.
"Don't Look Up," is an upcoming Netflix movie, a comedy about a pair of astronomers willing to warn humanity of a comet approaching earth and will be very catastrophic. The trailer was released on Wednesday, 8th september fans voice their excitement on social media over the choice of cast, which includes Meryl Streep, Timothée Chalamet, Jonah Hill, Cate Blanchett, Mark Rylance, Tyler Perry, Ariana Grande and Kid Cudi.
With such star casts fans expect a mind-blowing, nerve-racking performance in this movie that will surely keep them on their toes. From the movie trailer fans react to tiny details that may have normally been by-passed in a regular tv show. the hairdo of Jennifer Lawrence's hairdo-a typical blond locks for red hair and bangs over a nose ring, making her look absolutely dashing. Lawrence plays Kate Dibiasky, an astronomy grad student and DiCaprio plays her professor Dr. Randall Mindy.
Don't Look Up" is directed by Adam McKay of "Ant-Man" and "The Big Short" (both from 2015); this will be his first major space film. The movie also marks at least the fourth time that DiCaprio and Hill have appeared in same production,
For all the juicy details and more, watch the first trailer for 'Don't Look Up,' Netflix's dark comedy below:
Perhaps the most stand-out moment from the trailer was DiCaprio channeling his inner nerd as he stressed out impending doom.
"Your breathing is stressing me out," Hill tells DiCaprio, to which he replies: "This will affect the entire planet."
Still, unbothered, Hill says, "I know, but it's like, so stressful."
Hyperventilating in a bathroom, actor Leonardo DiCaprio repeatedly chants "You're here now" in the opening moments of Netflix's trailer for a new film portraying a fictional comet threatening Earth.
We only get a few glimpses of what to expect for "Don't Look Up," debuts in selected theaters Dec. 10 and comes worldwide to Netflix on Dec. 24. For one thing, we don't know yet what the comet is made of, how big it is or its chances of hitting the Earth.
We trust you liked this article, please subscribe to our YouTube Channel for our videos and you can also be a part of our Facebook family.