People are concerned about their skin appearances and conditions for a ton of reasons and seek means to better it, so as to derive and regain back what they stood to lose or may have lost overtime. Hence, the aim of lasers are numerous, they are used in many surgical procedures such as LASIK eye surgery etc, and erbium lasers work similarly to rejuvenate the skin and even out a skin tone.
No doubts they are a number of lasers that can be used to improve the skin's appearance but for some reasons erbium laser tops the chart. Mostly, for their precision advantage. Therefore, for persons who worry about their skin appearance, erbium laser may just be the solution they need for their problems, while enjoying other benefits. In this article we will show you what you need to know about Erbium Laser and why it is an option mostly considered.
What is Erbium Laser?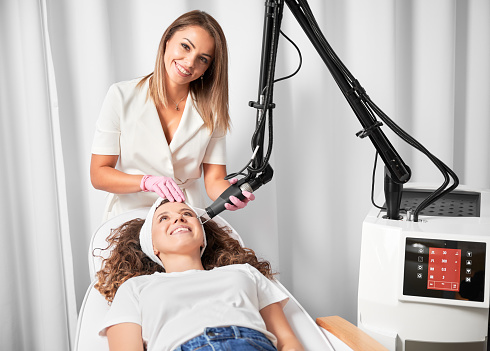 Erbium laser resurfacing is a cosmetic procedure that uses advanced laser technology to remove the outer skin layers, and reveal new skin cells, as well as stimulate the production of collagen and elastin, to give skin youthful and fullness.
Erbium lasers have unique features and abilities to offer precision because of its configuration. It has a great amount of depth control built into its treatment systems, which gives them access to handle smaller surface areas of the skin, it can also be used safely on sensitive areas like the neck region, face, and chest.
Erbium laser procedure can be likened to procedures like chemical peels – used to reduce the appearance of fine lines, acnes, dark spots, medium-deep lines, wrinkles around the face, as well as hypopigmentation, and scarring, including order cosmetic concerns and skin irregularities.
Who is Suitable for Erbium Laser Procedure?
These procedures are most often ideals, for patients with light skin tones.
Like other laser treatments, erbium laser technology works best on lighter skin tones, but the advanced precision of the erbium laser works efficiently for darker skin tones. Though, it is advised that potential side effects are properly discussed with their dermatologist before choosing this procedure to ensure it's their best option.
Better yet, darker skin tones patients should consider other skin resurfacing options, such as radio-frequency treatments or microneedling.
How Does Erbium Laser Resurfacing Treatment Work?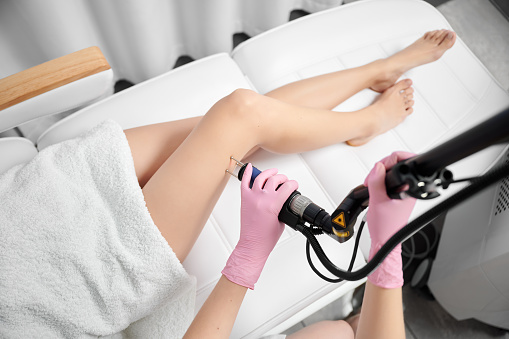 Erbium lasers works by penetration into deep layers of the skin, and may leave an uncomfortable sensation which your dermatologist will likely apply a topical or local anesthetic to numb these area before commencement of treatment.
Next, your dermatologist will apply the erbium laser to the specific area of need and depth of skin to address your specific concerns.
Erbium lasers equally interact with water in the human body to intentionally damage the skin cells but on a reverse note kicks in the body's healing processes, as well as increase the production of collagen and elastin, then generally cause the production of healthy, new skin cells.
Once treatment is complete, usually bandages and other dressings will be applied to ensure proper healing and also limit the risk of side effects, while your dermatologist will provide further care instructions to help.
Some factors that may mean erbium laser treatment isn't ideal for the patient include:
Having a history of cold sores or fever blisters
Taking isotretinoin medication for acne
Healing or scarring irregularly in the past
Taking aspirin or blood thinners before treatment
Chronic health concerns like diabetes, lupus, and other conditions that impact the immune system and the body's healing ability
Smoking or tobacco use
Side Effects of Erbium Laser Treatment
The most common noticeable effects are:
Mild swelling
Redness that may last throughout the healing duration ie one or two weeks.
Some discomfort in the first few days after your erbium laser resurfacing treatment. Some patients also experience redness that can last throughout the healing process.
Flaking or peeling like that likened to a sunburn. Note: Do not poke, pull or scratch at any peeling areas to avoid damage to your skin, and expose yourself to risk of scarring and infection. Rather, allow the skin to shed off naturally. Apply moisturizer regularly to improve comfort or visit your dermatologist for prescription of antibiotic pills or creams to help throughout the healing process.
Erbium Laser After Care Guidelines
Ensure to keep all instructions from your dermatologist such as:
Limiting your exposure to sunlight and apply sunscreen regularly if you need to be outside as your skin will be sensitive.
Use special facial cleansers as directed by your dermatologist
Do not indulge in exercises and pool bath till after your healing is completed.
Avoiding makeup application for the recovery period is advised to ensure fast healing without toxic exposure to chemicals.
How Long Does Erbium Laser Resurfacing Treatment Last?
Depending on the area(s) treated, the appointment can take between 30 and 45 minutes (for isolated facial treatments) and up to two hours for full-face treatments. After the treatment is complete, a nonstick dressing is applied to the treatment sites for a full 24 hours. Following the removal of the dressing, you won't be able to get back to your normal skincare routine. It can take two to three weeks for patients to completely heal and see the unfolding results of their procedure.
Was this article helpful?