Did you recently come across a semi-permanent eyebrow beauty treatment and wondered what you it was? Clearly, you had an idea it's for the brows. But, other than that, the nitty gritty of the treatment is oblivion to you. Well, the treatment you had come across most likely would be an eyebrow feathering treatment usually responsible for the pair of perfectly groomed brows you may have noticed your favorite TV star use or a client request for at your usual beauty salon.
Because brows have a strong will of it's own an influences our facial look, how it frames our faces and makes us appear eye-catchy and not to mention the confidence and glow it adds to some of us as we go through daily routines. Nevertheless, you might be wondering, what makes the eyebrow feathering different from the previous ones that's been around us. Well, good thing you are reading. Keep on to find out this and more.
What Is Eyebrow Feathering?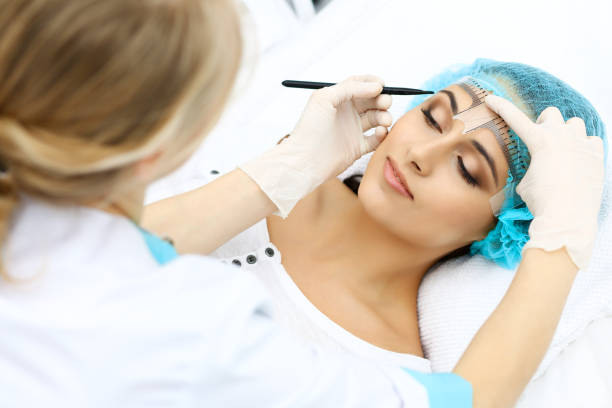 Let's start from the very beginning, Eyebrow feathering also known as microfeathering, is a type of eyebrow design and cosmetic procedure that uses feather strokes in its application or attachment process, these high quality semi-permanent pigment is placed nearly under the surface of the skin with the aid of a microblade. This precise blade creates a feathery looking brows and imitate the form of your already existing hair but more prominent, defined and permanent version yet maintains a natural, more fluffy appearance.
Do not be confused with terms, be it – eyebrow feathering, microblading, eyebrow tattoing or eyebrows embroidery they are all different names to the same thing. Only that tattooing is a more cliche version and doesn't use small strokes to imitate hair.
Eyebrow Feathering Procedure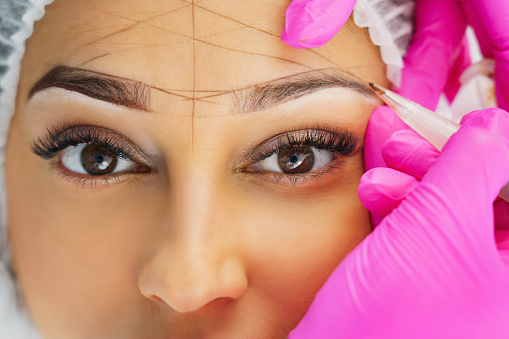 Eyebrow feathering requires that you should grow out your brows as much as possible. By that, we mean your brows should be naturally at least six weeks old – it helps the process work better and brings about a more desirable result.
First, your technician will apply an anesthetic cream on your brow to minimize any discomfort. The only discomfort you may be bound to deal with is the unpleasant sound of the blade scraping against your skin.
Next, some minute incisions will be done (i.e only like depth of the top skin layer).
Then your technician will determine the perfect colour match for the dye that will be used, before applying it over the top and allow it absorb into the incisions.
This will approximately take at most 2 hours for a result of soft, semi-permanent closely knitted, fluffy, natural-looking brows.
Is Eyebrow Feathering Suitable For Everyone?
The simple straight forward answer is sadly "NO". It's not suitable for everyone and we recommend you do your research before subduing yourself for the process. Also, people with highly sensitive or oily skin usually can't retain the treatment. People who are pregnant or breastfeeding, aren't ideal candidates for the process this also go for patients of chemotherapy, or have had botox in the past two weeks etc. Please consult your health care for advice on if you are eligible candidate for an eyebrow feathering procedure.
Eyebrow Feathering Aftercare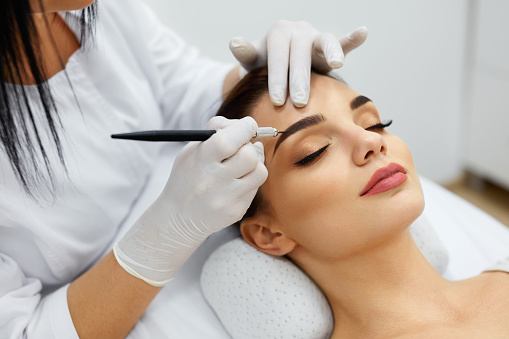 Eyebrow feathering aftercare do not require much. Other than basically required to keep the skin dry and apply a soothing skin shield across the treated area at nights just before bed for a week. Active ingredients in skin care for about days pre- and post-treatment should be avoided.
How Long Does An Eyebrow Feathering Last?
A touch up is required once, 1 to 3 months after the initial procedure. Eyebrow feathering should last anywhere between 12 months and 3 years, depending on the skin type, environmental factors, lifestyle and exposure to the elements,
Benefits Of Eyebrow Feathering
It is smudge-proof and waterproof, so it is a great choice for swimmers and athletes.
It helps to improve the look of individual hairs by filling in sparse brows.
It's quick and time-saving and allows you to return to the rest of your days activity.
It's natural, only enhances what you already have – not to totally manipulate and transform the shape of your brows completely.
Side Effects Of Eyebrow Feathering?
Common side effects associated with eyebrow feathering are:
Redness
Swelling
Bruising and itching post-treatment. All of which aren't serious but you may stay off work for a 24-48hours ideally for necessary post-treatment.
Was this article helpful?