Beauty is one thing that has been with us years long now, and has also evolve overtime. For ladies our physical appearance have a lot to do with our moods, confidence, personality etc. It's therefore no wonder, why most ladies go length to keep their beauty glowing. In the last few decades, the presence of make-ups have contributed hugely to the advancement of beauty from a whole different perspective. So much so, that it has gone beyond a hobby but has become an art, a career etc. With the constantly newly developed products of make-ups which is used borth commercially and privately in the fashion world across genders, face contouring is one of the vital areas that need both learning and mastery.
Perhaps, you have probably looked at top fashion idols and celebrities and couldn't help admiring such jaw-dropping face contouring. Well, this article is to guide you on how you could achieve that as easy as possible, and yes you can achieve this at home. All that you need is get the right make-up kits and tools handy, and let's face contouring begin.
What is Face contouring?
Face contouring refers to the art of using different dermal fillers to give the illusion of having more defined facial features and typically make the face. It is also called "face sculpting".
All it takes a few sweeps of strategically placed bronzer, a dash of highlight, and poof!
What You Need
Primer-Infused Bronzer
Powder Contour Single
Moisturising Baked Bronzer
Match Stix Matte Contour Skinstick
Stick Foundation
Nudies Bronze
Procedures For Face Contouring
1. Set the scene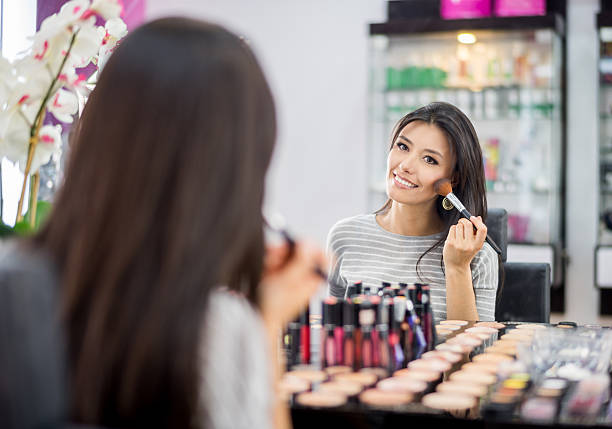 Do a little bit of readiness to guarantee that you are in for the best results. Get all the necessary products and tools ready, and good light source too. Before picking up a brush, give your skin a quick facial massage, use a soft relaxing touch while lifting the face in a continuous upward direction to give it a mini lift or, wield a face massaging tool like a jade roller to sculpt, massage, and help promote lymphatic drainage.
2. Pick Your Sculpting Tools
Get a skincare, a foundation, a bronzer that is two shades deeper than your skin tone, and a concealer that is one to two shades lighter than your skin tone.
Your bronzer is what you need to enhance the angles of your face, and for textures you may use powders instead of creams, unless of course you are very familiar with creams texture and can set right. On the other hand, a cream product can give skin a fresher look—especially if you have dry skin. Have a wet sponge on-hand to blend this product out. Once you've picked out your sculpting tools, find your highlighting hue.
3. Use the right brush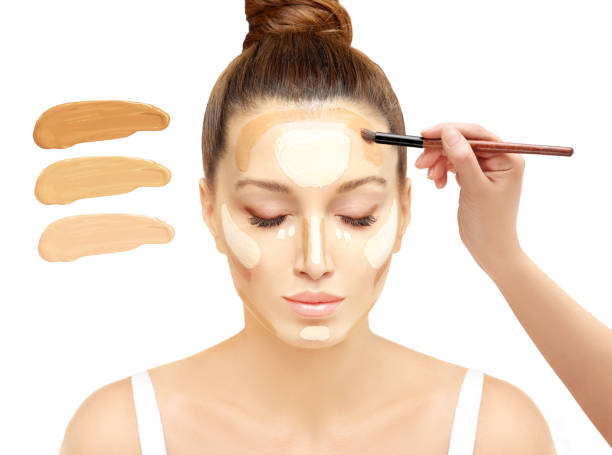 Using the right tool is essential for any great makeup result. A flat brush or small make-up brush are the perfect size for the job. Avoid powder or blush brushes, their sizes are too big to get the precision you need.
4. Position Matters
It's important when contouring you follow your own features and map out your complexion, not someone else's. Start by identifying the hollows of your cheekbones and the high points of your face so you know exactly where to apply the darker and lighter shades. The key is to remember that light shades (highlighter) will bring things forward and in turn make them more prominent, while darker shades (your contour powders) will make them recede. You can use these shades to skill-fully draw attention to certain parts of your face, like your eyes and cheekbones, and divert attention away from other parts. By doing this at the start, it will help you figure out exactly where you should be contouring!
5. Find your cheekbones
After applying your foundation, you will first need to locate where to put your darker shade to bring out your cheekbones. One easy way to do this is to suck your cheeks in so you look like a duck. Or you can use your fingers to find the hollow part in your cheeks – place your fingers on either side of your face and find the dip underneath your cheekbones. This is where you should place your darker pigment.
Then, using your brush at an angle buff the dark powder or contour stick into the hollows of your cheeks using swift back and forth strokes. Remember that contouring is supposed to be built up gradually, so apply small amounts to begin with. If you feel that you need more, then add some more, but don't be too liberal or you might have to start all over again.
6. Define
Sweep your bronzer onto the parts of your face that you would like to define. It could be along your hairline, cheekbones, the sides of your nose, and jawline. "The lighter the touch, the better," she notes.
7. Find Your Light
Next, apply a few dots of concealer to the high points of your face, including the bridge of your nose, the center of your forehead, on the tops of your cheekbones, and around your mouth (ie the corners of your lips and above the cupid's bow).
8. Blend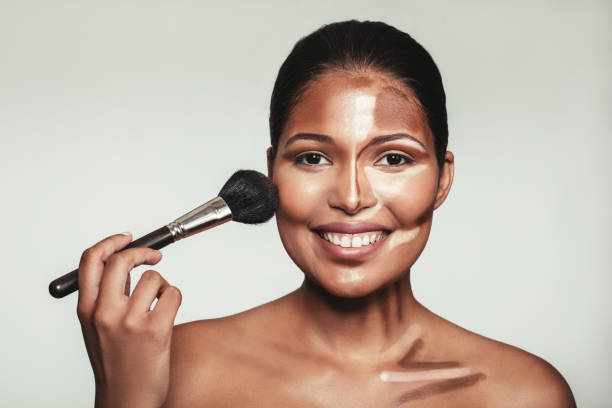 Use a wet Beautyblender or dense angled brush to blend out your look. If you're using the punchy pink sponge, tap it over your makeup in circular motions to melt it into your foundation. If you're using a brush, sweep it back and forth until your look is even.
9. Lock Your Look
Use a setting powder and a powder puff to set in a makeup look, but bear in mind that "Everyone's skin has different needs,".
Tip: "Use less setting powder on dry skin, more on oily skin, and a little in between for normal skin.
Was this article helpful?