The new Ferrari Purosangue is our absolute focus in this article, as it is our diversified focus which will span across the automobile's specifications, features & Price anticipated by launch day.
Also, the above knowledge and more are extensively compiled to enable potential customers as well as faithful customers who vie for both ultimate luxury, safety, and comfort a four-wheel could come with, to characteristically know beyond the superficial of the Ferrari Purosangue and ensure they are satisfied with their multi-million dollar vehicle investment.
Moreover, in the wake of a Ferrari SUV among several successful rival high-performance SUVs, the 2024 Ferrari Purosangue is an SUV with a unique feel, features, and of course handling. It is fantastically designed with a prancing horse badge on the grille. It also on top of its ultra-performance utes have Ultraluxurious features that make it a Highlight.
What's new?
One of the most notable and pleasing realities is it's the first SUV of its kind by this automaker. Next, a striking feature of the Ferrari Purosangue is its thundering V-12 powertrain, which effectively powers a nicely balanced ride and handling, making it one of the most exclusive SUVs in the market.
Also, you can expect a likely sophisticated but active suspension system. A host of more features like massaging front seats after a long day of cruising, the available electrochromic glass roof, etc are all that to expect from your new SUV. Which of course can get better with your use of Ferrari's personalization options to create a Purosangue that's more tailored to you.
The size of Ferrari Purosangue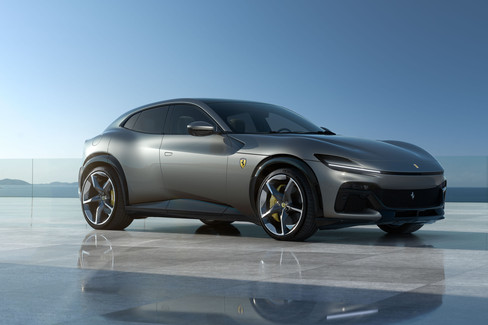 This SUV dimensionality measures a wheelbase of 118.8 in, a length of 195.8 in, and a Width of 79.8 in, and simultaneously boasts of a Height of 62.6 in. A Cargo Volume of 17 ft3, and a Curb Weight (C/D est) of 4850 lb.
Engine, and performance
When opting for a Ferrari Purosangue it implies choosing an SUV wearing the famed prancing horse badge, and a 6.5-liter V-12 engine running on a 715-hp twelve-cylinder, and also flaunting the carmaker's signature red-painted valve colors.
The engine makes an impressive 528 pound-feet of torque, which is sufficient to power the SUV to complete 60 mph in 3.2 seconds. Even as the first SUV by Ferrari, it succeeded to keep the thrill boiling.
Also, as a front-engine, all-wheel-drive SUV it comes with a standard adaptive suspension system wired to an electric motor at each corner of the SUV to apply force to the dampers during winding maneuvers to more efficiently control body roll.
This feature dismisses the need for traditional anti-roll bars, also it hunkers down during hard driving by reducing the Purosangue's height by 0.4 inches.
Fuel Economy and real-world MPG
The Ultraluxurious Ferrari Purosangue has decent fuel economy and Real-world MPG. Though, the EPA Ratings, leave its stats at 12 mpg city and 16 mpg highway. Which in other terms, might be considered Ferrari's least fuel-efficient offerings.
Ferrari Purosangue interior design
#1. Comfort and cargo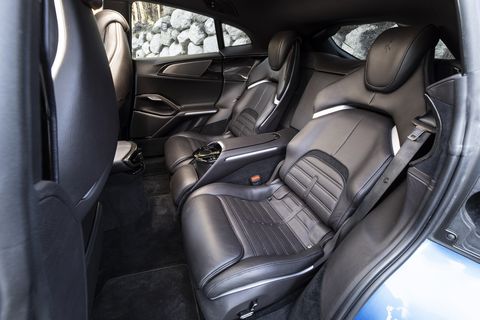 This SUV's interior is swathed generously in Ferrari-quality materials, having a cockpit that is perfectly driver-oriented with most of its controls operated through the steering wheel. An optional glass roof is present as well as a standard carbon-fiber roof panel is also duly equipped to save some weight.
The Ferrari Purosangue is a 4-passenger, 4-door wagon vehicle that offers legitimate room for four and it is outfitted with "suicide" a nickname for its slick rear-hinged coach-style rear doors that makes access to the back seat easier while mimicking a two-door appearance. The front and rear seats have no bench in the back for a fifth passenger, and both rows have a center console.
#2. Infotainment and connectivity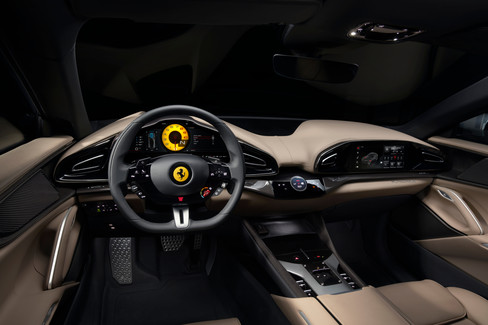 A surprising feature that is absent in the Purosangue is the centrally mounted touchscreen infotainment display, which is common in most rival SUV brands produced in recent years. Though, there is a 10.2-inch separate screen for the front passenger and a 10.2 digital gauge cluster.
Apple CarPlay and Android Auto both come standard without an in-dash navigation system. Ferrari seems to suggest most people would rather use their phones for that service.
#3. Safety and driver-assistance features
The Ferrari Purosangue like previous Ferrari cars prioritizes safety and as such comes standard with several driver-assistance features, such as Automated emergency braking, automatic high-beam headlamps, and adaptive cruise control.
While its key safety features include:
Standard automated emergency braking and blind-spot monitoring
Standard lane-departure warning and lane-keeping assist
Standard adaptive cruise control
Warranty and Maintenance Coverage
Ferrari offers a Limited warranty covering 3 years or unlimited miles- and 3 years of powertrain warranty coverage identical to that provided by the Lamborghini
However, Ferrari tops the latter in its complimentary scheduled maintenance; which offers seven years of coverage.
Ferrari Purosangue price
Apparently like all things Ferrari, the Purosangue may seem to cost a fortune but it is likely worth every penny of the start price that is base version goes for $402,050 including the compulsory gas-guzzler tax.
Final thoughts
The Ferrari Purosangue is one of the few incredibly performing SUVs that stems from the trusted automaker Ferrari, hence can be counted on for excellent performance capabilities which previously have spoken for themselves.
Was this article helpful?