Most likely, reading this means you want to learn something or a bit better about hand-tied extensions and it's our pleasure to ensure we answer those questions and give absolute clarity where necessary as we know how vital the hair is for women's beauty and confidence. They exist a couple of different hair extensions all in an effort to make our hair fuller, healthier and better looking. So, why hand-tied extensions? Hair extensions offer a lot of versatility.
What are Hand-Tied Extensions?
As defined by Gavin, "Hand-tied" extensions refer to the type of weft being installed, usually very thin, discreet weft that's typically stacked with other hand-tied wefts ( Hair wefts are a grouping of hair strands woven into a fine strip of cloth and can vary in width) and installed with a beaded-row method, but the stylist can also use machine wefts instead for denser hairtisfying hand-tied extension technique.
One benefit of the hand-tied extension installation process is that when properly applied, it keeps hair healthy through preventing breakage while adding length and fullness.
Difference between Hand-Tied Extensions and Tape-Ins
The starting difference in the two techniques is in their names, that is to say that the hand-tied extensions require the stylist to attach wefts onto the row of beads by hand-tying the wefts in with a cotton or a nylon thread. Also, these numbers of rows and wefts will vary based on a client's hair length, density, length, and desired result. Meanwhile, on the other hand "tape-ins" require the use of a medical-grade tape adhesive to 'sandwich' pieces of a client's natural hair in between two pieces of extensions. The two tape tabs attach and create the section of the tape-in, and is continued in same pattern throughout the head." Also, bearing in mind the Client's hair density, length and goals, the number of tape-in packs used will vary.
Time is a big factor to determine differences in both, as the time spent on their installation process and ultimately finishing is not the same. Though, individual hair qualities influences time but generally, a hand-tied session may take longer – between two hours and two-and-a-half hours, while a tape-in session is lesser. It may last up to an hour or an hour and a half.
Does Hand-Tied Extensions Work Well With All Hair Types?
No, it doesn't. It works with some hair types better than some, like if you have straight or wavy hair textures hand-tied extensions and Tape-ins works better for you. This is because the beads will lay more flat against the scalp, and detangling can be done closer to the root, just below the beads. But curlier hair textures, should opt for sewn-in wefts.
How Are They Installed?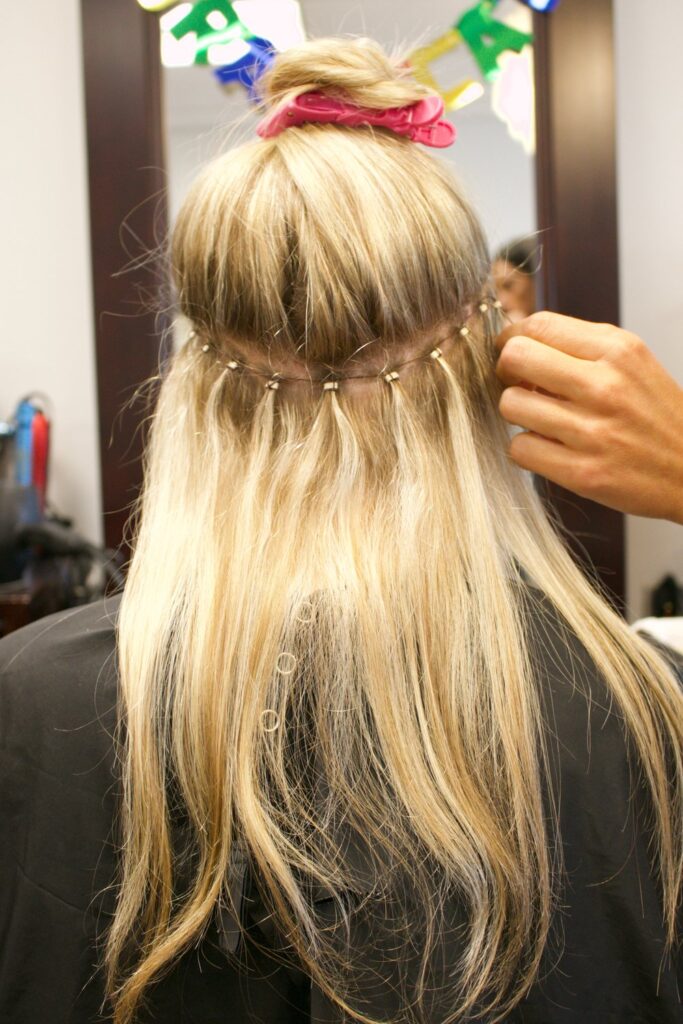 To do the hand-tied extension technique properly. You should have it done by a professional hair stylist.
Wefted methods are usually installed in horseshoe or U-shaped rows made across the back of client's head, but smaller rows may be used to fill in finer areas that needs blending. Using multiple different colors of wefts or custom-color wefts could help harmonize a perfect blend and match. "The more colors used, the more seamless the blend will be with natural hair." says Gavin.
How Long Do They Last?
The longevity of your style will depend on how you care for your hair post-appointment. Generally, hand-tied extensions can last upto about six to nine weeks before needing to be redone. While, the hair extensions themselves should last much longer if they are properly catered for, and can generally be reused for about six to eight months.
Was this article helpful?