So many people for reasons very far from scientific have come to admire skin tanning. Which is usually characterized by spending longer time in the sun or more frequently exposing oneself to the sunrays, sometimes deliberately or deliberately just to have a different look on your skin that may be all the more admired by a friend of associate.
If you have never had your skin tanned, you may wonder how long does it take to get a tan? Well, this answer may differ with persons as we will see. Though, it is good to be forewarned that tanning have some associated risks and should be done with care.
How Long To Tan In The Sun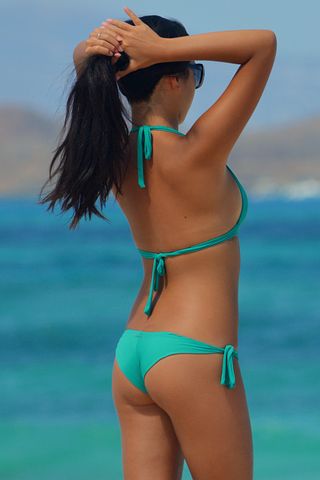 Well, since we all like to have our skin look radiant and glowing peculiar to our personalities, we may want to tan in the sun. Tanning here has the ability to make our skin appear golden brown or put on a more darkened shade of color.
For some people, tanning may occur within the space of as little as 10 minutes if the sun is quite high and your skin highly sensitive too, and all the more if you are not wearing a sunscreen with an SPF (sun protection factor).
While, most people will usually tan after a few hours of exposure to sun or UV rays. But, it is important to note some people take even longer for tanning to reflect noticeably on their skin. This does not mean that your skin has not absorbed the sun ultraviolet rays. Though, you may not see the effect right away, eventually you may.
Darker skin complexions, tan more easily than lighter skin complexions. This is because darker skin tone have more melanin than light skin tones. Also, it is possible that light skinned people may experience a burn instead of a tan when exposed to direct sunlight for a while, like in the case of being at a beach.
4 Factors That Determine How Long It Takes To Tan
1. Stronger Sunrays
If the sun's rays are stronger and is at higher altitudes at some places, individuals who expose themselves to sun bathing at those places will tan faster than those with lower altitude at weaker sun rays, which can influence the overall length of tanning and burning.
Humid climates contain more moisture in its air, than torrefied or scorched climates and can make you tan faster, with less risk of sun burning.
2. Melanin
Individuals with more melanin like dark complexioned people are more susceptible to tanning than their lighter skinned counterparts because the sun triggers the cells called melanocytes and more melanin is produced which results in a darker skin complexion.
3. A Sunscreen SPF
This is a sun protective factor, and using it can influence how much you tan, and the higher the SPF, determines the longer you are protected or exposed to skin tan. It is advisable to use a sunscreen to protect yourself from too much sun ray effect which may be damaging to your health.
4. The Sun's Angle
The sun's angle is also a contributing factor to how long it takes for a tan to happen, coupled with the time of day. Those who live close to the equator, are more likely to tan or burn than those farther away. This is because the tend to be exposed to more direct sun light and have only a little break in shade.
Tips For Faster Tanning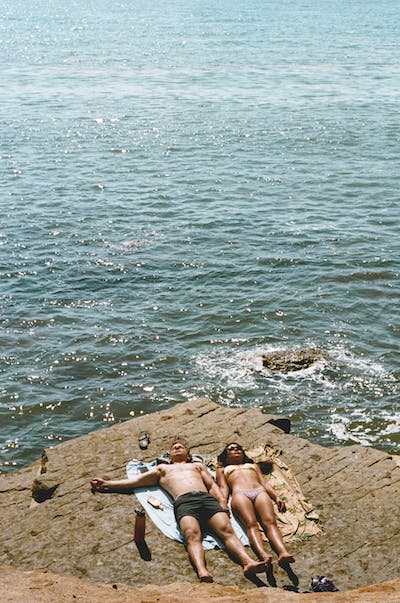 Exfoliate before tanning so your tan doesn't flake off.
Change positions regularly when sun bathing to even out, so you don't expose just a part of your body to the sun.
Eat foods that contain beta-carotene and lycopene-rich foods like tomatoes, tomato paste, carrots etc that can naturally darken the skin.
Note: Avoid Tanning beds, they are very harmful, statistics says an indoor tanning session have the ability to increase the risk of developing melanoma by as much as 20 percent.
Tanning Risks
Tanning has risks, especially if you don't wear sunscreen for protection
Dehydration
Sunburn
Melanoma and other skin cancers
Eye damages
Rash and skin irritability
Premature skin aging
Immune system suppression
Any type of tanning has risks, including skin cancer. If you decide to tan outdoors, doing so for a shorter time period may reduce the risk of damage. Remember to wear sunscreen with an SPF of at least 30 and drink plenty of water.
Conclusion
A tan happens when the skin is exposed to sunlight or artificial ultraviolet(UV) rays causing a pigment called melanin to form. A tan has no scientific benefit but sentimental and if the sun rays are severe on the skin, it can lead to a sun burn instead which can be damaging and result in skin problems and conditions, that may be mild or severe.
The time a skin takes to tan is not specific and is tied majorly to several factors such as skin color, climate etc, some may tan in fifteen minutes while some in a few hours or more.
Was this article helpful?