Tattoos are fast growing to be widely accepted by both individuals and legal entities in the 21st century, especially in the Western World. Everyday, more persons are interested in getting a tattoo, marking and identifying themselves with some important and unforgettable part of their lives – personal beliefs, religion or culture, associations, self-expression, artistic liberty, sexual identifications, career or an impulse action. Whatever the reasons might be, it is important to understands that tattoos all require an application which doesn't necessarily have to be permanent.
Temporary tattoos are gaining more grounds daily for several reasons particularly flexibility, it can be changed or completely erased if the individual changes her perception or views on tattoos application. Furthermore, temporary tattoos are less painful, also allows you to test out something you've only had in mind and can see how it looks on your skin before making it permanent and time consuming. So, how do we apply temporary tattoos exactly? Temporary tattoos are made with water-based ink, which means that they're repelled by skin's natural oils.
What You Need
Paper towel or clean cloth
Water
Scissors
How To Apply a Paper Backed Tattoo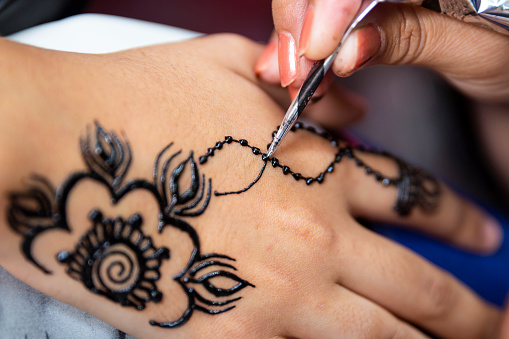 1. Clean thoroughly and efficiently the part of your skin you would like to apply the tattoo. Also, with the use of cotton pads or a soft cloth dampened in alcohol take off every trace of hair from that part of the skin, as well as lotion., dirts and oil. This step ensures your temporary tattoo is applied neatly, smoothly and more durably.
2. Pick out your desired tattoo, most temporary tattoos come prepared packaged, but if yours come on a sheet with several others, you might need to separate it by cutting around the edge with a sharp scissors, until you've successfully separated it from the "flash sheet." Next, do away with the protective transparent foil, the bright, mirror-image version of the tattoo you're planning to apply to your skin should be very visible.
3. Next, place neatly the design face down onto the desired area of skin, confirm the skin position and with firm steady hands, place a damp cloth/ sponge firmly onto the tattoo paper and hold it in place.

4. Press a damp cloth or sponge over the tattoo paper. Take a piece of fabric or a sponge that is neither bone dry nor soaking wet, and push it firmly against the backing of your tattoo. Hold it in place, and don't let it slip around, even if it wants to. Hold for around 30 seconds and then gently slide the paper off.
TIP: Your tattoo can last significantly longer if you apply sealer over it.
KEEP YOUR TEMPORARY TATTOO CLEAN: Your tattoo can pick up dust or lint from the clothes. If that happens tattoo can look a bit dirty, especially around the edges. This can easily be fixed by gently washing the tattoo with a bit of soap and water.
How to Apply a Transfer Tattoo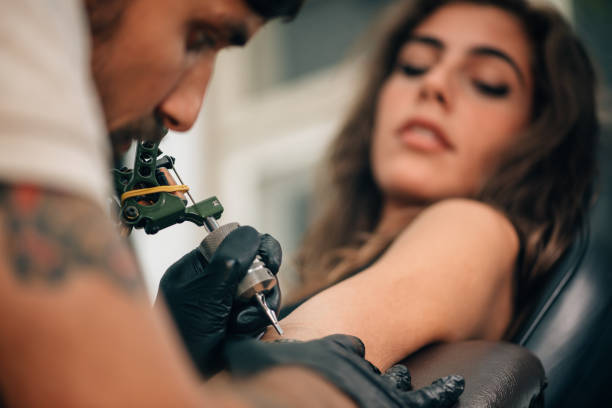 Repeat the same process above, after cleaning your skin and removing the hair properly.
Hold for at least 60 seconds. To get the most complete image, you'll need a bit of patience. Don't even think about removing the cloth or the paper backing from your arm until a full minute has passed. While you're sitting, try to move as little as possible.
Gently peel off the paper by lifting a single corner of the backing to peek at the tattoo. If the image looks weird, or isn't sticking to your skin, put the cloth or sponge back on and wait for another 30 seconds. If it looks good, keep peeling off the paper.
Keep being patient for about ten minutes. Do not poke on your temporary tattoo within this time. It's best to sit reasonably still and not flex too much, to avoid smearing the tattoo, and allow it to dry.
Dab on a bit of water-based lotion. To make your tattoo last even longer, hydrate your skin by gently patting a bit of thin cream or lotion on top. Avoid thick, oil-based moisturizers, like petroleum jelly, which may smear the tattoo. If you want, you can dust baby powder over the top of the tattoo as well, to make it look more matte and realistic.
How To Apply a Glitter Stencil Tattoo
1. The application of glitter tattoos is a little different from the two mentioned above (paper-backed and transfer tattoos,) but they still require the first procedure of the last two, which is to be applied on a clean skin. Clean the skin part you want to apply the tattoo with water, then pat it dry with a paper towel or clean cloth.

2. Glitter tattoos require a stencil one specially intended and made for glitter tattoos purposes. These particular type of stencils come with an adhesive back that protects your skin while it may peel off. Apply the stencil of your choice wherever you want the glitter tattoo to be. avoid sticking the stencil to a hairy place, or it'll hurt to peel off. Stensils for glitter tattoos can be found in glitter tattoo kits, or can be bought separately at parties, big-box, or beauty supply stores.
3. Paint over the stencil with body-safe glue. If you've purchased a glitter tattoo kit, it should come with a special body adhesive intended for skin; if not, you can purchase this separately. Apply a thin layer of the adhesive with a paintbrush so that it covers the skin left bare by the stencil. Then, wait for it to dry until it's almost clear.
4. Apply glitter by dipping a paintbrush in body-safe glitter and dab it on the skin inside the stencil. You might want to try out varieties by mixing glitters together.
5. When you're comfortable with the amount of glitter you've used, take a corner of the stencil and slowly peel off its skin, giving caution to your newly applied glitter.
6. Once you've peeled off the stencil, you might notice a bit of fallout from the glitter. If that's the case, use a large fluffy brush (a blush brush is perfect) to banish any wayward glitter flecks. It's probably best to do this in an open area, so you don't have to pick specks out of the carpet.
To Get Rid: Use a cotton wool pad or ball soaked with baby oil or rubbing alcohol, place on the tattoo for 10 seconds and then rub until it is removed.
Was this article helpful?