You may have just had a new piercing done on your eyebrow and you want to learn all about what to do in the next couple of days to keep it away from scarring or getting infected. Perhaps, you want to get an eyebrow piercing and you think it right to learn all you can about it before actually subjecting yourself to one. Well then, whatever your reasons are, this article will show you just how to care for an eyebrow piercing, to avoid getting infected and ultimately to prevent it from having scars. You will have to be ready to adopt good hygiene, among other things to keep your eyebrow piercing clean and bacteria free. from infections. Keep reading!
What You Need
Water
Antibacterial liquid soap with a neutral pH
Cotton balls
Tissue
Antiseptic solution
Salt
Anti-scarring cream
Cotton swabs
Cocoa butter (Optional)
Care Tips For Eyebrow Piercing Scar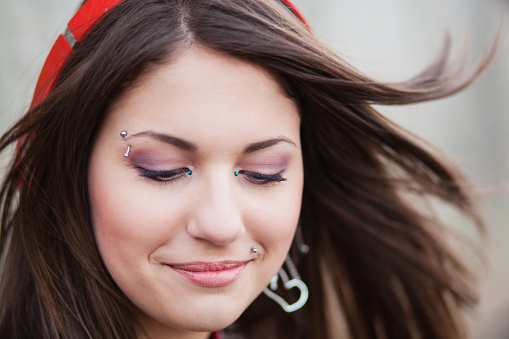 From the moment when the piercing is done and complete, till it fully heals, you will need very good care and hygiene practices. Below are some guidelines to follow:
Dos
Endeavour to wash your hands always, with warm water and soap, scrub hands for at least 20 seconds before touching your piercing to minimize the ability of germs and bacteria and the possibility of getting an infection.
Daily, clean your piercing with a mild soap or an antibacterial liquid soap with a neutral pH to avoid irritation on your piercing – to do this properly (Soak your piercing in warm water for a few minutes before applying mild soap or antiseptic solution provided or recommended by your piercer. Then, use your soap carefully to remove any dirt around and in your piercing, but ensure you do not pick on it or pull when at it.
If they are scabs, let them fall off on their own.
Dry the piercing with a cotton swab preferably.
Clean your piercing with a recommended saline solution once or twice daily as instructed by your piercer. If you feel you have accidentally exposed or fiddled with your piercing in the course of the day, use salt water mixture to clean it. To make a saline solution – Add 1 tablespoon of salt in 1 cup of water, and stir well to blend and dissolve properly.
Next, in the saline solution, dip a cotton ball until it is partially soaked, and apply the damp side of the cotton ball to your piercing cleaning the area gently.
Clean your piercing less often after the first 2 weeks. But, keep using the antibacterial, and neutral pH, liquid soap to clean your piercing every time you take a shower.
Keep using the saline water mixture whenever your piercing gets dirty in between the days hour but ensure to make a fresh one each time.
Before you go to bed each night, remember to apply warm water and antiseptic to your piercing.
Drink plenty of water to stay hydrated and keep your skin health, as well as take a lot of vitamins to help the skin repair itself naturally.
Donts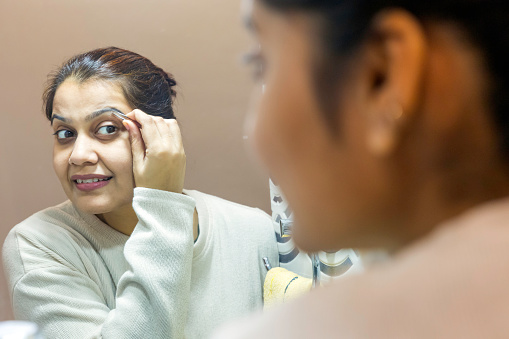 Avoid dust, dirt or smoky places so your piercing doesn't get contaminated.
Fiddling your piercing or the area with dirty hands are the most common cause of infection that leads to scarring, avoid it.
Avoid un-prescribed or any beauty products, like makeup, lotion, cream, dyes etc. during the first 6-8 weeks when your piercing is still in the healing process, as they may irritate the piercing.
Also, do not apply any product directly to your piercing.
Avoid using hydrogen peroxide or rubbing alcohol on a new piercing because they are too harsh and can irritate your skin. You should also avoid bacitracin and other ointments not prescribed by a doctor.
Avoid sleeping on a new piercing, to prevent it from getting caught on your bedding, which can lead to a skin tear, and prolong healing or easily become infected.
Do not cover your piercing while its still in the healing process, for at least, the first 6-8 weeks of healing.
Also avoid water bodies especially public ones like swimming pools, hot tubs, streams, oceans etc. until it heals completely.
If after the piercing hole has fully closed you are left with a scar, use cocoa butter on the scar tissue, this will help soften the area and reduce the appearance of the scar. Where, the scar is severe seek advice from a medical professional.
Infections in facial piercings are very dangerous because they are close to your brain. Make a quick visit to your doctor if your piercing is infected. Infections need to be treated quickly and accurately.
What To Do If Your Eyebrow Piercing Scars
Remove your piercing as soon as you notice your hole is migrating to avoid scarring. If you any thin skin in between your piercing the area turns reddish, shiny or begins to peel, it is time to remove your jewelry. You should notify your piercer, preferably to have them remove it.
While washing the piercing area daily, ensure all the soap residue is removed.
If you notice any pus in your piercing, notify your piercer and use a warm compress to provide extra care to it. Gently wash away with warm water and if it persist after 2-3 days or becomes uncomfortable contact a doctor immediately.
Was this article helpful?