Cleaning a deer antler centers on learning how to clean and preserve the skull cap that the antlers are attached to. Usually, deer antlers are beautiful artifacts that have a way of connecting us to cultural heritage and beliefs or just pure artistry and keeping this virtues alive among many ways is through keeping your deer antler clean. Are your antlers covered in dirt, of moss, mold or mildew? Here is what to do.
Cleaning deer antlers can be accomplished through several easy ways. Such as boiling, borax, pressure washing, beetles, and effective skull cap cleaning.
Cleaning Dirty Deer Antlers
Warm Water and a Dishwash Soap
With some warm water and a mild dishwash soap or detergent, soak the antlers for a few minutes, about 5 or thereabout and start scrubbing them once you get them out, with a wet washcloth and the soap. They usually clean up very quickly.
Rinse the washed deer antlers in clean water, and let them dry.
Cleaning the Skull Cap of Deer Antlers
To effectively clean the skull cap of deer antlers, it may lie on how old the skull cap is and if the hide is still intact.
Remove the Hide from the Skull Plates
For a freshly harvested deer to clean it antlers, start by skinning the hide from the skull, done quickly and easily with
A sharp knife
A Flathead screwdriver
A pair of plier
Make a few cuts beginning from the outer edge of the hide to the base of each antler. Next, skin the hide back until you have enough skin to grasp it with the pliers.
Remove the hide with pliers
The hide in most cases can be very tough to free from the skull plate, even the burrs. Apply the use of a flat head screwdrive and pull the skin away from the burr. If your deer's skull cap is pretty old and the hide is dried on, here's what you do; Find a place outside your home to avoid it smell, them soak the skull plate in water for a few days depending on how dried up the hide is, but eventually the hide will be pliable enough to cut and be removed with pliers.
Methods for How to Clean a Deer Skull Plate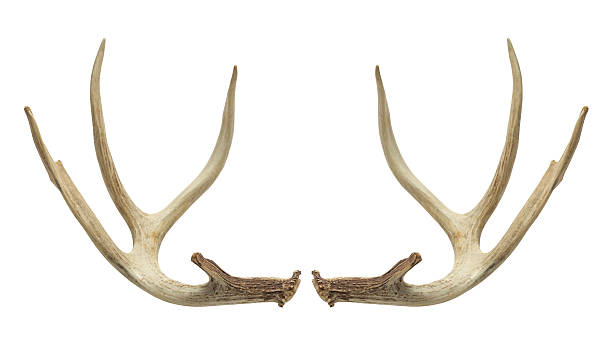 With the hide free from the skull cap, you have a few options in cleaning the actual deer skull plate (skull cap):
Apply borax.
Clean off excess tissue and boil with some sal soda to get any large chunks of meat and tissue off the skull plate. Sal soda, (aka soda ash or sodium carbonate). This helps clean the bone and break down the tissues quicker. Usually an hour or two at a low simmer is plenty.
Clean off tissue and pressure wash.
Then apply borax.
Use dermestid beetles too
Boiling a Deer Skull Plate to Clean It
You may need to add a little water as you do this to keep the water level above the skull plate. Try not to submerse the actual antlers too much as this can remove some coloring if boiled too long. Keeping the antlers wet while on this, avoids help prevents it from developing a harsh color fade line that is harder to fix later. With the skull plate boiled, rinse it briefly in cold water so you can handle it.
Scrape off any remaining tissue and let it dry
In a couple days the skull plate will be dry and it'll last indefinitely, so proceed with whatever you want to do with the antlers from there. Want some antler mounting ideas? Cleaning Deer Antlers with Just Borax The quickest option of preserving deer antler skull caps is to clean off the tissue and then simply apply some borax. Let it dry thoroughly. In most cases, this option is plenty adequate for a lifetime of zero issues, but you do need to be careful of humidity levels and exposure to bugs.
Using a Pressure Washer to Clean Deer Antlers
Pressure washing is another way to thoroughly clean a deer skull plate without boiling. Still use borax after this, or a pressure washer to make a quick work of removing all tissue from a deer skull plate.
Summary
Learning how to clean deer antlers is important in preserving a lifetime of memories of that cherished hunt, or prized find. By knowing how to effectively remove all meat and tissue from a skull cap, you will ensure no future issues with smell or bugs.
Was this article helpful?