Cooking
How To Cook a Pork Ham Roast, Baked, and Fresh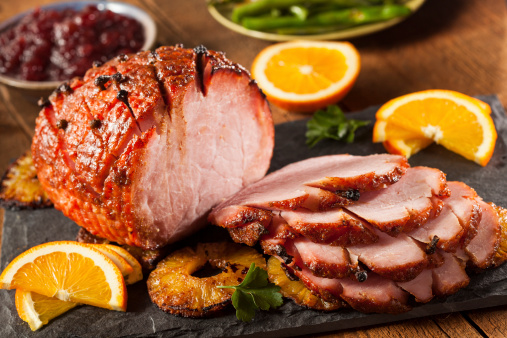 A pork ham is a delicacy of pork – most usually called ham from the leg cut and preserved either wet or dry curing and smoked or not. But, we are humans and variety is our spice, we love our ham cooked differently and below are three specially tasty ways to cook your ham.
BAKED HAM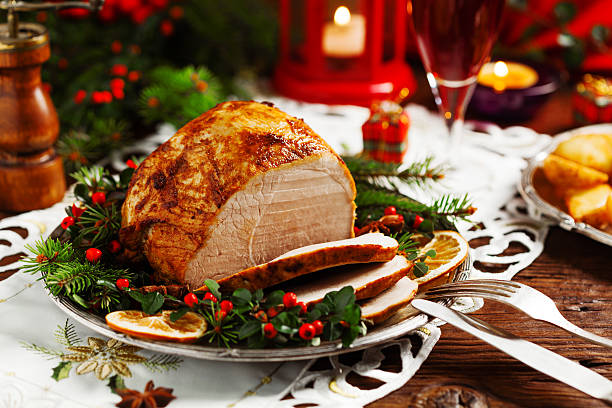 Ingredients Needed
1 (12 pound) bone-in ham, rump portion
½ cup whole cloves
1 cup packed brown sugar
4 cups water, or as needed
Steps involved:
Oven should be preheated to 350 degrees F (175 degrees C).
Put your well washed and spiced to taste ham in a roasting pan, and press whole cloves into the top at 1 – 2 inch intervals.
Pack the top with a layer of brown sugar. Pour enough water into the bottom of the roasting pan to come to a 1 inch depth. Cover the pan tightly with aluminum foil or a lid
Bake for 4 1/2 to 5 hours in the preheated oven (about 22 minutes per pound), or until the internal temperature of the ham has reached 160 degrees F (72 degrees C). Make sure the meat thermometer is not touching the bone. Let stand for about 20 minutes before carving.
ROAST HAM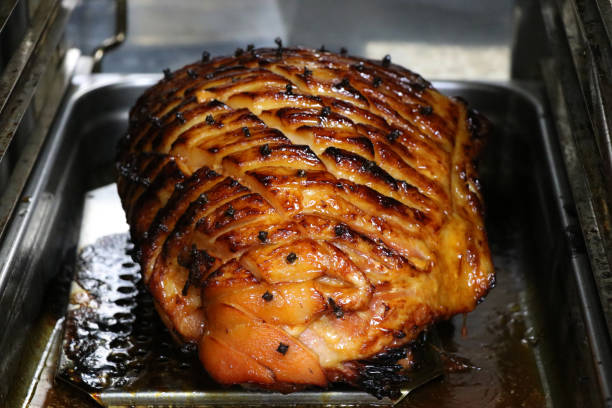 Ingredients
1 16-to-18-pound fresh ham
1 ½ tablespoons kosher salt
1 tablespoon freshly ground black pepper
2 tablespoons fresh thyme (from 14 to 16 stems)
2 cups plus 2 tablespoons dry white wine
¼ cup half-and-half
Step Involved
Place a rack in lower third of oven and preheat to 425 degrees. Trim skin and excess fat from ham, leaving a layer of fat. Score ham all over in a diamond pattern of 1/2-inch-deep cuts about 1 1/2 inches apart.
In a small bowl, combine salt, pepper and thyme, pinching and sifting mixture until thyme becomes fragrant. Pat mixture all over ham and into crevices.
Place ham fat-side up on a rack in a large roasting pan and roast uncovered for 1/2 an hour. Turn heat down to 350 degrees, pour 2 cups wine and 1/2 cup water into pan and loosely tent with aluminum foil. Continue to roast, basting every hour. Add water to pan, if necessary, to keep pan juices from scorching; bake until a meat thermometer pressed into thickest part of ham reads 155 degrees, about 3 1/2 hours.
Let ham stand 15 to 20 minutes before carving. Pour pan juices and remaining 2 tablespoons wine into a small saucepan and simmer about 2 minutes. Turn off flame, add half-and-half, and serve.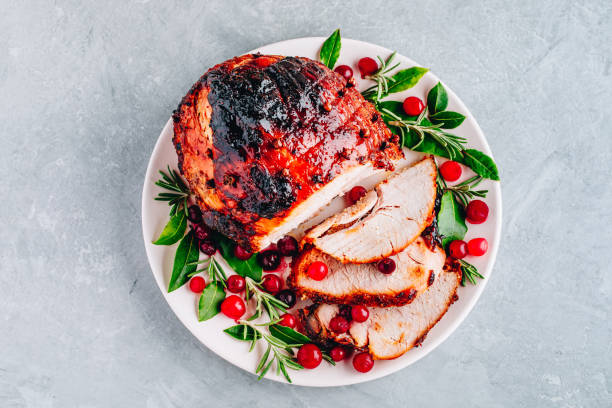 Fresh Ham Roast
Ingredients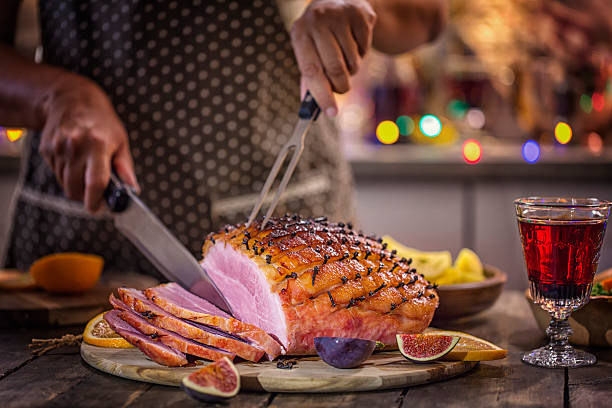 ) 1.5 kg/53 oz of fresh pork ham steak with fat and skin
2) some garlic cloves to taste (I use 1 garlic head)
3) salt or salt red pepper paste to taste (1/2 tsp)
4) 1-2 tbsp of vegetable oil for the marinade + 1-2 tbsp for roasting (optional)
5) some ground black pepper to taste (1/2 tsp)
6) 1/2 tsp of cumin powder
7) 1/2 tsp of dried thyme
8) 200 ml/7 fl oz of water
Steps Involved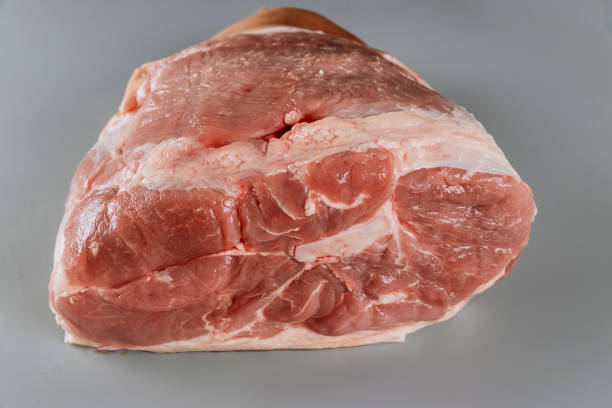 1) Place the fresh pork ham on a clean flat surface, perhaps a board or tray
2) Then make the marinade, chop or grate garlic, thyme, add salt, 1-2 tbsp of oil, grinded pepper, cumin, then blend them well.
3) Pour some marinade over the ham, and rub properly the meat on both sides.
4) Place a lid over the ham and put it in the refrigerator for a couple of hours for better flavoring of the spices into the ham especially if it has a thick layer.
5) You may further pour some water or white wine into a tray and a little oil over the meat.
6) Next, place the tray into the oven and heat the ham at about 180 C/360 F, flip it once or twice to roast evenly. until it's golden brown.
7) turn the oven off and let the fresh ham roast to rest for about 30 minutes before serving.
Recommendation : Instead of roasting a fresh pork ham whole, and risking the tenderness. it's more tasty to cut the ham across to get a 2-3 finger width slice or removing the bone dissect it in two.
Along with the fresh ham roast, you can serve different side dishes – mashed potatoes, boiled potatoes, risotto, and many more.
Your choice might be a beer or fresh juice.
We trust you liked this article, please subscribe to our YouTube Channel for our videos and you can also be a part of our Facebook family.