Yellow jackets are a different breed of wasps from the paper wasps, and they are more aggressive especially when provoked, but will also sting even when unprovoked because they are defensive about their nests. So, how does one find them if they exhibit such defensive and aggressive characteristics? The best time to find a yellow jacket nest is a little after 10 am, since they happen to be most visible to see when the sunlight is fully out.
Though, finding the yellow jacket nest isn't exactly a piece of cake, since it can be well hidden, or buried underground or located deep inside a building wall that is most usually abandoned. Due to its extent of secrecy, a nest can be hidden some miles away from where the yellow jackets attack. Also, they can be multiple colonies of yellow jacket nest causing people these discomforts and bites. Hence, will need to be eliminated to prevent further harm and destruction.
How to Track Yellow jackets to Their Nest
Stand still and look across an area of yard that is in full, bright sunlight with straight path patterns, they do not fly in curves etc. Start by observing if an insect will fly by towards a particular direction, and watch if others after it fly towards same direction, if you observe more zip past in the same spot, you may have found your yellowjackets potential nests as they go in an out of the nest between their food sources.
Also, you may not be so lucky enough to catch them in flight probably because the weather is extremely hot or cold as at that time depending on the season.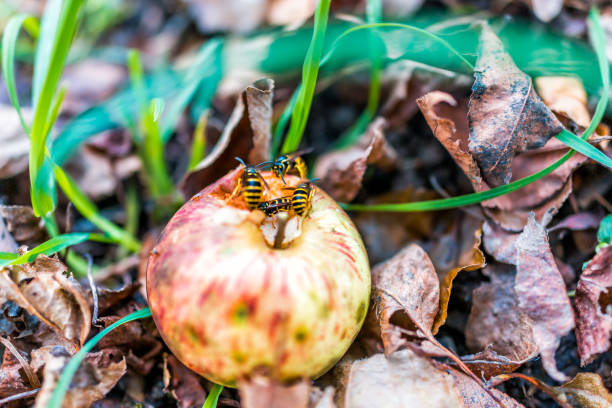 Here is how you can get them out, station jellies and many sweet foods as bait example of foods yellow jacket can be interested in include flavored canned foods, ground meat, sugar, fruit juice, ice cream etc. Place these food baits strategically, at where you have a strong hunch that their nest is possibly located. They will soon find your food bait, hang around at a considerable yellowjackets free distance to observe as they transport the food baits to their nests.
Another way is buying searching for underground holes in and around your property.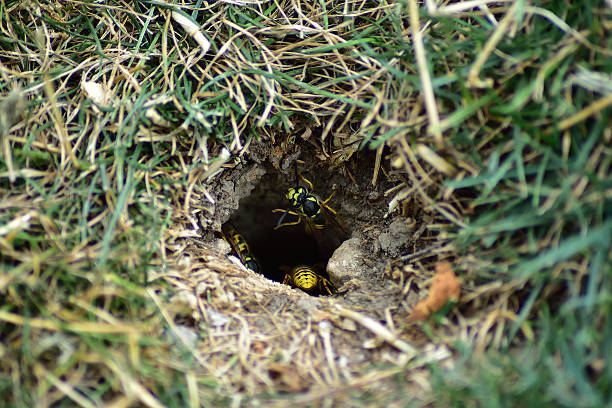 Yellow jackets also are in the habits of building nests partially underground, usually in old gopher holes. They also build their homes in wood piles and dense bushes. Look for holes, thoroughly on your property as well as within, where nests might exist. In most cases, with an attribute of defense you might find yellow jackets crawl around a certain area, in a bit to protect their nests (home).
Another option to find yellowjackets nest especially when the above method doesn't seem to be super effective. Hire a professional pest company to find and get rid of the nests. This professional pest removal company, could help you fumigate and get rid of the yellow jacket nests as well as other pest you may not have been aware of. They'll know how to find the nest and exactly how to treat it to keep you and your home safe.
Mark nests as you find them by giving some visible kind of sign to help you remember the spot. Try spray painting an "x" near the location, this is good because you don't have to go so close to the yellowjackets nests and also the paint also have the potential of washing off. Don't try to mark the nest directly by spraying on it – that might disturb the yellowjacket and invite an attack.
How To Treat a Yellow Jacket Nest
Make a plan to treat the nest about 45 minutes after sunset, yes at night. Most yellowjackets will be eliminated at that time as they may have retired for the night.
After you've treated the nest, you can leave insecticide dust at the entrance of the nest. That should kill any returning yellow jackets that weren't already in the nest as at time of treatment.
Use a quick freeze wasp spray on aerial nests. Aerial yellow jacket nests are the easiest to spot – they're usually hanging from the eaves of houses or garages, trees, or electric or light poles. Standing as far away as possible, point the spray at the nest and saturate the nest with spray. Make sure to get the nest opening as well. The nest should be completely coated. You can find these quick freeze sprays in most home improvement stores, or in the "home" section of your grocery store.
Most quick freeze sprays work 10 to 15 feet (3 to 5 m) away, so you shouldn't need a ladder unless you've found a nest that's very, very high up.
Use quick freeze spray and insecticide dust on ground nests. A spray won't completely saturate a nest that's partially underground, so you'll need to use a 2-part system. First, spray the nest entrance and as much of the nest as you can see. Then sprinkle an insecticide dust labeled for use on wasps at the entrance. That should kill any yellow jackets that try to leave or return to the nest.
You may need to wait a few minutes after spraying the nest to use the dust. Once you spray the nest, a few yellow jackets may fly out of the nest, so you don't want your hands anywhere near there!
Remain calm if you're swarmed. If you disturb a yellow jacket nest, they may swarm you. If that happens, try to remain as calm as possible – if you run or flail, it can increase the yellow jackets' aggressiveness. As calmly as possible, walk away from the place where you were swarmed, and get inside somewhere if you can.
Apply meat tenderizer to a sting. If you're stung by a yellow jacket, make a paste with meat tenderizer and a few drops of water. Use a cotton ball to apply the paste to the sting. You can leave the paste on for up to 20 minutes.
Don't use this paste near your eyes.
If you don't have meat tenderizer, you can make a paste with baking soda to apply to the sting.
If the meat tenderizer or baking soda doesn't work, hold an ice cube to the sting for 20 minutes.
Was this article helpful?