Slap Battles is one of many Roblox Games. It is a game where players slap other players into oblivion using different gloves that have special abilities. Players earn slaps, from slapping other players, which are used to unlock new gloves with more unique abilities. It is described as a chaotic game because of the nature of playing. These Gloves have both passive and activated abilities.
The Error glove was added on April 16th, 2021 and needs about 20,000 slaps to unlock. It has the infinite power to send victims to the floating point, where the player character will begin to glitch out because of Roblox engine quirks. It visually uses the missing source texture originally from Garry's Mod. Initially, error gloves are known as the Obama glove, it had different textures, sounds, and a different tooltip.but it was removed because it violated Roblox's politics rule.
How To Get The Error Glove In Slap Battles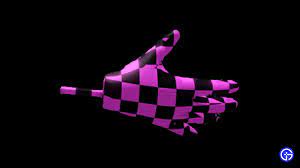 You need to first get 20,000 slaps first before you can get the Error Glove in Roblox Slap Battles,and slaps are gotten by slapping another player with any gloves. This takes a while to complete, but to speed up the process, you have to purchase the 2x or 5x Slaps Gamepasses.
Once you have your 20,000 slaps, head to the lobby area and pick out your glove. When you get close to the portals, look to the left of the Normal Arena portal and you will find the Moai statue behind the Moai statue is the error glove, click on it if you have 20,000 slaps, you can equip it once you've acquired it.
The Error Gloves had an ability called Death, when activated the player would instantly die and error noises would play alongside the death. Respawning from Error's ability is shorter and quicker than the regular spawning.
Pros and Cons of Error Gloves
Pros
Error gloves Can counter tab glitchers.
With error gloves, it is almost impossible to survive a slap.
The passive glove bypasses Reverse's ability.
It is the Cheapest one shot in the game.
Cons
Players with the error gloves cannot bypass Golden, Blocked, Buddies and Shield's abilities.
Which Glove Is The Most Annoying Glove In Slap Battle?
The Dream Glove which was added on March 22nd, 2021. It is the 17th unlockable glove in Slap Battles and costs players 1750 slaps. This glove has the ability to give players major speed advantage over your enemies. However it is regarded as one of the most annoying gloves in the game.
Was this article helpful?