Barbells are another type of gymnastic equipment that can help build a person's strength, stamina, mental health, as well as cardio functions improve drastically and effectively among other benefits. An indoor barbell is a type of barbell that is used indoors, in enclosed spaces which also is a longer version of dumbbells' and needs to be lifted skillfully with directives from a gum instructor or coach.
The indoor barbell have a lot of functions and among which are free weight training, competitive sports, Olympic weight lifting, and CrossFit. Also the barbell is a good equipment for personal body building and development such as bicep curl, deadlifts, squats, rows, bench press, and presses. It can also work for everyone whose main goal is to strength train. When using an indoor barbell you may find yourself learning and picking up more foundational moves like easily and with far more weight than you would with dumbbells and kettlebells.
Features Of An Indoor Barbell
Most usually black colored
Weight of barbells varies
Made of metal but suitable for different strengths or different people.
Usually have an adjustable style, in its weight and armrests.
Flexible for the whole family of weightlifting age to use, and achieve effective strength training at home.
Benefits Of An Indoor Barbell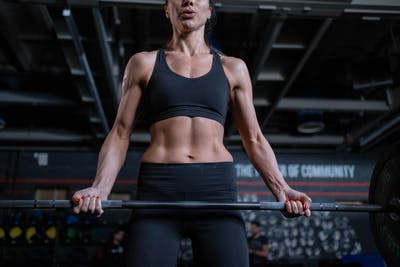 Usually environmentally friendly due to the type of materials it is made of, hence it almost never rust
Can be swapped or altered into dumbbells
Most indoor barbell are made with a non- slip design, it has a foam grip to prevent sweat and slipping off your grip, or hurt your floor
Works great for office, outdoor, home, gym etc.
Safe for beginners, athletes, middle-aged men and women, Fitness enthusiasts, etc. but must be supervised.
The training scope for indoor barbell most usually works to exercise abdominal muscles, deltoid, biceps, pectoralis major, back, legs, waist, shaping exercise, weight loss, enhance resistance and endurance levels.
How To Lift A Barbell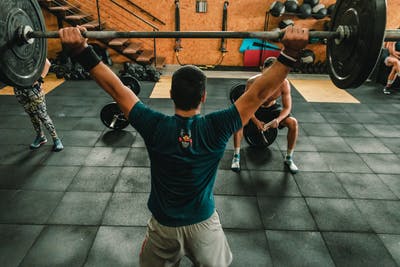 You can lift a barbell more comfortably when you are very flexible and familiar with the mechanics of squatting, pressing, and hinging.
1. Barbell Squat
A barbell should only be squat in a rack or cage. Then, first grasp the bar of the barbell at about shoulder width apart, and step under it. Next, place it on your back so it's on the fleshy part of your upper back. For more detailed instructions read Barbell Training Workout
Advanced squats techniques include bodyweight box squat, dumbbell goblet squat, bodyweight squat, offset kettlebell squat, double-kettlebell front squat.
2. Chest press
Advanced techniques: include single-arm dumbbell floor press, double-arm dumbbell floor press, also single-arm dumbbell bench press and double-arm dumbbell bench press.
3. Deadlift
This is another practice that can be best carried out on an indoor barbell.
Advanced techniques: include kettlebell deadlift and double kettlebell deadlift.
4. Row
Advanced Techniques: include single-arm dumbbell row as well as bent-over dumbbell row.
Was this article helpful?