Sewer Line Cleanout is a feature that is present in every home with access to water flowing inside the house through an underground process. It is also a channel necessary to transport waste matter away from the home to the civic sewer line or septic drainage and for this reason and more a sewer line clean out is otherwise referred to as a drain cleanout.
The sewer line cleanout may develop faults and need the professional knowledge and services of a plumber, a technician etc and this will require you to know exactly where your sewer is located in the house incase of such cases. The sewer line is the access point for these sewer line professionals to reach to the necessary clogs and backups without having to dig up lines.
How To Locate The Sewer Line Cleanout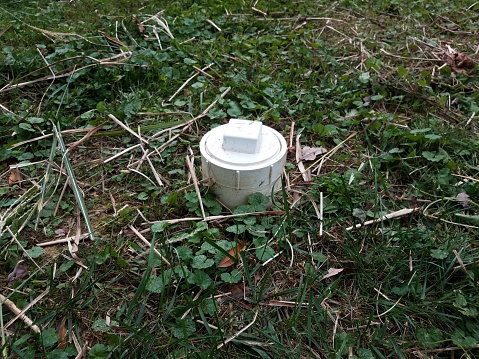 The Main Sewer Line Clean-Out
Finding the main clean-out location within a home will vary depending on the house style and the geographic climate where you live. In areas that have warmer climates where most houses are built on slab foundations, the main clean-out fitting is usually situated outdoors, near the exterior walls of such homes. For further search, look between small lawns for a metal or plastic box recessed into the ground. When found, a plumber can dislodge the clog in the main drain line and return your house's drain system to proper function.
The main sewer line clean-out fitting is usually a large-diameter pipe with one or two threaded plugs in the top. It may be extending above the ground near an outside wall or may be contained inside a ground box covered by a metal cover.
The Indoor Sewer Line Cleanout
About 3 to 6 inches in diameter and colored black or white are typically that for modern sewer pipes known as PVC, while some old homes still use cast iron pipes, brass or copper drainage lines, though these are increasingly going extinct.
Locate drainage pipes connected to the main sewage line
Sewer line cleanouts are most usually attached to all of your utility rooms, convenience rooms and kitchen fixtures. Look for the described black or white sewer pipes, cast iron, brass etc that lead out away from the appliances. The sewer line cleanout are usually situated around a cluster of drainage pipes, so it should be easy to identify and find.
Search for a T- or Y-shaped pipe fitting with a cap.
The sewer line cleanout during indoors installation is mostly located on the main sewer line before the pipes are wired to your foundation. The sewer line cleanout will be on a T or Y-shaped pipe fitting, usually with a plastic cap covering, a plug and a square nut.
The Outdoor Sewer Line Clean-Outs
In a Basement
For homes located in colder climates where buildings are done homes over basements, the main clean-out may be a Y-fitting at the bottom of the main drain soil stack where it disappears under the concrete slab or it could be found on the basement floor, near the foundation wall. A threaded plug is fit into a short length of large-diameter pipe that extends up from the floor. For ease of locating the sewer line cleanout, follow a direct line from the soil to the foundation wall, the main cleanout will likely be located on this line.
For homes with slab foundations, the main sewer line may be located in convenience, garage etc, usually near a floor drain. In these locations, the threaded plug may be flush-mounted into the floor or into a short length of large-diameter pipe extending up from the floor and can be opened with a large pipe wrench in order to provide access for drain-clearing tools. These plugs, if left for long periods may not unscrew and may have to be chopped or chiseled out by hammer and replaced with a universal plug, usually having a lead ring hammered on to make a seal.
Note: Larger homes, may have two or three sewer line clean-out fittings, each for the seperate main drain pipes running from separate soil stacks out to the street.
How To Care For Your Sewer Line Cleanouts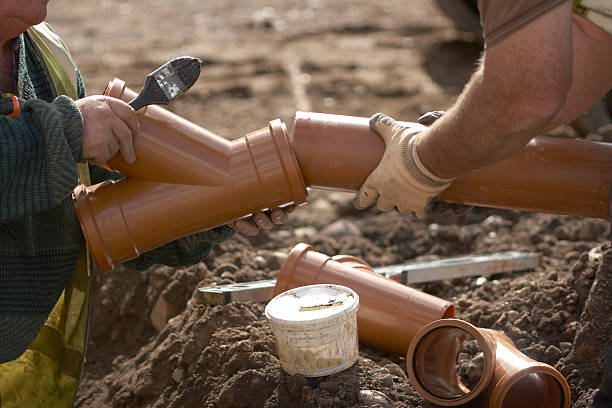 Perform Routine Maintenance
Main sewer line cleaning should be carried out routinely, and an annual inspection by a sewer specialist should also be adopted, especially if you have a landscape with large trees. Tree roots may penetrate sewer lines, and a regular routine of sewer line cleaning may prevent a disastrous blockage as well as keep rodents such as rats and snakes out.
Remove clogs
Remove clogs, so drains in your plumbing fixtures can be safely used. As well as prevent an unpleasant and potentially very expensive issue.
Clean with special tools
the main drain blockage with special tools, such as a motorized drain auger available for rental at tool centers and major home improvement stores, this can be done by a professional or home owner.
Was this article helpful?