Poke Fish —pronounced "poh-kay"—is a Hawaiian word, it means "chunk" or "slice." Unlike most fresh fish styles it is a Hawaiian and Japanese delicacy, that is usually gutted, skinned, and also deboned, enjoyed with particularly refreshing hand-picked raw ingredients with the best recipe to top it off. You might be familiar with poke fish styled dishes, but with little or no idea on how to make your own plate at home. This article is going to put you through that and more useful information you need to know.
What Is a Poke Fish Dish?
A poke fish dish is a plate or bowl of raw fish garnished in a simple or complex dressing and served out depending on an individual's preference. This dressings range from – candlenut, limu, Hawaiian seasalt, thinly sliced scallions, seaweed, and sesame seeds.
Health Benefits of Poke Fish
Before, we guide you through on how to make a poke fish dish or poke bowl it is important to know the health benefits of consuming one.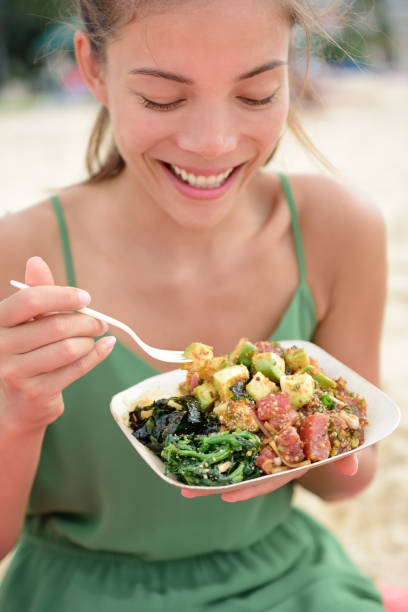 Good Protein Source
Fishes generally are very rich protein sources and Tuna is stuffed with protein. On average, half a filet of tuna is proven to contain 43 grams of protein, the body needs protein to handle tissue defects etc and consuming a well prepared poke fish under good hygiene is a good start.
Good for the Heart
A dish of poke fish isn't just proteinous but contains the body's needed fatty acid that like omega 3's to improve the heart conditions. Tuna helps the body regulate cholesterol and the body's blood sugar level, along with salmon. Therefore at least two servings of poke fish in a week is ideal.
Betters Blood Circulation
A good blood circulation is necessary to live healthy and have a vibrant immune system. Poke fish dishes are saturated with good doses of iron and Vitamins essential for the manufacturing of red blood cells. Red blood cells as we know, contain an important element known as haemoglobin which help to transport oxygen from the lungs to the other parts of our body.
How To Make a Poke Fish
Servings – 2
Prep time – 10 min
Ingredients Needed:
2 raw skinless fish fillets of choice, cubed
2 servings steamed sushi rice
Hawaiian sea salt
2 tablespoons ponzu
A tablespoon of toasted sesame oil
A teaspoon of rice vinegar or citrus juice
A teaspoon yuzu kosho
2 scallions (with white ends and green tops thinly sliced)
2 Persian cucumbers – sliced diagonally
A large radish – sliced into matchsticks
A cup of pea shoots, sunflower sprouts, or bean sprouts
Roasted sunflower seeds – for garnishing purpose
Furikake – this is for garnishing too
Steps To Prepare
Add the tablespoons of ponzu, toasted sesame oil, yuzu kosho, rice vinegar and the white ends of the sliced scallion into a medium-sized bowl, and whisk them to blend.
Taste and adjust with sea salt where necessary, also add vinegar, or citrus juice too as necessary.
Next, add the cubed 2 raw skinless fish fillets of your choice.
Also, dish out your well steamed sushi or brown rice into two serving plates and dress with radish, pea shoots, and the diagonally sliced cucumber.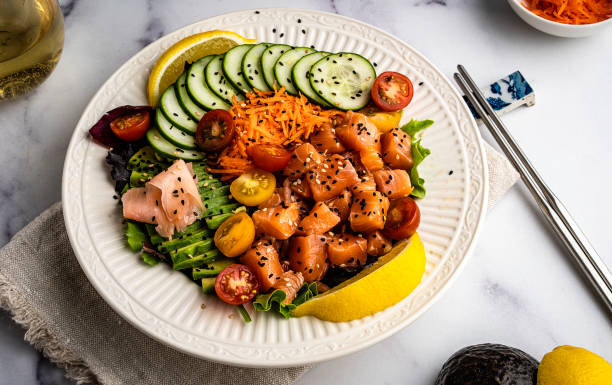 Finally, add the fish and any excess marinade, and garnish with a sprinkle of furikake and roasted sunflower seeds. You can eat poke on its own or serve it alongside other appetizers, like seaweed salad.
3 Tips for Preparing Poke Fish Dish
Get Familiar with Grading Labels
When prepping poke fish it is important to get familiar with the grading labels, though there is no particular grading system legally accepted in the United States. But, understanding the grading usually helps with divulging quality, a paramount attribute to consider for raw seafood consumption, for this reason storage practices is necessary. Most "sushi-grade" or "sashimi-grade" label fishes are mostly of low quality, and varies with individual retailers.
Always Buy the freshest fish
A poke fish Dish is best made with the freshest fish, and do not settle for less. Buy the freshest fish you can find from a trusted fish market. Then clean and fillet it yourself, or have them fillet it for you for a little extra token. A good choice to opt for for poke fish dishes are fishes with firm flesh, such as ahi tuna, salmon, and hamachi. Fishes from the cod family won't make a good choice this is because of its saggy watery flesh. Instead, if you are still confused on what to get, ask the fishmonger for a better option—remember you need a skinless fillet.
Make a flavorful dressing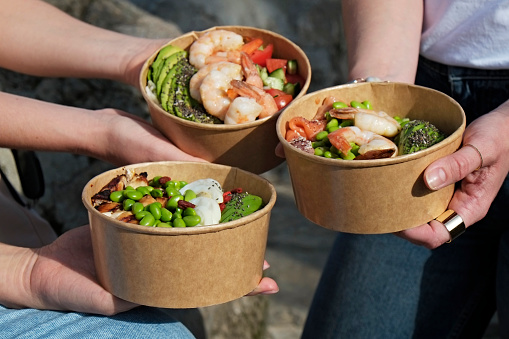 Poke fish dressing can be simple or complex according to individual's taste. Products like miso or yuzu kosho, Japanese spicymayo, or chili sauces are great options too. For added texture and flavor, you can add a few of your best vegetables to a bowl, and a bit of heat with thinly sliced and fresh chilies like pickled ginger to spice. Furikake rice seasoning adds color and adumbrates it aroma, for a crispy filled rice should be puffed.
Was this article helpful?