A Cable Lat pulldown is an exercise for your upper body that is done with the aid of a weighted cable system like it name betrays it, to stretch, balance and strengthen the target areas being the back, abdominals muscles and arms.
The cable lat pulldown is a compound, multi-joint movement that engages the core with the aid of this cable machine it allows one to choose the appropriate weight for their fitness level.
Step-by-Step Guide to perform a Cable Lat Pulldown
Focus: Back, arms, abs
Equipment Needed: A cable pulley machine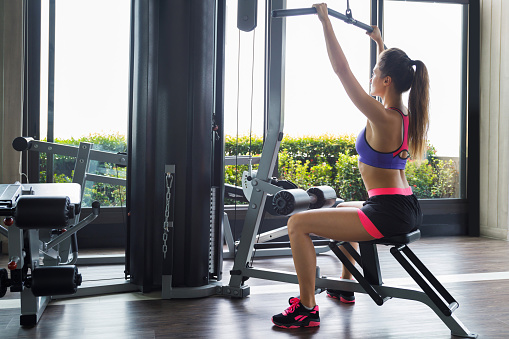 Attach a cable at the highest point at one end of a cable frame, above your head. Be certain that with your arms outstretched you can reach it.
Once that is set up, begin by choosing a weight that isn't much trouble to pulldown to thigh level, using one of the supplied hand attachments and with your both hands it aids you to have a firm grip on the pulldown handle.
Brace the abdominals by grasping the hand attachments in an overhand grip at shoulder-width apart, (this will place more emphasis on the triceps at the back of the arms) with elbows locked and straightened arms, keep your knees almost loosed.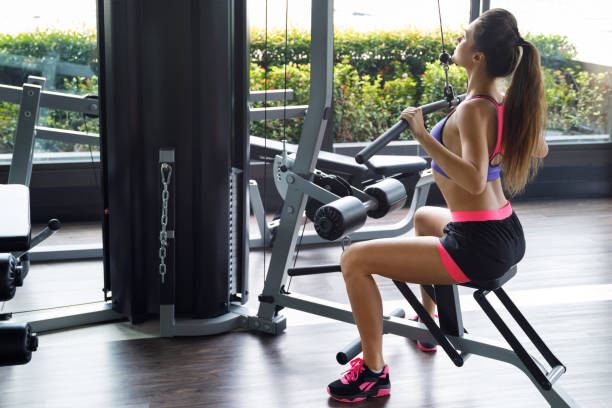 As you pull the cable down to your thighs in a smooth, controlled motion, arms remaining straight, hips bending slightly forward while keeping the back straight, exhale (breathe out). Ensure that you brace the abdominals and feel the squeeze when you pull down.
Take a break, when the hand grips are at thigh level.
Breathe in when you allow the weight to return up to full arm extension above your head.
Collapse or finish in a position where there is still enough tension on the cable before doing the next repetition. Perform at least three sets of 10 to 12 exercises.
As you develop strength, gradually increase the weights so you must maintain a good effort
Alternatively, do this exercise is by kneeling.
Set the attachment point up in a way that permits you to reach the handle while kneeling. The will have effect as you workout on your abdominals by giving it a squeeze on the downward pull of the cable pulley and weight.
Benefits Of Cable Lat Pulldown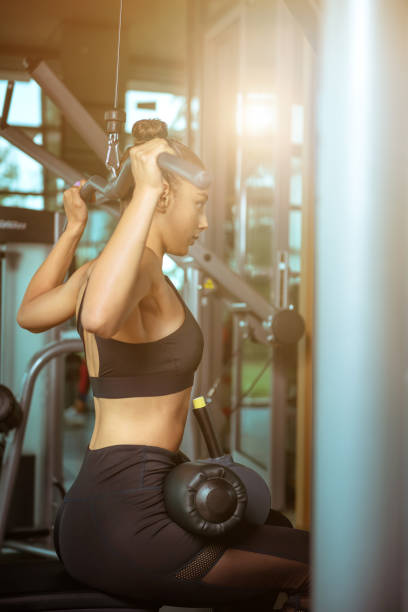 The latissimus dorsi muscle, which runs the length of your back, is the primary target of the cable pulldown. Developing this large back muscle can give a desired look to the torso as well as building strength.
Gives you better postures as it works on your back muscles.
Other muscles round the chest and abdominal region are flexed too, and this gives the stability, strength and more balance.
As you engage your abs when you pull down, core stability is developed gradually.
Safety and Precautions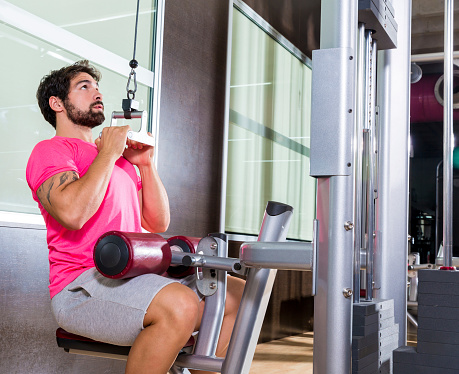 If you have a wrist, elbow, shoulder, or back injury, talk to your doctor or physical therapist to find out whether this exercise is appropriate for you. You should not feel any pain during this exercise. If you do, end the exercise.
Was this article helpful?