Are you a die hard fan of skimboarding and got all the mad stunts lined up in your head but somehow that's the farthest it's gone. Whoever said that, you couldn't actually bring them to life?
Have you been dying to skimboard like a pro, and perhaps actually stand a chance to make a name out of it, but just haven't been able to gather the courage to, for several reasons, fright being one among them.
Do you wish to really know and master how to skimboard like a pro to probably qualify to join one of the professional skimboarding leagues where you can identify and compete with the world's best skimboarders and also stand a chance to travel the globe? Well then, look no further. This article is just what you need.
Through it, you can learn all you require and need to get started, both psychologically and materially. How does that sound? Also, with it you can also get to learn new skills to get better at your skimboarding.
Skimboarding is a really cool outdoor game in the world of sports, and no doubts one of the thrilling and entertaining sight to watch. This increasingly popular sport is as tricky as its fun.
To skimboard, you need to use a skimboard to enable you glide across sand(in the case of practice) or water and ride waves(in the case of actual surfing). In most cases, the sport is usually a little frightening but as you attempt a number of steps, you gain more comfort, feel more relaxed and in charge.
However, there is more to it, you will need a couple of things and techniques, as well as definitely finding the right skimboard for you, among others.
What you Need
A skimboard
A good spot (like a beach)
Traction pads or wax (for your board)
and mastering basic skimboarding techniques, you can learn how to skimboard in no time!
How To Skimboard In 5 Steps
Step 1: Get a skimboard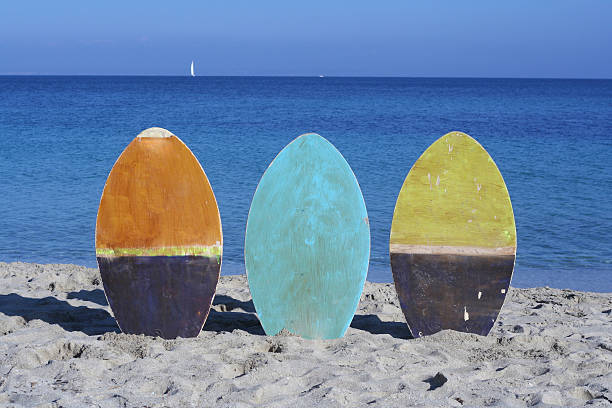 Your skimboard should be a flat wooden board for sand skimming practice and progress to more sophisticated boards like a foam board etc if you are good to try your skills on water.
Step 2: Accept that falling is part of skimming
All first time skimboarders fall, so learn to accept the almost inevitable. Acknowlege that skimboarding can be as dangerous as it is fun, so to stay aware and alert of what you do and of your surroundings at all times.
Definitely, you need to get over the fright soon enough, so as to actually make progress. Pick, a beach, for your practice. Though note that skimboarding comes in two types. Which is "wave riding" and "flat ground".
The former is an advanced style of skimboarding, and like the name implies it involves the individual to get on his board, and perform a number of surface and air maneuvers, out in the ocean, by turning on a wave, and ride it forth and back as akin to surfing.
While, flat ground skimboarding is easier and can be done at almost any beach with enormous amount of sand or shallow levels of water such as creeks or marsh-like areas.
Tips
1. For water skimming, the most vital thing to look for is a shoreline with a very powerful shore break, that is to say "it produces sizable waves that can allow you ride all the way back to shore". 

2. Always opt for beaches with downward sloping sands, these are most ideal for skimboarding. They should slope towards the water and have waves that curl relatively close to shore. 

3. Ensure that you are physically fit and in good shape, to run and jump without any physical impediments. 

4. Avoid skimboarding until you are absolutely certain you can ride on a board, run in short spurts, or take a few falls during the learning process.

5. Always keep your leg and back muscles warmed, stretched, and strong while learning to skimboard to avoid injury.
Three techniques to be familiar with before riding those waves are "Run, Drop and Slide".
The most effective way to keep your momentum while transitioning from running with the board in your hands to sliding on your board is commonly called "run-drop-slide".
First, Lean forward, holding your board 6 inches above the sand. A basic position for both sand skimming and wave skimming. If you are right-handed, stand with the water on your left side and vice versa.
Still holding your skimboard, place 1 hand on the back tail and another on the side rail halfway up the board. Holding the board, parallel to the ground, and not point it upwards before throwing, as it's the common mistake in skimboarding, and usually result in a slow skim.
Step 3: Run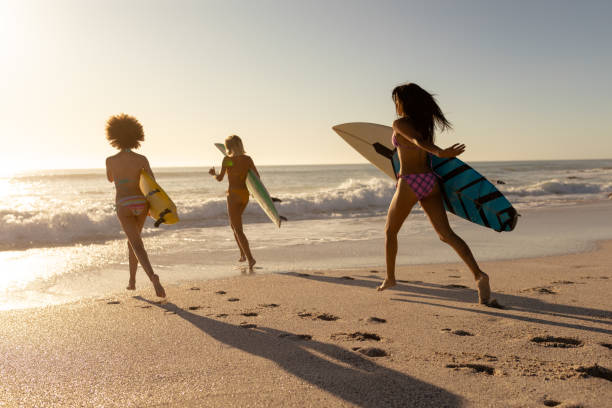 With both hands hold your skimboard rails, use your dominant hand to hold the board's back end. Then, jog, or run other than jumping, towards the downward sloping beach to build momentum. Time yourself while you are at it, because the faster you run the further you will slide on your board.
Also, usually once you move on your board you will discover you don't need too much water to slide. It takes freshly wet sand to slide.
Step 4: Drop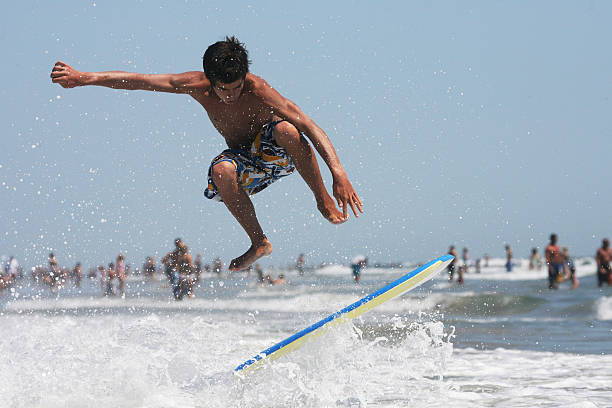 Here again, you need timing, because it's key. While moving forward, drop your board about a yard, flat in front of you, without slowing down, else you will mess up how you mount your board. Try to throw your board parallel to the shoreline to give yourself a longer ride.
Do your best to maintain speed and drop the board in front of you, just as far as a stride is, so you don't run into it. Then, place your front foot just slightly further from the middle of the board, and place your back foot behind it.
A useful trick is before you begin running, you can kick some sand onto the underside of your board so that it drops faster and flatter.
Step 5: Slide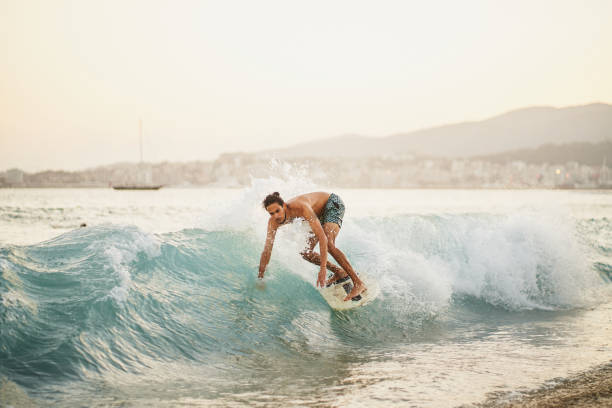 Once you get the board on the water or sand, keep with your stride and place your feet as described a little above the middle and behind on the board. Once you have placed both feet, ensure to keep your best balance and go with gravity by bending your knees slightly then keep your shoulders right over your feet, and your hips square slightly facing forward.
Tips And Tricks To Skimboard
Keep your knees bent and your weight centered on the board. This is the ideal stance to maintain balance and avoid falling off your board. 

Put a slight pressure on your front foot if skimming on the sand, and on water put more pressure on your back foot the instance your board makes contact with the water.

Always ensure that you keep your balance until the board stops on its own. If you wish to shift your weight or turn in another direction, simply shift your weight slightly towards the direction you wish to turn. 
Attempt a 180⁰ Skimming
You can do this by hips rotation in the direction you want to turn. Next, with your feet still firmly on the board, swing your back leg backwards, following the same direction that you rotated your hips in, and, continue turning your hips such that you are pointed in the opposite direction.
Also a 360⁰ turn is possible if you get the hang of it, but note you do need practice!
Was this article helpful?