In this article on how to store bar soap, you will be revealed to a few ways that are great choices and options for your bar soap to avoid them from melting off or getting caught in dirts.
Bar soap have a number of perks to using them, either for bathing or your laundry and asides that most of them are sweetly scented it can also be a great way to lower carbon footprint.
Which is why bar soaps need great storage options, and many people do not really know the best methods of how to store bar soaps after usage.
It may interest you to know that you can store bar soaps with a variety of storage options just to make sure you keep it off dirt and germs, fresh and of course from melting off in the case where it is exposed to water around the storage area.
Also, barsoaps can stays fresh for a long time, some which are old can even be recycled and used again.
So, the question still remains how do I store my bar soap? We are going to show you just how you can do that in 3 effortless but great ways. Let's get started!
How To Store Bar Soaps In 3 Safe Ways
Below are 3 ways of how to store bar soap that you can utilize for your personal storage situation:
1. Use A Storage Container
A storage container is a good option to store bar soap, so you will need a storage container for this first method if you wish to choose this.
Choose a covered container to store unused bar soap one, with a good lead. But, an organic bar soap, can be stored in a container that has some spaces which can permit a degree of air circulation. This helps to protect the soap from sweating and loose it original smell.
For non-organic bar soap, it is important to pick any container and always endeavour to keep it dry and somewhat ventilated too. You can poke just a few holes in it, to make spaces for air circulation, if necessary.
Also for bar soaps, that you are currently using you can use a container with some holes in it too. To help drain out the water off, from the soap each time you are done using it and also keep it dry and fresh for future purposes.
Note: The important thing about storing bar soaps through any kind of storage type is to keep it free from germs, dry and fresh. So, always ensure that your storage option guarantees that.
Use a soap saver pouch for thin bars or broken pieces. While it's possible to buy your own bag, any porous fabric or mesh material formed into a pouch will work. Possibilities include old stockings, socks, a loofah, or any sponge with a pocket.
2. Keep Soap Clean
This method of how to store bar soap clamors for cleaning your bar soap by rinsing off the soap in a stream of water or by shaking of the excess lather formed on the soap's surface in a small bowl of clean water for about 2seconds.
This can be a good first line of protection against bacteria on a bar soap. The next, is storing the bar soap in. a dry place to prevent germ growth.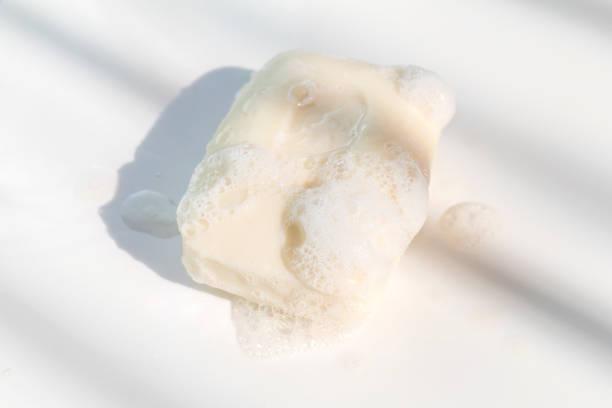 Start by drying the bar soap with a clean cloth, just dab the soap with a cloth rather than wiping or you can leave it out to dry in open air for a few minutes.
Then store it in a place where it will stay dry and away from being soaked by water. It is best, to alternate through bar soap use especially for bathing purposes. You can use another while the other one dries out.
3. Repurpose Bar Soap
Anither way to store out your bar soap is by repurposing them. To do this, use a hand mixer, a spoon or a tool with similar shape to blend the cooled soap. This is always a great way to use liquid soap.
Pour your melted soap scraps into molds to make new bar soap. Just heat and dissolve the soap pieces in a 15ml water per 1 cup of 240 mL of soap, and pick any a loaf pan to work with.
When using a loaf pan as a mold, you should best cut the soap into smaller pieces and let the soap dry out. Check back after a few days time and you will to meet a brand new bar soap you can use.
Also, you can put leftover soap fragments as markers for your fabric. Since, soap washes out of fabric easily, there is no need to worry about stains. So store up, your bar soap fragments in a sewing kit and spend less on markers or chalks.
Was this article helpful?