Did you just get a new pair of Heelys and still wondering how to navigate around it comfortably and safely? Or do you have plans to get one just so you could go a little faster and get things done? This article is put up to guide you on how to use a Heely in the best ways to get maximum benefit, read on.
What are Heelys?
Heelys are a type of sneakers that come with a hidden wheel in the back, they are comfortable shoes usually made of high quality materials, which keeps their sole durable from friction.
Pop sole savers
First things on how to use a Heely, is ensuring you pop your sole savers with your Heely tool. This is the flat piece on the bottom of the shoe, afterwards keep the sole savers in a position that allows it work like a regular shoe whenever you want, but when you're ready to roll, pop them out.
Pop in your wheels
Next, Pop in your wheels. When popping in wheels there is usually a click sound it makes, especially when heels are popped all the way in. You should consider stomping down on each wheel just to ensure safety.
Practice in a good place
In most cases, a somewhat slopy areas make good practice spaces, but they will have to be smooth and less steep. Places such a hallway, a sidewalk and road tend to work well for this purpose. Try to stay away from picking streets with car traffics or bumpy terrain, as well as avoid areas with lots of rocks, many pebbles, stones or other ground obstacles like numerous grass and thorns.
Lift toes and rock back on your heels
To get used to your heelys you will have to learn and master being in them. Practice this by standing near a pole or table and getting support and grip from it if need be, this will also help you to get used to how it feels to put your weight on your heels, where your wheels are. Then, rock back on your heels to roll.
Push off with one foot
When you rock back on the heel of one foot, to get rolling, use the toe of your other foot to make a step by pushing forward and simultaneously, transferring your weight to the heel. Get firm on your heels, while you're now in motion, then place the heels of both feet on the ground and roll. Avoid leaning too far back so you don't fall on your rear end! Always maintain a balanced weight over your heels and keep one foot slightly ahead of the other.
Push again
To go even faster, use one of your feet to push off again, since the wheels are attached to your foot instead of a board unlike it is in a scooter.
How To Stop Rolling on Heelys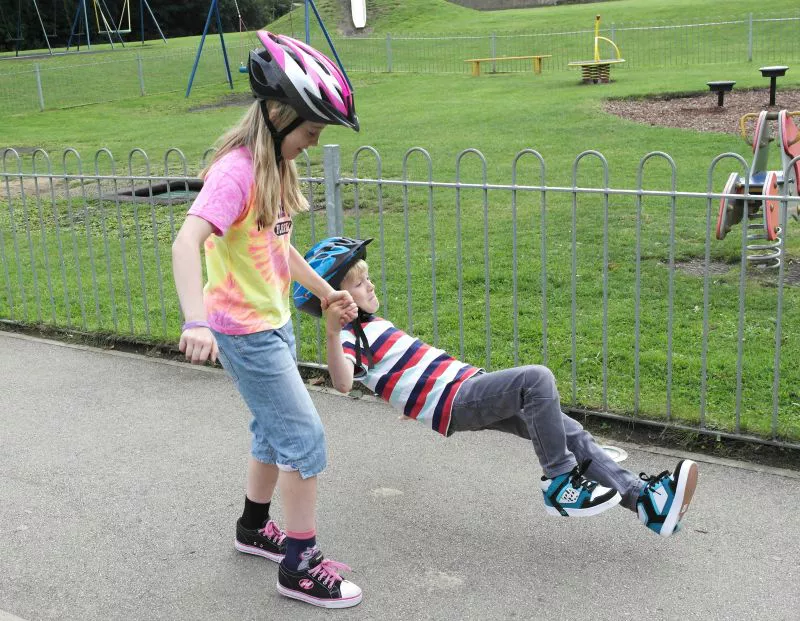 Lean back on your heels, enough to allow the heel part of your shoes to make direct contact with the ground and bring you to a gradual halt. Slamming your toes down, is also another option to come to a halt on your heelys but you will have to start running, since your upper body may keep going forward especially when you are moving very fast. Nevertheless, practice how to stop in both ways.
Tips to Heely Safely
Wear protective gear. If you're going to be in a busy area, it can't hurt to wear a helmet, elbow and wrist guards, and knee pads to keep yourself from getting bruised up.
Don't heely faster than you can run. It will be really hard to stop yourself, and you'll probably end up falling down
Start off walking. Then, put one foot at a time to the test.
It's easier to learn by holding to a pole or other nearby surface and balancing on your heels to give yourself a push.
Practice, practice and practice
Balance on the flatter part of your heels, or you'll stop
Don't heely on a rough surface or you will fall or you might just stop suddenly.
If you want, ask someone to pull you until you get the hang of it.
Don't get over confident when you ride your heelys or it is likely that you are going to fall.
Go slow for the first time, perhaps holding onto a friend for support while skating.
Try using a shopping cart to hold on to for first timers.
Don't give up! You are probably going to fall the first couple of times until you get the hang of it.
Unlike roller-skates or roller-blades, you should not keep your feet side-by-side! If you do this, you cannot keep proper balance of yourself. Make sure that you keep one foot behind the other—usually, your dominant foot will be in front
Don't heely near cars. If you lose control of your wheels, you could end up in a dangerous situation!
Was this article helpful?