For men who grow a great deal of mustache generously and effortlessly, the ability to maintain a healthy, shiny and neat mustache may be just about too tasking in spite lots of styling products available to choose from. But, sometimes what you really need to do the job is a good mustache wax, which sometimes get confused for balms etc.
Steps to Apply Mustache Wax
1. Grow To Full
Your mustache needs to be grown into a proportion that can work well when waxed and this changes with people since some people tale just a few weeks to a month to grow visibly full beards, voters may have to wait months to have same. Therefore, bear in mind that all we need is that you Mr moustache hair is long enough to coach to the side, as opposed to sticking straight out. (Anywhere from half a centimeter or more will start to show potential movement.)
2. Clean And Dry Mustache
You should be working with a fresh canvas. Plus, you should wash your face first thing in the morning anyway, so it's the perfect time to apply mustache wax, following the cleanse. Ensure the hairs dry up first before applying the wax.
3. Warm Mustache Wax
Take a sliver of wax, enough for a light layering throughout all the hairs. Warm it up between the two fingers (or the finger and thumb) you'll use to apply it. It's just as easy to do this with two digits on the same hand as it is to pick one digit on each hand—this is totally up to you.
4. Scrape A Small Amount
Using your thumb, scrape a small amount of wax with the back of your nail. Less is more.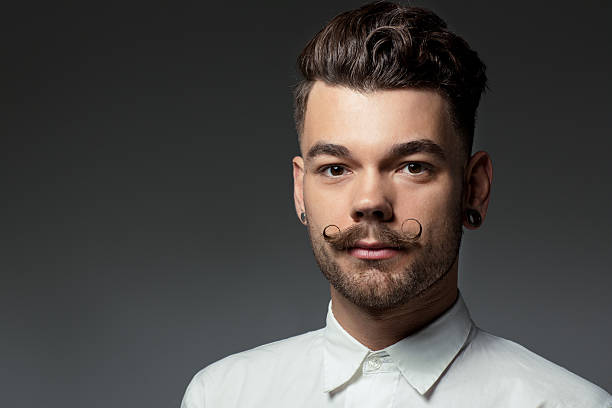 5. Apply To Your Mustache
Apply the product to the moustache using your pointer finger and thumb in a pulling-away motion–almost like pinching the hairs between your fingers. Start from the middle and pull and pinch your way outwards.
6. Guide It Into Place
Style your moustache by combing it into your desired direction, if you are confused on styles check online for a lost of moustache styles that will suit you. You can use a mustache comb or your finger tips for this step.
7. Repeat the Process
Repeat the same pulling motion a couple of times until you feel the wax is evenly distributed as much as possible. Style the hairs how you would like, and finish off with a moustache comb to even out any product and stray hairs.
8. Blow Dry (Optional)
You're all set. No more mustache hairs flossing your teeth throughout the day! Use a hair dryer to style into the right direction, on a warm heat. "Then, use cool air to keep it locked into place."
What does mustache wax do?
"In the short term, for people who grow a long mustache, using mustache wax is mostly about hold," says Keren. "It helps style the mustache and is also useful in keeping the hair away from entering the mouth. In the long term, a good mustache wax should also offer nourishment and moisture to the hair and skin beneath it."
Is mustache wax the same as beard balm?
"A mustache wax usually has a higher content of wax and is solid at room temperature and helps set the hair in place. A balm, is an hair product used to add moisture and nourishment, and would usually have a lower concentration of wax, only enough to keep it in solid form." They often serve the same purpose, but a wax should be better at controlling short, stubborn hairs.
Was this article helpful?