International Day of the Girl Child 2022: Is worth celebrating this year like it's been in the past years since, the girl child discovered their true power in the world and embraced it. The day celebrates the resilience of girls through out the globe, across cultures and colors even in the face of the many seemingly inevitable problems faced by humanity in the world today.
October 11, 2022 — Today, the International Day of the Girl Child 2022 is yet another opportunity to not just celebrate all girls around the world, but also to help them understand what it means and what their place is in the world and above all how they can rise to it as well as help make the impact they desire through positive morality and discipline, showing remarkable resilience even in the face of any discrimination, inequality or violence. In London, an international body called the IRC celebrate the day by paying tribute to the girl child, who have demonstrated strength and hope around the world, and whose fight have eventing earned them a stronger voice and their right to safety, leadership, education and opportunity.
In East Africa, the girl child among the rest of the victims suffer terribly being exposed to severe hunger, drought assaults, violence, This in itself have forced young girls into, early marriages due to financial hardship, as families are left with little or no choice at all than to use any alternative available including unplanned migration to unfamiliar and risky territories in search of resources and in hope for greener pastures.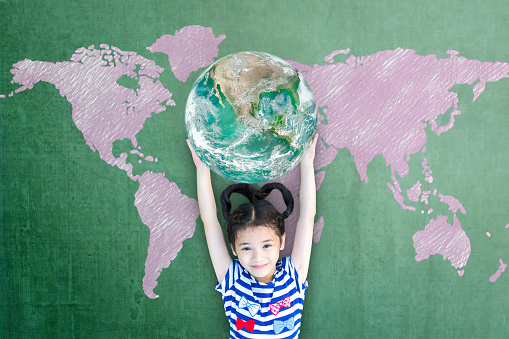 However, the IRC have somewhat intervened and as, part of its provision of lifesaving services in East Africa, have helped their plights be heard and magnified their voices to reach other well meaning people to support their cause and help save dreams of thousands of displaced girls by helping them to pursue their education and learn skills that can provide a means of livelihood through these difficult circumstances.
So, to further expound the day's message in 2022, we employ that every parent and guardian learn a thing or two from the poem below, and have it sealed in the tablets of their girl child's heart as they navigate the intricacies of these unfair world, without losing sight of a better tomorrow.
Teach your Girl Child
Teach your Girl Child, that before any biased cultural and taciturn traditional norms and order crowned with exotic societal expectations of their picture of an ideal lady, she was first human. A total creature interracial with brain, beauty, and blood. That she is vested with the natural right to speeches without fear or consequences, to get mad and express them and not just wallow in clouds of tears just to be termed modest by those who'd maim at the slightest provocation.
Teach your Girl Child that they too have a right to choose who comes into their circles, who stays and who leaves. That they are stronger than what the mirror opines, not physical strength or with an unbridled tongue but within have the capacity to lead a nation and not only birth one
Teach your Girl Child that leadership in any sphere is attainable and achievable through smart work, for only an insecured fool advocates for the norms, for fear of a leap for change even in glaring archived wins
Teach your Girl Child that being a reservoir for affections and dishing out just as much in the name of love, does not mean they are fools if not reciprocal. For a woman, is more human filled with compassion and naturally expresses these to all even at the expense of self.
Teach her she is priceless and so is her body, heart and mind, but that there's love in sharing only out of her own will with who she dims fit. Teach her courage and prestige
Teach your Girl Child, the respect in footing her basic bills, teach her to cook, learn a skill and work. Teach her something as trivial as a "treat-out," that it should be an icing on her already baked cake.
Teach her that any success earned via whorely measures against one who chooses otherwise is a sham and a shame, and a shame is usually short-lived or deadly, but choose life
And above all, teach her the Supernatural, for a child who yields totally, withholding nothing yet embraces wholly through faith the supernatural is forever unmatched.
By Kani
International Day of the Girl Child provides an opportunity for every girl around the world to rise to take charge of their future, and also be concious to elevate others that maybe weak among us, while we turn mere words into meaningful action for girls, without discrimination or biase.
Was this article helpful?