Integrated oil company refers to any company that manufactures crude oil and natural gas, engaging in the production, refinement, exploration and distribution of oil and gas produce. It is known as a business entity which deals with the entire chain of oil business not only limiting to one segment.
The idea of Integrated oil and gas company dates back in history to Standard Oil in 1870 by J. D. Rockefeller's oil company. It was developed to foster, control and improve efficacy. Integrated companies are mostly known by these two names "big oil" and "supermajors". Why they are called so is because they can be counterintuitive, i.e. during rise of crude prices, they might lower their price than non integrated companies because of greater downstream capabilities.
What Are The Sectors In An Integrated Oil Company Should?
Any Integrated Oil Company should have these 3 sectors functioning well for everything in the company to run smoothly. There are; Upstream, Midstream and Downstream.
Upstream: This has to do with the exploration and the production segment in an oil industry i.e. looking for potential crude oil underground or underwater. It consists also of exploratory drilling of wells and operating on the wells to bring crude oil onto the earth surface.
Midstream: This category involves storage, transportation and wholesale marketing of the crude oil or refined petroleum. This sector deals with pipelines, tanker, rail, truck, etc. used to distribute the crude oil from production sites to refineries.
Downstream: This basically is the processing and refining of petroleum crude oil even going as far as marketing and distribution processes. This stage ensures the refined product gets to the final consumer through products like gasoline, kerosene, diesel oil, jet fuel, etc.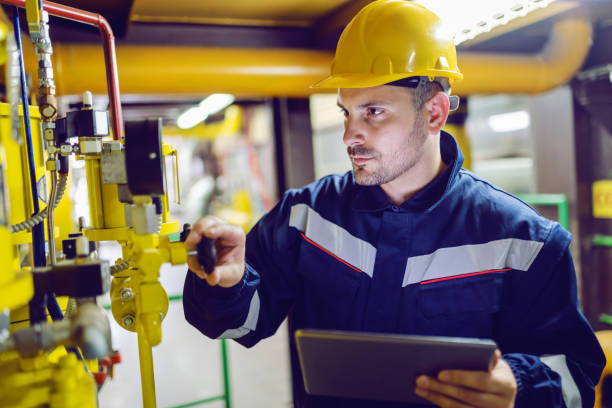 List Of Some Worldwide Known Integrated Oil Companies
Among these include: Saudi Aramco, ExxonMobil, Chevron, Shell, Total Energies, BP, PetroChina, Gazprom, ConocoPhillips, Rosneft, etc.
27 Jobs You Can Get In An Integrated Oil Company
There are actually a lot of high paying jobs in an integrated oil companies but some of them include:
Distribution Manager: He/she is in charge of organizing and distribution of products in an oil company.
Geoscientist: Saddled with the responsibility of identifying the exact location of oil through studying rock formations and other areas of a land or under water and possibly give safe guidelines on how to extract the oil.
Design Engineer: He/she is responsible for researching and designing an oil company's new product and system.
Well Drilling Engineer: He/she plans, develops, supervise and cost the operations needed for drilling oil wells.
Human Resources Advisor: Saddled with the duty of hiring, interviewing, promoting and termination of employees as well as the safety of employees.
Sales Representative: Uses knowledge of the company products to entice consumers to buy the product.
Lease Operators: They keep track of productions and the pumping operations of the oil well in the company.
Account Manager: Manages multiple clients in the company and also the monthly accounting to ensure the smooth running of the company.
Pipeline Construction Manager: Saddled with the obligation of Hydrotesting and Pre-commissioning engineering activities and making sure there are properly carried out.
HSE (Health, Safety and Environmental) Manager and Safety Director: designs, develops, implements, communicates and coordinates all environmental, safety and health activities in the company.
Petroleum Engineer: They are responsible for extracting hydrocarbon deposits from the earth such as oil and natural gas.
Project Manager: He/she plans manages, executes and supervises oil projects.
Oil Truck Drivers: Their duty is transporting fuel, oil, etc. by road.
Operations Manager: is responsible for overseeing operational activities at every level of the company.
Gas Plant Operator: They monitor plant operations and make required adjustments to insure a great plant performance.
Well Tester: Oversees testing of wells and also maintains well testing equipment.
Oil Haulers: Drives crude oil from field location to local pipeline points.
Mud Loggers: Supervises drilling processes, keep records and handle onsite maintenance.
Process Engineer: Their responsibility is to carry out process simulation and to develop heat and material balances.
Mechanical Engineers: They design equipment and machinery for the day-to-day activities onsite.
Tool Pusher: They ensure that the site has the needed tools and equipment.
Environment Compliance Specialists: He/she is responsible for insuring that the company obeys rules and regulations governing the ecosystem.
Petroleum Refinery Operator: He/she monitors and is in control of specialized equipment that processes the raw material i.e. crude oil into finished products.
Oil Fire Specialist: Responsible for controlling blowout pressure.
Welder: They repair and maintain rig structures in an oil company.
Process Technician: In charge of preparing machinery layouts and equipment as well as analyzing data such as production costs, equipment costs, etc.
Petroleum Inspector: Their responsibility is insuring that the oil extracted from the earth is good and safe for use by the consumers.
Estimated Annual Income of Oil Company Workers
An estimate of income for an oil company worker in the U.S is $23 /hour and $47,079 /year
Is Integrated Oil Company A Good Career Path?
If you think that you are interested in oil companies and you are always raving about Engineering. I have to say that it is a good career path to walk down. It is a good way of making decent income and still create an impact in the society. This does not mean they just recruit anyone, a B.Sc. or M.Sc. in Engineering is of added advantage.
Merits And Demerits Of Integrated Oil Companies
It will expand greatly geographically.
It is entirely different from its competitors, it distinguishes them from others.
Companies like this provides trip opportunities for their staff.
Distribution channels can be negatively affected.
There might be unprofitable outcome.
Some workers go through health issues because of heavy machineries.
There is a great income paid to its staff.
Was this article helpful?