Keratin extensions are the most recently produced great hair extensions that can blend naturally into your hair. They are useful for a variety of reasons and are highly loved by many compared to their silicone extension counterparts. Keratin extensions come in a wide range of colors and requires professional hairstylist touch to get the most from it.
What Are Keratin Extensions Like?
Keratin extensions are made of tiny strands of virgin (unprocessed) human hair, and contains a keratin bond. Such that melts when it is heated, so that the extensions are affixed to your own natural hair. These extensions are usually strategically positioned in rows, in a way that makes them blend right into your hair type and color and may not be identifiable by someone else. Once attached, the keratin bonds seal around each strand of your natural hair, creating a single unit you can style just like your regular hair.
How to Attach Keratin Extensions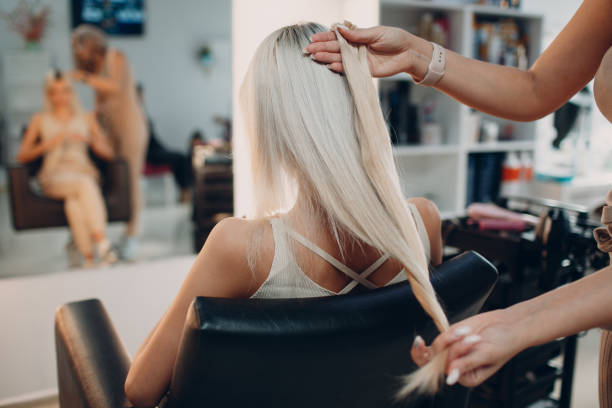 Before you attach your extensions, make sure to test first using the glue.
Attach the extension onto some strands of your natural hair to see how long they last and what level of damage is done when removing them.
If you feel that the extensions are right for you, then you can proceed with getting them fully attached.
Benefits Of Keratin Extensions
If you have been thinking of how to lengthen or add some extra fullness to your natural hair, then you should give Keratin extensions a try.
Long-lasting and durable
Keratin bonded hair extensions last for as long as 3-6 months with proper care.
They offer more natural looking hair than taped-in or sew-in hair applications
Experiment with color without permanent dye, bleach, or harsh chemicals.
They Give Volume And Length To Your Hair
This reason is probably what attracts users of keratin extensions most. They can add length and volume to a short or not so long hair without damaging or breaking off their natural hair with the use of concentrated chemicals. Giving you the thickness you desire in one trial.
They Blend Naturally
They blend in naturally with your hair and are fully customizable to match your natural hair color.
Durable
With a life span of about 3-6 months Keratin hair extensions top other forms of extentions. They are durable and maintain good shape the whole time, except some minimal shedding at most due to natural reasons.
Gentle On Natural Hair
These extensions only require heat for attachment, this way they won't damage your natural hair in the long run.
Lightweighted
The extensions are lightweight, they won't weigh your natural hair down or cause any discomfort.
Easy To Maintain
The extensions placement allows your hair to move naturally on an everyday look. It is flexible to Curl, dye, straighten, and style just as you would with your real hair.
Easy To Apply And Remove
You can apply and remove these extensions easily, making them a good choice for those who like to change hairdos randomly. May take you less than an hour to complete removal process.
Do Keratin Extensions Cause Hair Damage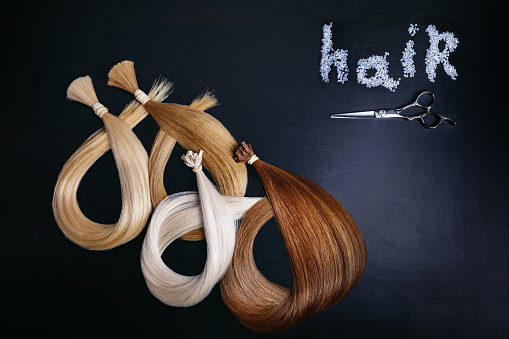 Not exactly, except on some exceptions such as:
Keratin extension application involves the use of heat and may only damage your hair in the long run if you use heat too frequently.
Also, type of product used for application and whether or not you take proper care of your hair can determine if keratin extension can damage your hair.
You should properly maintain your keratin extensions and take them out when necessary.
Make researches and be well informed about the health of your hair, such as split ends or breakage, keratin is most ideal for people with healthy hair.
What To Consider Before Getting Keratin Extensions
Your Hair's Condition
Your hair's condition should be healthy and shiny, void of any damage. These extensions are not ideal for damaged or thinning hair as the bond will not last as it should before loosening up.
Your Budget
Keratin hair extension prices vary from one salon to another, and the amount can range between $35 and $100 per set. If your budget is small, go for synthetic hair as it is cheaper than human hair.
The Length Of the Keratin Extensions
Usually, those with shorter hair should go for mini-bond extensions, while those with long hair should settle for medium-sized ones.
The length you choose will depend on how much longer and voluminous your natural tresses are or what look you prefer to achieve.
The Number Of Extensions
Usually, extensions are attached one or two strands at a time. Therefore, getting 20 hairpieces for your tresses may not make sense as they will be too heavy and might fall off easily.
It's best to go for ten pieces instead, which gives you enough volume while staying lightweight at the same time.
Let your professional hairstylist guide you on the right choice of hair extensions suitable for your hair.
Styling Keratin Extensions Take How Long
Installing keratin extensions can take up to 2hours or longer if you're considering adding some unique styling.
However, if you're up for something simple like just adding them to your natural hair, then it'll take less than an hour
On the contrary, you could consider weaving and bonding if you want the extension to last longer.
Note: Though, your extensions may come off, it will take a long time for them to detach from the original strands completely, so keep this in mind before making a final decision.
Your hairstylist's experience also impacts how well the extensions will be applied to your natural hair.
First, after properly fixing the keratin bonds extensions, it is also essential to use an organic conditioner and deep conditioning treatment once a week, as you would with your hair.
Secondly, wash your hair with a shampoo suited for extensions but don't wash your hair every day. Doing it only twice or thrice a week should be enough for those wearing extensions that require little maintenance, like clip-in or weave.
Thirdly, you should avoid using too much heat on your hair for the first month at least.
If you are used to blow-drying and straightening your tresses daily, it is best to do these only once a week after washing instead of every day. Too much heat could lead to damage to both natural hair and extensions.
Fourthly, it's best to be gentle with your hair when washing or combing. Treat it like you would treat the hair of a baby.
Lastly, don't go overboard in caring for them, especially if you want to keep the extensions for long. After a month or so of usage, you can go back to your regular styling routine.
How to Maintain your Keratin Extensions
Wait two days to wash your hair from the time of application
Wash your hair every two days to prevent water damage
Don't use oil-based products on your extensions
Avoid over-styling
Brush your hair with a brush that's designed to prevent damaging the bond
Use a gentle shampoo and remember that cool water helps minimize tangling
Light conditioners may be used, but don't apply directly to the bond
Was this article helpful?