Ever tried on a Keratin Lash Lift or you are yet to but needs to know more about it than the vague information you have. Well, not to worry, we have carefully written out all that there is to know about the keratin lash lift to help you fully updated.
What is a Keratin Lash Lift?
A Keratin Lash Lift is a professional aesthetic service that uses Keratin (a chemical formula) to lift, curls, and boosts your natural eye lashes from the base to its tip. With Keratin lash lift, you do not need to apply eye extensions, you will have the full length of your lash well arranged out and standing.
Though, a keratin lash lift are sometimes referred to as "lash perms," but they are really an eyelash perm and some lash artist and studios are aware of this. Majorly because an eyelash perm, work by using an alkaline made solution to move the large into a curled state without exactly lifting them as the Keratin would. Also, a keratin leaves little or no irritation to your eyes or damages to your natural lashes. It is cruelty free and will not leave any damages to your natural lashes.
This treatment takes about 1 hour and lasts 8-12 weeks which is the natural life cycle of an eyelash. Rather, adds protein to the lash hair, gives it some nice thickness and strengthens your eyelash hairs to prevent future breakage. Another, advantage is that it comes in various colour tint to tint your natural lashes to emulate the colour of your choice. It is a great substitute to fake lashes, and growth serums if you need my opinion.
How Keratin Lash Lift is Applied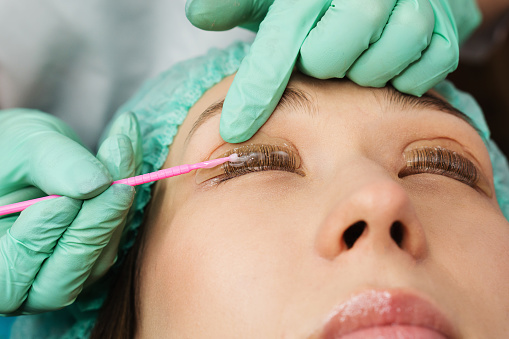 On average, the entire process—which usually includes a lash tint in addition to the lift—lasts between 45 minutes to an hour. Your keratin lash lift will be performed by an esthetician or lash specialist (I had mine done by Tina at Envious Lashes). The exact process varies from location to location, but the below steps explain the basic process of what you can expect. Tip: Make sure to take your contacts out before this treatment.
A week before your appointment, stop all use of topical retinoids, chemical exfoliators, spot treatments, harsh cleansers, and facial scrubs around the eye area, as these formulas can make your skin more sensitive to the keratin formula. The more sensitive your skin, the more likely you are to experience a stinging sensation during your treatment.
1. Lashes Inspection
Begin by taking a close inspection of your lashes or clients lashes, taking notes of details such as: their lengths, the way they are naturally coiled, the extent of breakage if any, texture and frailty, color etc.
2. Rod Size
To create the curl, your artist will have to paints the lashes with the keratin solution up onto a small, flexible rod that sits on your eyelid for the duration of the treatment. But first, he or she should talk to you about the end result and get your opinion on what rod size you'd like so as to give you a more personal end result. A few questions, like how frequent the client will wear a mascara can help determine what type of rod size is appropriate for her, would the client want a tint to a darker shade or will they want a more natural look. These and many more are type of questions that when answered by a client will guide the artist to give a more desired personal result of the keratin lash lift. As the larger the rod, the more natural your curl will be and vice versa.
3. Prep the Eye Area
Next, your artist should apply an under-eye gel to the lower lash line to keep a client's bottom eyelashes away during the process, holding them with medical tape. Next, attach the flexible rod to the upper lash line and instruct client to keep eyes closed for the rest of the treatment.
4. Applying the Keratin Solution
Brush eyelashes evenly onto the rod with a spoolie brush, then apply the keratin lash solution with a small brush painting upwards from base to tip. Check in to be sure client isn't feeling any discomfort.
5. Let the Solution Set
Once the Keratin application on your lash is complete, you would have to let it set by sitting without opening your eyes for about another 10 minutes. This allows your lashes absorb the keratin formula. For most people, this is a 100 percent painless process. Although few people experience a (tolerable) burning sensation towards the lash line during this step.
6. Applying Tint (Optional)
Applying the dye needs and follows the same process as the dye. The tint should be allowed to sit for about 5 -10 minutes before the area is cleansed.
7. Remove Patches and Tape
The patches and medical tape should be removed by your artist the usually it's a painless process. Then using water the area will be gently cleansed to remove any residue.
By the time you open your eyes, you will be in love with your lashes again.
Who can get a Keratin Lash Lift?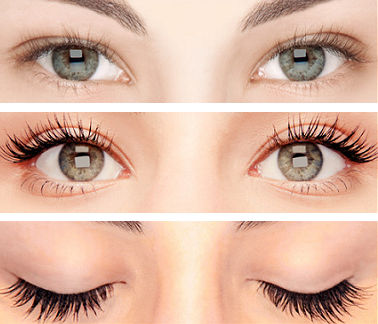 Almost anyone can get a keratin lash lift, although we recommend getting the go-ahead from your dermatologist before booking an appointment. Some studios (like Envious Lashes) require your lashes be a minimum length of four millimeters to receive the service, a rule that's all in the name of protecting your lashes.
Aftercare of your Keratin Lash Lift
Keep Them Dry For the First 48 hours after your appointment, don't get them wet at all. That means no mascara, no makeup remover, or even water on your lashes.
Avoid Oil-Based Products so they do not breaks down the keratin formula over time, expediting the deterioration process. Avoid cleansing oils, cleansing balms, and facial oils to extend the life of your lash lift.
Do Not Touch: Try to keep your hands away from touching your eyelashes, as the more you touch, the oils from your fingers are breaking down the keratin formula and reduce the durability.
Was this article helpful?