The long head of biceps workout is a popular type of biceps training also referred to as peak exercises.
This is mostly due to the fact that the biceps brachii though a single muscle, is divided into a long head and a short head.
Though separate they work together to move the elbow and for a well-developed biceps muscle, you will see clear visibility between the long-head and the short-head muscles.
Identified by lots of widths is the characteristic of the short head biceps while the long head adds to the biceps peak where its name stems from.
However, this article addresses the long head of biceps workout, its function, common mistakes, and types.
Long Head of Biceps Workout (Location and Function)
Due to how pronouncedly shape some people's biceps are, it can be very visible. The long head of the biceps is positioned inside your upper arm and the short head is underneath it, and it is well-defined for those with defined muscle tone.
The long head of biceps workout can form the top of the biceps muscle and add more size and definition to the upper arm.
Also, the long head of biceps workout can add more stability to the round top of the humerus (called the humeral head of the glenoid) and the upper arm bone. The long head of the biceps alongside the brachioradialis works in unison when there is powerful forearm supination or elbow flexion.
Common Mistakes with the Long head of biceps workout
Many of the mistakes with long head of biceps workout are often made by people trying to develop bigger biceps.
It is true that many people at gyms try to replicate superman attributes especially when weightlifting., and as such may make lots of mistakes some of which can cause them to sustain serious injuries.
Sometimes these mistakes have to do with the organization of their biceps workout plan and other times it's in the execution of individual biceps exercises.
Here are a few that can be avoided:
Lifting only appropriate weight for you
No Focus on Tension
Do not Aim for Muscle Failure
Include varieties when lifting weights
Avoid Cheating by adding a swinging motion
4 Best Long Head of Biceps Workouts for Bigger Arms
Use these workouts to get your long-head biceps to improve overall function and grow healthy bigger arms.
1. Incline Dumbbell Curls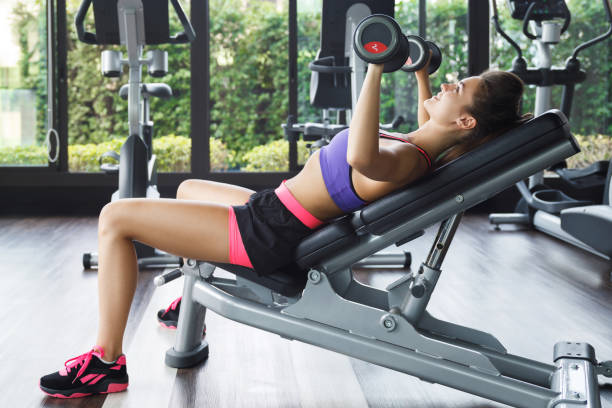 Dumbbell curls are a type of long head of biceps workout that one can do without necessarily requiring much equipment at all.
Though, you will need a seat with an inclined back to perform an incline dumbbell curl the movement is the same as a traditional dumbbell curl.
To begin, lean back on the inclined seat with and hold a dumbbell in each hand. Your arms should be totally straightened out and your palms should face out.
Next, lift the dumbbells up toward your elbows and let them back down to the starting position very slowly.
2. Hammer Curls
Hammer curls are similar to incline dumbbell curls, but they actually target the brachialis and it is a good type of long head of biceps workout.
If you are trying to get bigger arms, hammer curls should be in your workout routine. Also, you should add variation to your workout by alternating between incline dumbbell curls and hammer curls on some days of the week. 
Hammer curls can be done sitting down on a bench or standing against a wall. All you have to do is pick a dumbbell, by the side weight other than in the middle, in each hand.
Then, lift the weights slowly to your shoulder level and let them back down.
3. Chin-Ups
Chin-ups are a great long head of biceps workouts that can help you increase your grip strength and give you a back, chest, and shoulder exercise while you hit arm muscles like the biceps and triceps too. You will need to use a stable horizontal bar that can support your body weight.
Chin-ups use an underhand grip to cause activation in various muscles. So, you can alternate between both for some variety in your workout routine.
Get a firm underhand grip on the chin-up bar and assume a dead hang position with your feet off the ground.
Lift yourself by pulling the bar downward through your elbows until your chin is placed above the bar. You can add an isometric pause above the bar and let yourself down slowly, and use a close grip to target your long head biceps.
4. Preacher Curls
To do this move, you'll need a preacher bench that will help restrict movement in your legs and back so that your biceps brachii get all the attention and you can get big arms even faster. You can use an EZ bar or a barbell to do preacher curls.
To get into the starting position, sit on the preacher bench with your armpits resting on the upper sloped section. Get an underhad grip on the bar with your arms fully extended and resting on the bench. Bring the bar up until your arms are horizontal with your body and slowly return toward the starting position. Pause halfway down for an isometric strain.
Cable curls are great for building upward resistance and strengthening the bicep.
Was this article helpful?