When it comes to parenting we do not take unnecessary chances, with our kids especially when it comes to screen time without supervision. Are you a regular mom and dad, but have heard of this R-rated movie for teens Metal Lords? Do you want to know if really the movie is alright for teens and tweens? Or perhaps, does it generally suit family screen time? All these and more is what we look to reveal on our review of Metal Lords Parents Guide. We will relate to parents our candid thoughts on the movie without biases, so stick around to find out more.
Being a new teen comedy movie on Netflix. The Metal Lords is clearly rated R which means Restricted. Restricted for every one below the ages of 17. Also, if such a teen must watch, he or she is expected to have an adult parent or adult guardian to supervise an interpret the movie scenes appropriately. Otherwise, it is best watched by mature audiences, unsupervised.
Metal Lord Parents Guide Review
The Movie Plot
The story plot centers on two lead character teens who are best friends attempt to recover their "post-death doom metal" band for their high school's Battle of the Bands. Hunter being one of the names of the lead character is very passionate about metal band and knows the history and dreams to wear the crown of the upcoming battle of the bands competition and to do that his bestie Kevin has to help with the drums.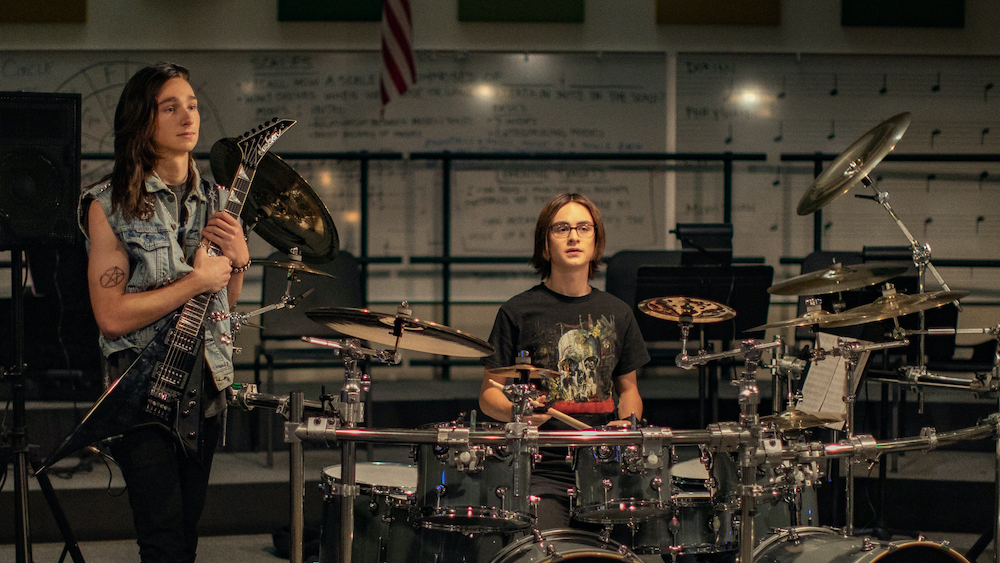 The plot gets a little cunny than expected and interest is shifted by school mates to more contemporary music than what they hope to provide. But somewhere in the struggle, an Emily plays her cello, it didn't take long to have a crush develop and Kevin and Emily got laid in the back of her family's van. Hunter rejects Kevin's idea to bring his girlfriend into the group, this makes Kevin's behavior grow erratic, straining his friendship with Hunter and triggers his single father (Brett Gelman) to take quick actions.
As their world seems to be crashing around them, these three must find a way to settle their differences and find a way to emerge victorious in the Battle of the Bands. But, above all, the movie plot shows what it means to be part of a group and how to enjoy it and what doing that can bring to the group's skills and performances.
Nudity or sexual content in Metal Lords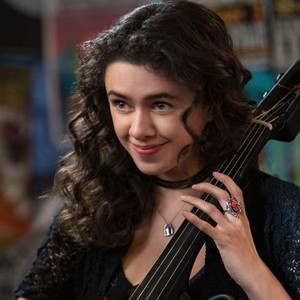 In the movie Metal Lords, we like to think of the nudity angle a little too amplified by some reviewers. Yes, there is a scene where Kevin as captured above makes out with Emily in a van, where several teenagers run by, and you can see their nude backsides, but it's brief. Then there is a proceeding to join her in her bedroom where Emily makes to lead a little after what seemed like a staring contest and, at her suggestion, he lies down on top of her and that seems to be the only highly nudified scene. Also, sex is discussed but barely happens on – screen.
Foul Languages in Metal Lords
This right here may definitely be why the movie earns it R-rating. There is a lot of cussing, crude jokes and a number of strong sexual terms like – "f–k", "c–t" etc is used quite often, the band name is called "Skullf–ker, not a very moral seeking title" and this are frequently heard throughout the duration of the movie.
Drugs Use and Drunkenness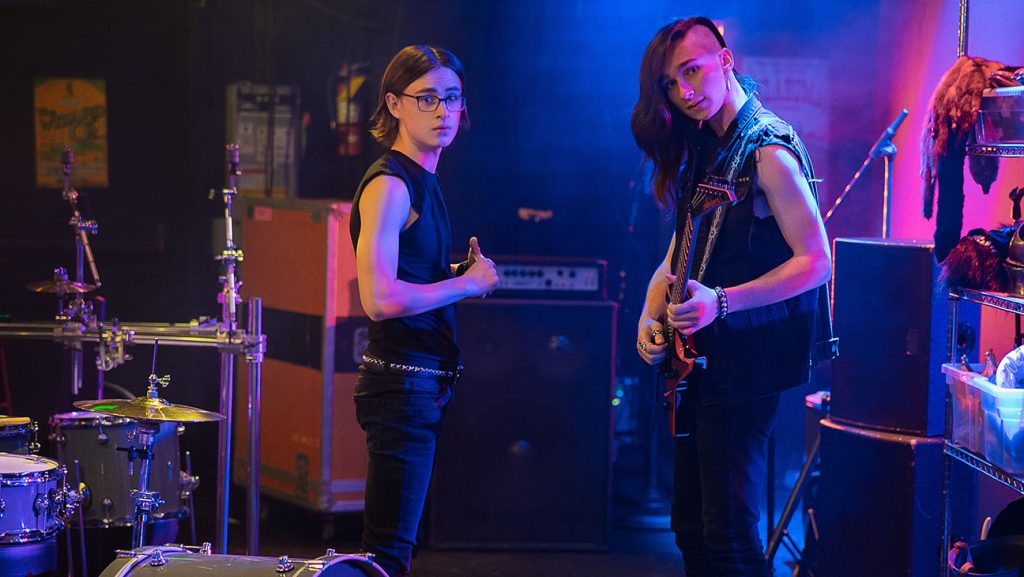 Coupled with the above indecent on-screen display is drinking, getting drunk and drug use by teens. Though, one of the lead character isn't involved in drinking or — while one of the lead characters doesn't drink or use drugs, the other does and gets drunk about twice at parties as portrayed by the visuals. One of the lead characters also struggle with mental illness and gets prescriptions for it by his doctor
While, secondary characters, binge drink and seen to be high.
Bullying
There are some scenes of bullying here and there at some point as common with high school movies. But, these scenes might be a little frightening to very young viewers. Some of this bullying have occurred between the jocks of the school and one of the lead characters is shoved to the ground and humiliated at school, and the other have had his mouth duct taped while the right side of his long hair is shaved off. There is also a scene where his car gets vandalized and graphically defaced. Lastly, towards the movie finale scenes, there is a involving a serious injury.
Conclusion
Ultimately, parents are the forefront of the decision on what is best for their kids and teens including when it have to do with Metal Lords. Do note, they are also scenes that goes loud on healthy self-esteem and confidence in dreams. Also, the metal lords have some touch of the '80s or '90s.
It is always pertinent to find positive lessons from any movie your kids watch and help them dwell on that.
Was this article helpful?