Experiencing errors like Modern Warfare 2 error code 0x887a0005 while loading the map screen or stuck on the Activision logo screen and other errors while gaming is not a new thing although it might get you pissed off; this article will help you to fix the MW2 error code 0x887a0005.
What is Modern Warfare 2 Error Code 0x887a0005?
Modern Warfare 2 Error Code 0x887a0005 indicates that the application has crashed or a file is corrupted while playing game and it mostly comes with the below message:
The application has unexpectedly stopped working.
Select Scan and Repair to restart the game and authorize Battle.net to verify your installation. This will take a few minutes but it might resolve your current issue.
To contact customer service support, go to https://supportactivision.com/modern-warfare-ii
Error Code: 0x887a0005 (0x887a0006) (6068) D
Signature: 79FEC8DA-651D758F-42FE4CF0-3867E6BA
Location: Ox00007FFB8596478C (12702991)
Executable: game_ship.exe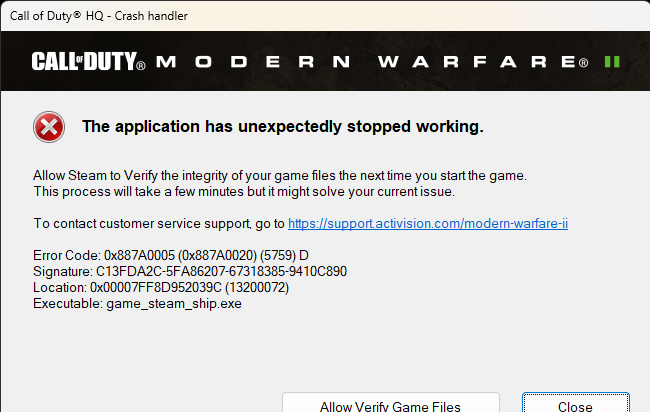 Steps to Fix Modern Warfare 2 Error Code 0x887a0005
First off, check if the game files are complete.
Try Disabling Nvidia Ansel:

Run the command prompt as administrator and type: cd c:\Windows\System32\DriverStore\FileRepository\nv_dispi.inf_amd64_d223212c0a2275b5\NvCamera\
Then, type: NvCameraEnable.exe off

Switch off 'Instant Replay' in GeForce Experience and stop running MSI Afterburner – Reddit.
Roll back the Nvidia Drivers to 522.25 or 516.59 as the new update is buggy and Nvidia is already working on a fix.
Try running Battle.net/Steam as well as Modern Warfare 2 as administrator to repair game files.
Choose the Interface sub-option inside the Settings tab. Scroll down until you find the 'Parallax Effects' and turn it off.
Turn off texture streaming and in-game downloads.
The above guides should be able to fix the crash and get you back to playing Modern Warfare 2 but if it doesn't then go ahead and contact Activision's Customer Care.
Was this article helpful?