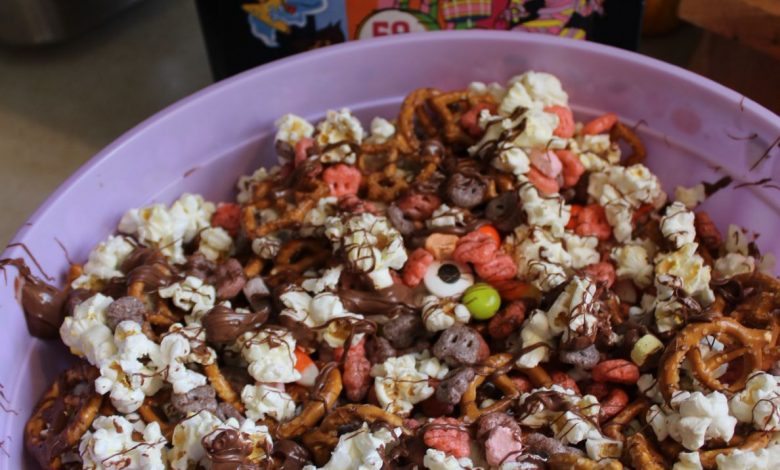 In a few hours it's going to be Halloween proper, and our guess is you have had it pre-planned, making Halloween outdoors and interior decor, as well as shopped for the perfect Halloween costume for the party to look the fiercest in the hall or perhaps highly gorgeous and classy inspite your choice of outfits. But, how about your Halloween dinner plans, especially when you are dedicated to make your kids have a good time, perhaps you might have some friends over too, you best need a special Halloween snack and Monster Mash Munch is a great option.
Monster Mash Munch is a trail mix type snack that can be homemade with a variety of items, and popcorn as it's primary ingredient for the go.Trail mixes can be adapted to just about any theme or holiday with the right snacks and candy.
Here is a quick recipe run down for this particular Halloween Monster Mash Munch.
First, you need popcorn, you could have it microwaved and quantity may vary depending on how many people you are looking to serve.
Add in your popcorn by hands with caution to avoid the kernels to be poured in by mistake.
For a great snack mix add cereals of Count Chocula, Frankenberry, Berry. Though there's a Monster Mash cereal that has all three plus Frute Brute.
Add a sweetener, some salt, pretzels shaped out in Halloween festivities, like pumpkin, unicorn, owls etc. Some colors will be a great fit too.
Your Halloween mix will need some candy corn, so you may want to add that too.
For an amazing taste and flavor as well as to stick them together, melted some chocolate chips and add a few bits of chocolate on top, candy balls to make a catchy effect.
To further make it lovely and enticing, wrap it in take home bags or a beautiful Halloween-themed bowl and serve. You might want to pull in an arm chair for a proper rest drowning in the reactions on your invitees faces.
Monster Mash Munch isn't a rigid snack, it can be spiced to fit your personal taste. Adding cheese-flavored crackers or peanuts are common in it mixes.
Whatever you use in the mix, the goal is to have a memorable Halloween, fun for both kids and adults, do not forget to take pictures for memories to stay fresh.