Having a sweet ride looks cool. I mean classy is the new big so you have to step up your game and what better way than to purchase an expensive BMW to go. Yeah you heard right, BMW is the new fleek you can possibly add to your garage and at most find the one with a good taste you can be proud of.
BMW, an abbreviation of Bayerische Motoren Werke AG, is a German manufacturer of luxury and classy vehicles and motorcycles. Founded in 1916 with its headquarters at Munich, Bavaria in Germany. It produces vehicles in major countries like China, South Africa, Brazil, Mexico, Netherlands, United States, India, United Kingdom, etc.
What's New?
BMW is known for its reputation for car with high performance and body styles, however they have been new additions with some updates to the BMW generation ranging from SUVs, convertibles, sedans to sedans and they include: for electric vehicles we have i4 and iX, for SUVs we have X1, X2, X3, X4, X5, X6, X7, and Alpina XB7 and for coupes, convertibles, sedans and hatchbacks we have 2 Series, 3 Series, 4 Series, 5 Series, 7 Series, Alpina B7, 8 Series, and Z4 Roadster.
Most Expensive BMW 2023
The most expensive BMW for 2023 would be the Alpina XB7. It is a luxury high performance car manufactured by the German automobile company, Alpina owned by BMW.
Interior Design
Alpina XB7 has additional features to its interior design that is not found on the normal X7 like a panoramic sky lounge LED roof illuminating more than 15,000 graphic patterns just like a Rolls Royce. There is also an iDrive selector, illuminated shifter, a start/stop button all made of glass. Alpina XB7 has a seven or six seater configuration where the front row occupiers have 39.9 inches for leg room and 41.9 inches for headroom, the second row have 37.6 for legroom space and 39.9 for headroom and the third row occupiers have 36.6 headroom and legroom suitable and comfortable for an average person.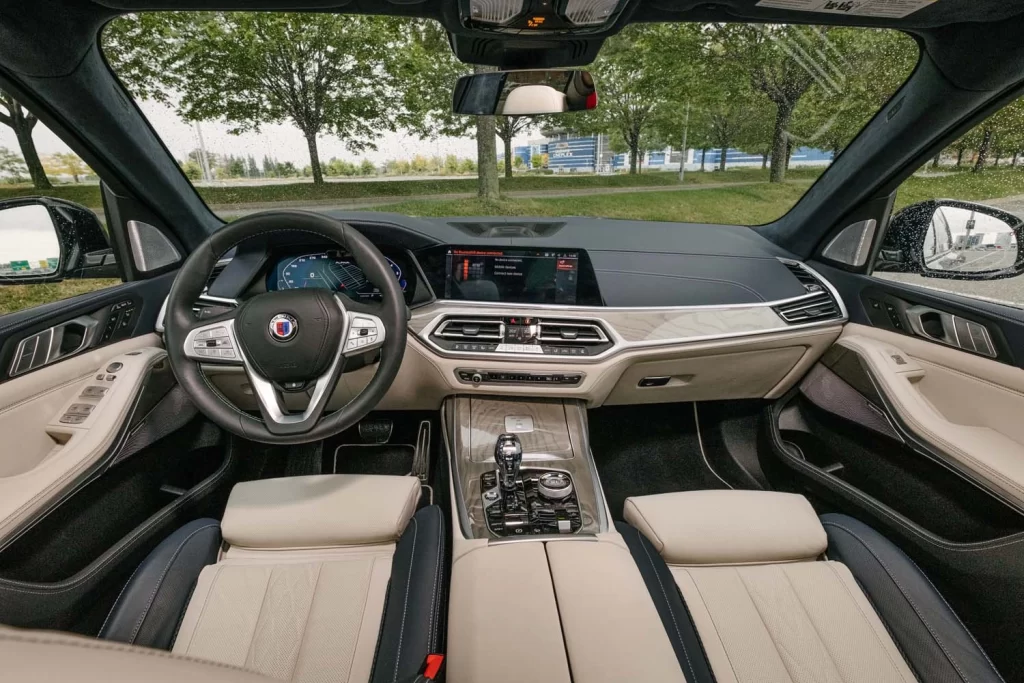 The Alpina XB7 makes use of top-notch interior Merino leather and comes with a nine color options which include Black w/Extended, Black w/Full, Coffee w/Extended, Coffee w/Full, Ivory White w/Extended, Ivory White w/Full, Ivory White/Night Blue w/Full, Tartufo w/Extended and Tartufo w/Full. The exterior has the following colors a buyer can choose from: ALPINA Blue Metallic, Alpina Green Metallic, Alpine White, Ametrin Metallic, Arctic Gray Metallic, Black Sapphire Metallic, Dravit Gray Metallic, Manhattan Green Metallic, Mineral White Metallic, Phytonic Blue Metallic and Tanzanite Blue I.
The car boasts of 18-way adjustable power heated front and rear seats that has memory functions, massaging front seats, 4- way lumbar settings, power adjustable steering, heat/cold cup holders, soft closing automatic doors, quad-zone climate control and two piece panoramic glass moonroof. It also comes with assists of different types ranging from lane keep assist, active cruise control, steering and traffic jam assist, blind spot assist, cross traffic alert, parking assist, frontal collision warning, 3D camera system, city collision mitigation and evasion assistant.
The infotainment of Alpina XB7 is top-notch and does an excellent work. It has Bluetooth, Android Auto, SiriusXM with 360L Apple CarPlay and HD Radio. It has a professional setup making use of two 12.3 inch displays attached at the back of the front seats with iDrive 7.0 software which is operated through touch or voice.
In-car Technology
BMWs' Alpina XB7 comes with a new V-8 engine which is paired with 48 volt mild- hybrid technology by automaker. it can drive a three-row SUV to a speed of 180 mph. The engine has 612 horsepower (5,500 to 6,600 rpm) with maximum torque output of 590 lb-ft which can run a quarter-mile within 12.6 seconds. It comes with a custom exhaust that functions equally.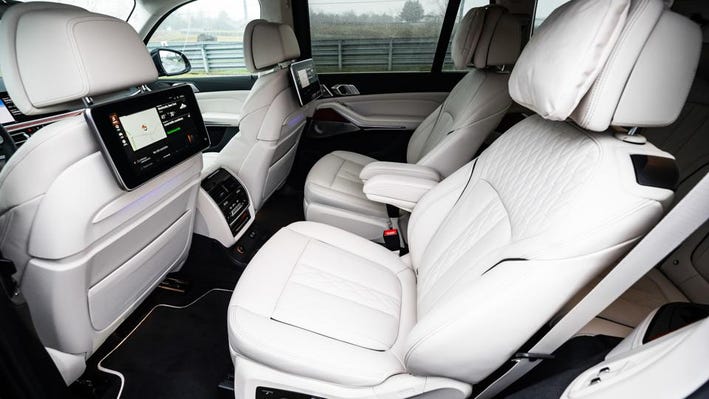 Fuel Economy and Price of Alpina XB7
This car is not prudent with pumps and runs premium gasoline. It can run at 15 miles per gallon of gasolene in the city and 21 miles on the highway and consumes at an average, 18 barrels of gasolene in a year. However the price for the car is at $145,995.
Pros and Cons of the Car
There are some merits and demerits of owning an Alpina XB7 and these includes:
Immense and tremendous acceleration.
It can suffer on roads that are not good.
Exclusive Alpina badge.
Not really different from BMW X7.
Remarkable display of advanced driver assists.
There is a lot of buttons in the car which might make it difficult for users.
Was this article helpful?