Gragix Football
New England Patriots huge take home wins against the Buffalos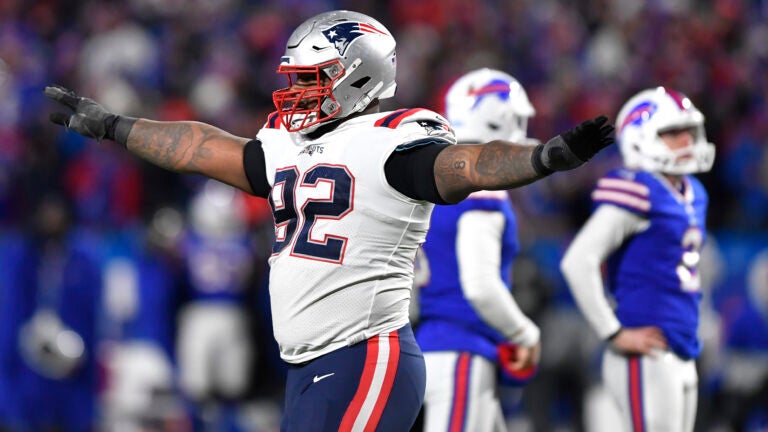 The Patriots just won in a fashion only they might be capable of winning in, which begs the question: how can anyone stop them when they're at full strength?
The New England Patriots are the best team in the AFC, and the rest of the conference just has to deal with it.
They proved it on Monday Night Football in a way only they could, knocking off the Buffalo Bills 14-10 in prime time to push their winning streak to seven games and their record to a conference-leading 9-4.
Offensively, New England beat the Bills on the road with a game plan Amos Alonzo Stagg would've been proud of, repeatedly throwing themselves against the Bills' defensive front to the tune of 222 yards rushing on 46 carries.
Mac Jones completed two passes for 19 yards. In the year of our Lord 2021. And the Patriots won.
On the other side of the ball, the defense lived up to its reputation as the best unit in the league once again with the game on the line, turning the Bills' final two drives away without points in the red zone.
What more can you say about a team that can win a game like this? Let's find out.
The Patriots' conservative approach pays off.
This feels like the kind of thing you might only be able to pull off if you're Navy, Army or a high-school team that had Derrick Henry on it: win a football game by doing nothing but run the football.
Seriously, though: at one point, the Patriots called 32 consecutive running plays before allowing Jones to throw the football with 6:51 left in the fourth quarter—his first and only pass attempt since his second-quarter throw to Jonnu Smith. Jones threw again on his next play from scrimmage, and that was it.
The defense wins the game—again.
After watching the Patriots refuse to let Jones put the ball in the air, watching Allen somehow cut footballs through the whipping winds for seemingly impossible throws felt troubling. Twice in the final quarter, Allen and the Bills' offense moved the ball with disconcerting ease into the red zone. If they scored, it felt like the game would be over.
We trust you liked this article, please subscribe to our YouTube Channel for our videos and you can also be a part of our Facebook family.