Ever stood in the comfort of your bedroom admiring the span of nature around you? This is possible because of the type of window used for your bedroom decoration. In our homes we all seem to need and have windows, not just because it provides ventilation and brightens up the rooms but for aesthetic purposes too and so we go for not just regular windows but windows that fit into our taste and house designs. This is to also they can serve as architectural and add largely to the beautification our homes. they are definitely many types of window that brings warmth and total privacy to your space.
The ever dynamic advancement in architectural designs on a daily basis is responsible for our wide range of taste and quality to our interior designs. Windows have truly undergone change over the years, as that alone is constant. from wooden framed windows to contemporary glass to modern minimalist designs, with their functionality remaining not just constant but improved.
There are a variety of window designs and types to choose from based on your budget, needs, and style since they are core determinant factors in making the best window choice.
Type of Window designs based on how they open
1. Dormer Windows
Since they are usually fixed around the roof top, they project vertically from a sloped roof and are commonly used to bring light into attics. They work well for airing and brightening space including giving a striking exterior design to a home.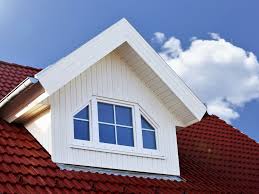 2. Transom Windows
Transom window is a narrow, fan-shaped window just positioned above windows or doors. They primarily enhances aesthetics and creates a focal point on the entrance. Typically, they mostly exist in semicircle shape, square or rectangular ones are available too.
3. Bow Windows
Bow windows are uniquely amazing in the way the spread out, having just that magic to make small rooms look big. bow windows or bay windows have differences rallying around their lengths and shapes. Usually, a bow window is made up of three to six windows of equal size and shape, with straight lines and a bay window comprise of three windows of varying sizes, with a rounded appearance on the building's exterior. This window types provide standard window designs and wider views as well as more natural light.
4. Picture Window
If you ever wanted to replace your opaque doors or walls with see-through glass windows, then picture windows are recommended. They are commonly used in combination with additional windows for an attractive aesthetic. The best place to install picture windows is where they will offer the best views of the outside. Picture windows are only meant to bring in natural light and offer an expansive view of the surrounding without interruption.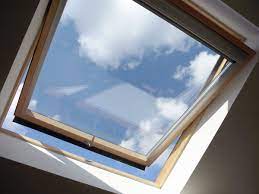 5. Skylight Windows
Is a typical example of a window great to add natural light to a room yet upholding one's privacy. Skylight windows can be used to show off a ceiling's striking pitch, bring the outdoors in, and offer sky and treetop views. Additionally, if operable, high windows can provide a valuable source of ventilation in bathrooms or kitchens.
6. Window Walls
If maximizing views and light is your goal, how better to accomplish it than with a floor-to ceiling wall of glass? Window walls offer the airy openness of a sunroom and connect indoors and out. In this cozy sitting area, the wood window frames and paneled ceiling help maintain a warm feel despite all the glass.
7. Casement Windows
They are long and wide windows which operate by turning a crank. They are usually easy to clean, and provide excellent natural ventilation, and have the flexibility of customizing making them ideal for modern homes in hot climates. Such window designs usually open inward and can be angled to steer natural breeze into the building.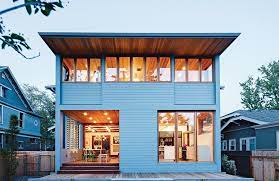 8. Clerestory Windows
A series of stationary windows along the upper section of walls are generally called clerestory windows. They are meant to allow natural light into the room. You can find a number of tiny homes with such windows since they are effective in making the room look spacious and airy.
9. Distinctive Windows
Distinctive window designs can make windows a focal point of your home. The shape, proportion, arrangement, trim, and grille work can be used to design windows that match your unique style. Create a charming accent with a single well-placed window, or make a bold statement with a series of distinctive window designs.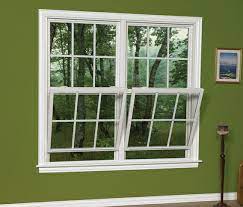 10. Single and Double-Hung Windows
This is a highly common window type for homes. They windows have two sashes that fit inside the frame. Single-hung windows allow only the bottom sash to slide open and closed while the upper portion of the window remains fixed but the double-hung counterpart, allow both sashes to slide up and down to provide airflow and make cleaning easier.
A well-designed entryway makes a positive first impression and reveals the tone of the rest of the house. Entryway window designs, including sidelights and transoms, provide views, light, and architectural character around the front door.
11. Contemporary Windows
The clean lines and open spaces of modern architecture call for windows with a contemporary edge. Thanks to new technology that provides both style and energy efficiency, modern window design is limited only by the imagination. This window style typically showcases large glass panels with few grilles and minimal decoration.
Windows can add drama to your home, creating the desired effect to the house owner or guests.
Was this article helpful?