One dumbbell chest workout is as the name implies an exercise done with a single dumbbell and targets the Chest as well as activate the pectoralis major.
If you are looking for a workout routine that can help straighten your back and shoulder muscles, pecs and more stability to your shoulder joint, dumbbells are a great option.
Types of One Dumbbell Chest Exercises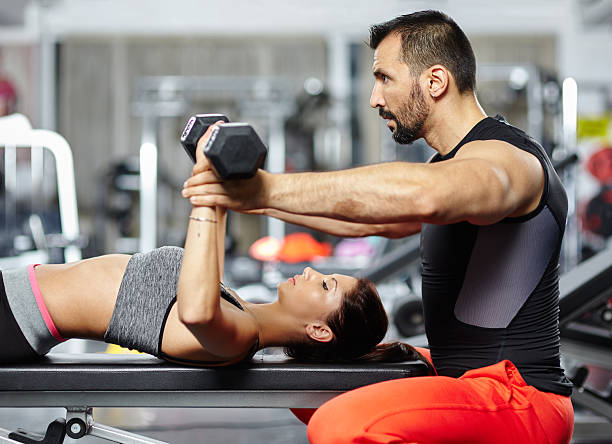 One of the benefits of Dumbbell exercises is in improving your breathing. One dumbbell chest exercise can better your breathing by strengthening and lengthening your chest muscles to expand with every and as a result support deeper breathability and it also improves your posture.
Unilateral Chest Press with Dumbell
A unilateral chest press is a type of one dumbbell chest workout. It involves keeping your body flat on a bench surface, a table bench or couch to ensure you stay injury-free and hold your dumbbell in your right hand at chest level.
Keep your feet firm on the ground the whole time, your neck and back against the bench.
Though many exercises and workouts uses, two dumbbells which in most cases are better than one.
But, in a unilateral chest press where you have your chest muscles at work, you can achieve an excellent strength workout just by using one dumbbell.
Also, using one dumbbell can help you focus on one arm at a time, and you can also address any potential strength imbalance between your arms.
Next, hold out your left arm towards your side.
Root your heels into the ground and contract your abs.
Exhaling, press the weight of the dumbbell straight up over your chest, straightening your elbow.
Inhaling, lower the weight back down to your chest level.
Pick a number of reps and do equal number of reps on each side, you can start with five each.
2. Dumbbell Pullover
Another type of one dumbbell chest workout you can perform at home is the Dumbbell Pullover.
To do this, begin by lying on your back on a flat bench with your feet planted on the floor, while your head and neck is kept resting against the bench.
Hold up one end of the dumbbell in both hands straight above your chest.
Then applying an arcing motion, tilt the dumbbell and lower it behind your head, then allow the free end of the weight to dip below the bench.
Exhale and reverse the motion by pulling the dumbbell back over your chest.
3. Narrow Dumbbell Press
The narrow dumbbell press is also one dumbbell chest workout you can perform at home.
As like the two types above, lie on your back on a flat bench with your feet planted flat against the ground, and your head and neck against the bench.
Next, hold an end of the dumbbell in each hand with your elbow at a 45-degree angle from your ribs region.
Then inhale, and lower the dumbbell to chest height.
Exhale and have the dumbbell pressed straight over your chest.
4. Dumbbell Press Out
The dumbbell press out is also one dumbbell chest workout you can try at home on your own.
Instead of the regular lying on a bench like the three above, start by standing with your feet at hip-width apart, and your shoulders back.
Hold a dumbbell with your two hands at chest height, with one end in each palm.
On an exhale, press the dumbbell straight out, and squeeze your palms inward into the weight.
On an inhale, reverse the motion, and bring the weight back to your chest.
Was this article helpful?