Cyprian Ekwensi (September 1921 – 4 November 2007) was a Nigerian author of novels, short stories, and children's books. He was born in Minna, Niger State. He is a native of Nkwelle Ezunaka in Oyi local government area, Anambra State, Nigeria.
Ekwensi attended Government College in Ibadan. Achimota College in Ghana, and the School of Forestry, Ibadan, after which he worked for two years as a forestry officer. He also studied pharmacy at Yaba Technical Institute,Lagos School of Pharmacy and the Chelsea School of Pharmacy of the University of London.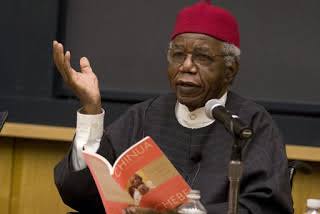 Ekwensi wrote hundreds of short stories, radio and television scripts and several dozen novels, including children's books. His 1954 People of the city, was his first book to garner international attention. Ekwensi's novel Drummer Boy (1960), based on the life of Benjamin 'Kokoro' Aderounmu was a perceptive and powerful description of the wandering, homeless and poverty-stricken life of a street artist. His most successful novel was Jagua Nana(1961),about a Pidgin-speaking Nigerian woman who leaves her husband to work as a prostitute in a city and falls in love with a teacher. He also wrote a sequel to this, Jagua Nana's Daughter.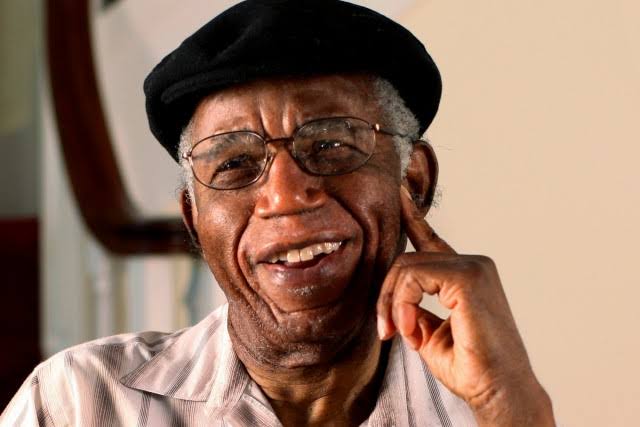 In 1968, he received the Dag Hammarskjöld International Prize in Literature. In 2001, he was made an MFR and in 2006, he became a fellow of the Nigerian Academy of Letters
Ekwensi died on 4 November 2007 at the Niger Foundation in Enugu, where he underwent an operation for an undisclosed ailment.
JAGUA NANA
Jagua Nana is a 1961 novel by Nigerian novelist Cyprian Ekwensi. It was later republished in 1975 as part of the influential Heinemann African Writers Series.
The novel focuses on the contradictions within the life of an aging sex worker, Jagua Nana.The novel is set in the city of Lagos. It been compared to works by Charles Dickens, in terms of its moral assessment of the city and city life. And also its critique of the social problems faced by people living in those cities. Critics in the 1980s noted that the novel relies heavily on stereotypical depictions of women, hampering its depiction of life in Africa.
Jagua Nana is so-called because she is like a Jaguar car – slick and fashionable. At the start of this novel, she is forty-five years old with a boyfriend, Freddie, who is twenty-five, the same age as her son would have been had he lived. Jagua is elegant, sophisticated and sexy. Freddie cannot get enough of her.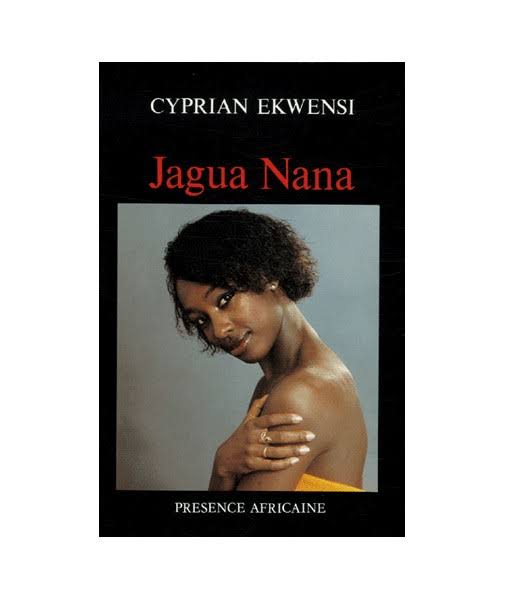 Freddie is ambitious. He is studying to be a teacher and he wants to do law. He would really like to go to England to study, but he knows that that is unlikely to happen without some influence, which he does not have. However, despite his relationship with Jagua, he wants to maintain a semblance of respectability. He takes her to a talk on imperialism which she does not really understand.
However, what she likes to do is to go to the Tropicana Club and dance and, after the lecture, that is just what they do. She loves listening and dancing to Highlife music. Freddie leaves and goes home, while she stays dancing. He is contacted during the night because Jagua has been arrested for fighting. Initially, he does nothing and goes to bed but soon realises that he had better do something and goes and bails her out. She had been fighting Ma Nancy, a rival for a rich man.
Jagua had made money from selling cloth, at which she had been very successful but, for some reason, she is not doing that so much now and seems to make some money from high class prostitution, as rich men – black and white – are very much attracted to her, despite her age. Indeed, fidelity is not a key feature of this book, as we soon find Freddie very much attracted to Nancy, daughter of Ma Nancy, and seducing her.
Worried that Freddie might leave her for a younger woman, Jagua promises to finance his trip to England and help him get the necessary documentation, as she knows many important officials. Meanwhile, Freddie, though happy to take her money, is seeing more and more of Nancy but cannot get Jagua out of his mind. Indeed, he feels that she must be using black magic to charm him. However he is convinced that she is selling her body and tricks her to find out the truth. When she goes to visit him and apologise, she finds that he has moved. When she does find him, she tears up his passport which she managed to get him by bribery and corruption.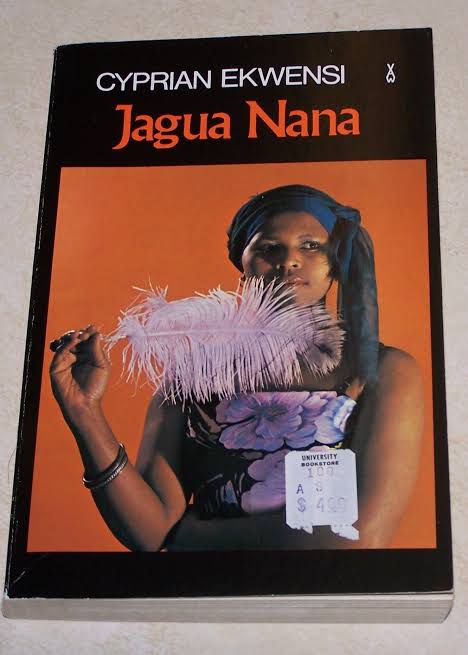 Freddie is now stuck in Nigeria as he cannot get a passport without bribery and has no money to do so. However, he works hard and finally gets a scholarship. Jagua manages to find out when he is leaving and gets a lift from a man, known as Uncle Taiwo, in order to see Freddie off. She now decides that it is time to leave Lagos, at least for a while, and sets off to her parents' village. Her parents are getting old. Her father is a minister and, when she get there, she finds that he is travelling and that her brother has moved into town, where he has married.
So she decides to set off for Bagana, Freddie;s home town, to meet his family. To her surprise and horror, when she gets there, she finds Nancy, mother and daughter. Freddie's parents are also absent. She finds out that Freddie's father is a chieftain but has had a falling out with a relative and that the relative has moved to a neighbouring location and the two tribes are at war. Almost inevitably, it is Jagua that brings them together and who gets a marriage proposal from the other chief. But she does not want to marry anyone but Freddie, so she is off again.
She tries a varied life, working as a merchant princes in the town where her brother lives, then going back to prostitution, before returning to Lagos and the attractions of the Tropicana. There, Uncle Taiwo looks after her, but not before she gets involved with a thief and acts as a fence for him. Uncle Taiwo is a politician and is standing for election so Jagua becomes a politician, giving speeches in favour of Taiwo, particularly when she finds out that his opponent is Freddie. Unknown to her, Freddie has married Nancy and they have two children. He has returned from London and thinks politics is the best way to make money. He finds out the hard way how totally corrupt and violent Nigerian politics are. Despite their opposition, Jagua still loves him.But, of course, that goes wrong, too.
This novel was hailed as an early example of the urban novel in Nigeria and we get to see Lagos in all its glory – high life music, prostitution, corruption, violence but lively and colourful. It is hard for a woman and harder for an older woman but Jagua just about pulls through, against many obstacles. She can be dishonest and immoral but she clearly loves Freddie, even if the good life is her priority. Ekwensi tells a good tale of life in Nigeria at that period but the book will be remembered more for the character of Jagua than for the story.
PIDGIN ENGLISH IN JAGUA NANA
Among themselves the diaspora Igbo spoke various dialects of Igbo. But in the town they adopted Pidgin English as the lingua franca. Pidgin is a hybrid language, derived from several European and African languages. Its grammar and intonation closely resemble the coastal languages of West Africa. In a country as ethnically diverse and commercially active as Nigeria, Pidgin is one of the few elements of national unity
Ekwensi has explained that, like other African writers, he tried to recreate the Pidgin idiom in his novel:
"African writers in English consciously or unconsciously try to Africanise the English language by colouring it with African idioms or pidgin English or in any other way retaining the speech rhythms of the African language" (Ekwensi in Larson, p. 24).
But Ekwensi is also sensitive to the reading abilities of his non-Nigerian audience, so the dialogue of his characters often drifts from one register to another, Pidgin to "broken" (or substandard) to standard Nigerian-English dialects, sometimes within the same paragraph. Example is when Jagua tells Freddie:
But as you is only a poor school teacher you no reach yet for marry Jagua woman. You mus' go train yousself to be a proper man…. Den I kin born chil' for you. An you can look after me, in me old age.
(Jagua Nana, p. 20)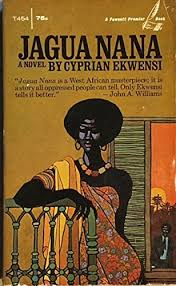 The narrative is anchored in the society of their time, in the tribulations of life in a corrupt fragmented world. The use of a pidginised variety of English is related to the authors' will to represent the sociolinguistic reality and also to "africanize" their discourse. In the first page of the novel, the narrator justifies the use Jagua Nana makes of Pidgin English:
Like Freddie, she was an Ibo from Eastern Nigeria, but when she spoke to him she always used pidgin English, because living in Lagos City, they did not want too many embarrassing reminders of clan or custom. They and many others were practically strangers in a town where all came to make fast money by faster means, and greedily to seek positions that yielded even more money.
The reader is therefore immediately aware that Pidgin English, as it is used in the novel but also in society at large, is not simply a lingua franca in a situation of language contact in heterogeneous speech communities. Pidgin English emerges in a situation of redefinition or even "subversion" of one's cultural self. The protagonists, Jagua and Freddie, as bilingual speakers, have the proficiency to interact in their native tongue, Ibo: they refrain from it not only to merge in a multi-ethnical urban society but also to shape their identities accordingly.
Furthermore, the general grammatical system of Pidgin English is simplified or rather reduced by Ekwensi in the protagonists' elaboration of discourse. The Pidgin Ekwensi uses is the product of history, alterity in relation with central English and genuine Pidgin English and creativeness. Linguistic variation is bound to pragmatic demands in a specific socio-cultural context. The regularities noticeable in the protagonists' discourse shape it and are negotiated in interactions between them and also between the author and his readership.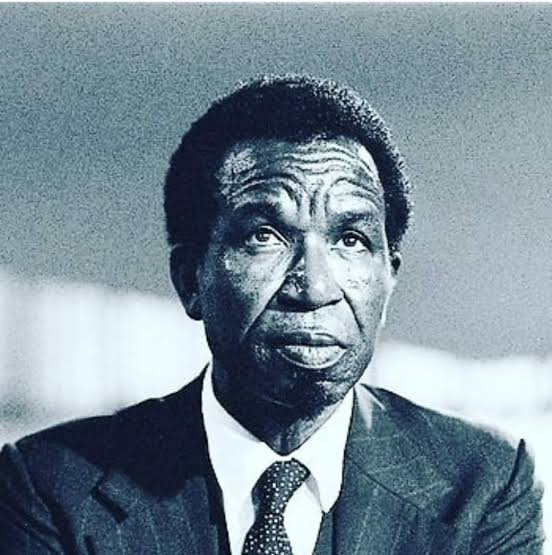 In Jagua Nana, it is mostly the consonantal system that tends to be representative of the phonemic divergences between pidgin and central English:
(People addressing Jagua in a pub)
Then she saw him, already dressed in an English wool suit. He had become an 'Englander'. At the Tropicana they had warned Jagua: 'You takin' big risk by lettin' Freddie go. He goin' to U.K. to forget you. Soon as he reached Englan' he goin' to see all de white gals, and he'll hook dem and come home wit' one. So what you goin' to do? Eh, Jaga? When Freddie go an' return wit'one of dem white women, what you goin' to do? I think you jus' wastin' de money you kin put in trading business, Jag'' (Jagua Nana: 58-59)
(Nancy, Freddie's girlfriend addressing Jagua)
'De harlot woman!' she said aloud. 'De shameless harlot woman! She sleepin' with de Papa, an' she lyin' to de Pickin', and she don't care nothin'. De harlot women! You goin' to die wretched! Vulture will chop you eye!' (Jagua Nana: 100)

(Uncle Taiwo asking Jagua to talk to the market women so that he gains their support) '… Tell dem all de lie. When Uncle Taiwo win, dem will never remember anythin' about all dis promise. Tell dem ah'm against women paying tax. Is wrong, is wicked. Tell dem ah'm fighting for equality of women. Women mus' be equal to all men. You wonderin' what to tell dem? Oh, Lord! Tell dem all women in dis Lagos mus' get good work if dem vote for me. No more unemployment. Women mus' be treated right. Dem mus' have status. Dem mus' have class…' (Jagua Nana: 142)

'Who use to make juju sacrifice, Nancy? You modder?'
'Ah don' call anyone by name. But some woman when she love man, and de man don' love her, she kin come to de waterside in de mornin' an' kill chicken, so de man kin love her' (Jagua Nana: 83)
Ekwensi makes use of the Pidgin language to buttress and beautify his novel.
Was this article helpful?