Stainless steel is one commodity in abundant supply and availability, and of course most likely found in every home as either a work of interior decor or as a kitchen appliance.
Due to it's great luster and lovely feel as well as the style it adds to the home, office etc in our modern world, it remains desirable and in high demand for automobiles and food preparation etc.
The one downside to stainless steel is it care and maintenance which many people struggle with figuring it out. So, many people are stuck on the proper cleaning style or method to use when cleaning and polishing stainless steel.
To actually achieve and maintain that shimmering look of stainless steel is indeed the total aim of this article and we intend to offer the necessary guide you need to keep polishing stainless steel and prevent it from rust, corrosion, dull cast, high heat, bends, and scratches etc. Below is what to do!
Polishing stainless steel in three ways
Clean and prep the stainless steel
Buff stainless steel
Polishing stainless steel
1. Clean and Prep Stainless Steel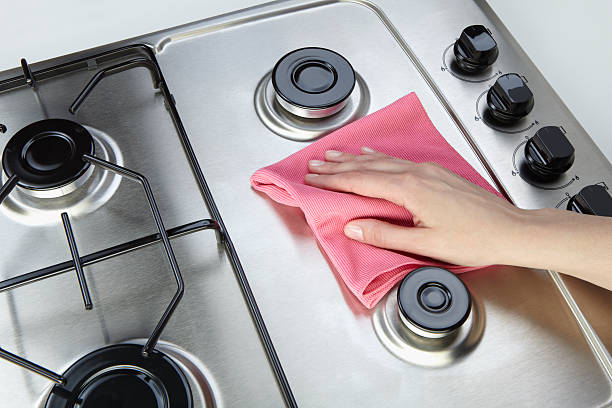 For any stainless steel surface, wooden, glass etc, it is important and ideal to begin by thoroughly cleaning the surface. This way you can get rid of any leftover debris and residue that can make frustrate your polishing result and cause scratches or other harm to the surface.
To do this for stainless steel – use a mild soap (dish soap) and grab a clean sponge to wipe the surface gently.
Rinse off the soapy residue with clean water and mop it dry with a clean towel.
2. Buff Stainless Steel
Usually buffing takes patience and physical strength but if you wish to achieve that glistening look on your stainless steel then you shouldn't dodge this process.
To buff a stainless steel, you need sandpaper of about 150-600 grit.
Next, ensure to move the sander at a 90° angle, that is each time you swap out the sandpaper to a different grit, move about 90° from the previous motion.
When you buff your stainless steel, you can be sure to remove all debris that is caught in the cracks, and crevices. Also, the true reflection of your stainless steel comes to play and the dull appearance gives off.
This way you can literally see your reflection, especially when it has to do with food and kitchen items.
3. Polishing Stainless Steel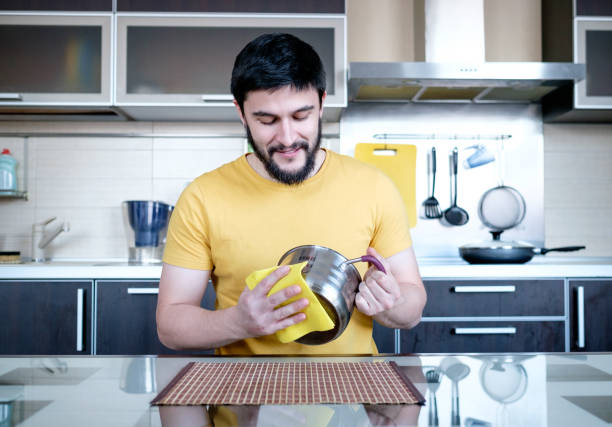 Polishing stainless steel is the last process on the list of how to polish your stainless steel. Here you need less of elbow grease, and a little more finesse. Polishing is also the hallmark of your work on your stainless steel so far and makes you appreciate its beauty and your efforts.
Hand Polishing Stainless Steel
Start by getting rid of any excess debris left during the buffing process. Then, get a clean dry cloth,and a sheen with a commercial polish.
Start at an edgy point and work across the surface in circles.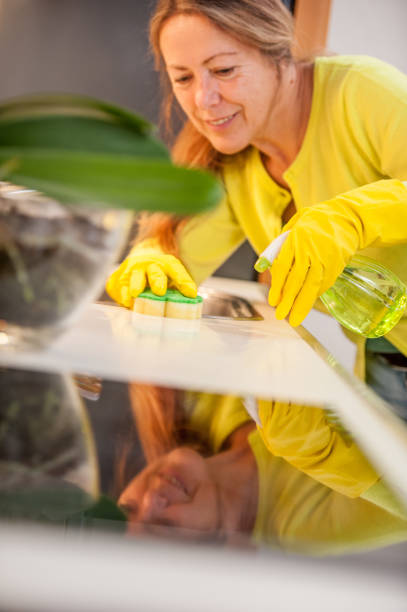 This should not take too long except your stainless steel surface is wide, but ensure that you wipe off any excess polish with a clean, dry towel.
Machine-Polishing Stainless Steel
You may consider using a machine to polish your stainless steel as it may be more efficient, and leave a shinier outcome.
You can do this with a good stainless steel polish and the use of a polishing wheel. As usual, wipe and clean off any debris left from buffing, to get the best results after completing the polishing process of your stainless steel.
Conclusion
If you follow the basic guidelines of polishing stainless steel captured above, you can most certainly reach the desired finish you want for your stainless steel free of scratches and looking shiny and new without any blemishes or streaks.
Was this article helpful?