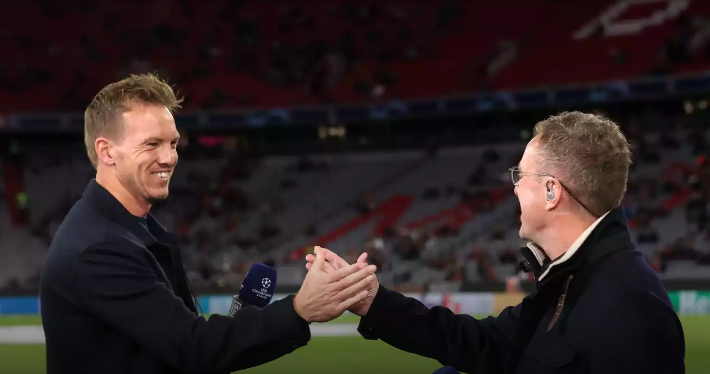 Ralf Rangnick – a 63 year old German man whose praises go before him as far as football and coaching is concerned. With a football coaching career that has not less than four decades record, Ralf Rangnick could not be any less celebrated. Ralf have imparted so much, so long and in the lives of so many players particularly in modern European Football. It is therefore not surprising the accolades he has and still is receiving from influential names the world over, especailly as he now ascends the new position of interim manager for Manchester United Club. Though, this new position seems to be only for a moment (a six-month contract in the position and also agreed a further two years beyond that in a consultancy role.) Though looking on the brighter side for Manchester United, this could be the change the club needs in 6 months.
WHY RALF RAGNICK IS IDEAL FOR MANCHESTER UNITED NOW
Manchester United Football Club have been a dogged and medal winning team, among which times they have been the buffalo's of European football particularly in 2012-13 season when they had secured the premiere league and had been 11 points away from Manchester city who won second place, they were then coached by Sir, Alex Ferguson and it's been almost ten years now.
"I am excited to be joining Manchester United and focused on making this a successful season for the club," Rangnick said. "The squad is full of talent and has a great balance of youth and experience. All my efforts for the next six months will be helping these players fulfil their potential, both individually and, most importantly, as a team."
You could literally feel the excitement in his voice and the willingness to give his best to the best football club and this is something the team should watch out for.
Ralf Rangnick carrier as a coach and how he can be useful to Manchester United
Rangnick has been a huge inspiration to several Champions League winners and a handful of the Bundesliga's top clubs and current coaches have benefited from his wisdom and advice to better their career, mentoring them in diverse ways and times.
The Liverpool manager is probably the most notable proponent of Gegenpressing, the all-action counter-pressing style first developed by Rangnick in the 1990s. says Klopp
The countdown clock was a training method he has used to develop the quickness of mind in his players. "We've had a countdown clock custom made for us," he said during his time at Hoffenheim. "The assistant coach activates it and it starts ticking. We use it for a game called the eight-second rule. The players can hear that ticking and they know they have to get the ball back within eight seconds or, if they have possession, they need to take a shot within 10 seconds. It can be irritating for them at first but what we noticed is this type of training can affect players. Within weeks, they adjust their style of play and it becomes an instinct."
"Yeah, unfortunately, a good coach is coming to England, to Manchester United. That's how it is. He's obviously a really, really experienced manager. He built most famously two clubs from nowhere to proper threats and proper forces in Germany with Hoffenheim and Leipzig. He's done a lot of different jobs in football but always his first concern was being a coach actually, being a manager, and that's what his best skill is. United will be organised, I think, on the pitch. I think we should realise that and that's obviously not good news for other teams."
THOMAS TUCHEL among others like Ralph Hasenhuttl, Jurgen Klopp and Julian Nagelsmann – had put in some good work for Ralf Rangnick, admitting to his diverse coaching skills that helped him way back.
Ralf Rangnick had previously managed a number of big clubs in the European football, including Champions League holders Chelsea, having begun his coaching career at age 25.
"Ralf is someone who loves to move things on, 24 hours a day. I like his drive towards improving and developing things, and his attention to detail. He's very, very demanding, but it's never personal. He wants the project to move forward. I remember once winning 7-0 and he wasn't totally happy. He felt we could have scored four or five more goals." said Glasner.
As a coach, he is known as the 'Godfather of the gegenpress' and is given credit for influencing the work of the likes of Jurgen Klopp, Thomas Tuchel, Julian Nagelsmann and Ralph Hasenhuttl. He himself had developed ideas from tacticians such as Valeriy Lobanovskyi and Arrigo Sacchi, putting these into practice when showing his prowess with Ulm, who have only ever played one season in the Bundesliga.
We trust you liked this article, please subscribe to our YouTube Channel for our videos and you can also be a part of our Facebook family.