What a Swiffer Wet Jet Is:
When you own a swiffer wet jet, you know you got yourself an all-in-one mopping system that could be used straight from the closet, when a cleaning solution is sprayed on a pad, the uniquely designed, dual nozzled Wet Jet mop.
The dirt, grime and moss will dissolve while the thick pad will absorb it deep inside so it stays in position. But usually, the challenge lies when the bottle of cleaning solution is empty and you want to refill it with another cleaning solution. Most times to unscrew the cap to refill it is very difficult and tacky.
What You Need
Cork or another type of plug
Tools
Drill
Drill Bit
How to Refill Swiffer Wet Jet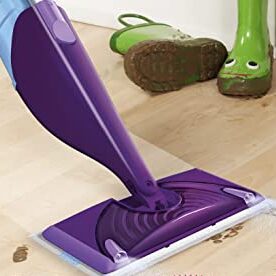 Whatever your choice of cleaning agent, you need to know how to refill the swiffer jet container.
You cannot just pry the cap off of the bottle and have it refilled, because you might end up spoiling or breaking it, why not try to make a new one. Yes, that's right, you can make a new swiffer wet jet bottle.
Grab a cork and a big drill bit.
Drill into the top of a Swiffer Wet Jet bottle so you can refill it, by making a hole in the top of the Swiffer container. This can be easily done with the bottle still in the Swiffer because it holds it still.
The size of hole you drill doesn't matter, it just needs to be big enough to pour cleaning solution and water into and you need to have a cork that will fit into it tightly. If your cork doesn't fit tightly you can make it bigger by soaking it in hot water. An hour or 12 hours depending on how much bigger you need the cork to be, and If it gets too big, can shave it down with a knife.
Little bits may fall into the container while you do so, therefore ensure that you remove the Swiffer container and shake it until all the plastic bits fall out.
On top of the swiffer wet jet bottle, write as a direction and reminder "4 tsps" of cleaner to 1.4 litres of water written in marker, that is if your cleaner needs to be mixed with water, write on the bottle how much cleaner you need to add to the filled container. to remind you how much cleaning solution to put in.
Fill the container with your cleaner and water, you may use a funnel to make it easier if you want.
Plug the hole with your cork or stopper.
Done! You now have a refillable Swiffer Wet Jet.
Instead of buying their disposable cleaning pad, use a microfibre cloth. It will velcro right on the bottom just like the original Swiffer pad but it does a better job of cleaning and you can just toss them in the washing machine to reuse over and over.
Was this article helpful?