We all know what upholstery is and it role in our furnitures, giving it that soft padded feeling we desire to be comfortable. But, how much of reupholstery do we know and how can it be of benefit and when should we consider it for our priced furnitures. This article will help answer these and more to get you fully informed.
What Is Reupholstery?
Reupholstery is the art that revives the aesthetic value of a furniture by covering it up in the latest, new and comfy fabrics in a way that it does not compromise on the comfort and style of the original design.
Reupholstery requires a lot of processes, and techniques. This is because different styles of furniture require different techniques of stripping up a piece to the frame, reinforcing the frame and the joints, replacing coil springs and zigzag springs—and also to mention the complexity of fill, padding, and fabric. Every reupholstery process requires generally inspection before the commencement of the process. It takes time and it is labor-intensive involving specialized skills.
Here gives you an idea of what goes into reupholstering your furniture, by knowing what to consider
Be Sure the Piece Is Actually Worth Re-covering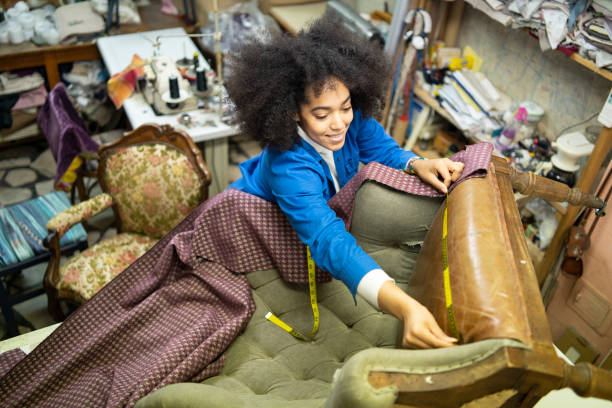 Reupholstering work for just about any kind of furniture eg: a slipper chair, ottoman, wingback chair, sofa, pillows of all kinds etc. Your furniture should be worth recovering and that can be deciphered if the furniture has good construction or lines for fix up—it's not structurally enough and still possess a well-made frame.
Visit Workrooms Before Deciding on an Upholsterer
Make a visit in person to workrooms, brfore choosing an upholsterer for your furniture. Request to see previous jobs and frames. any good upholsterer will be glad to indulge you. Because, they are aware you want to hve vlue for you money and entrust them with your furniture which may have other values to you other thn being monetary. Moreover, it's really the only reliable way for a client to be convinced their furniture are in experienced hands.
Carry Along Visuals to Convey Your Preferences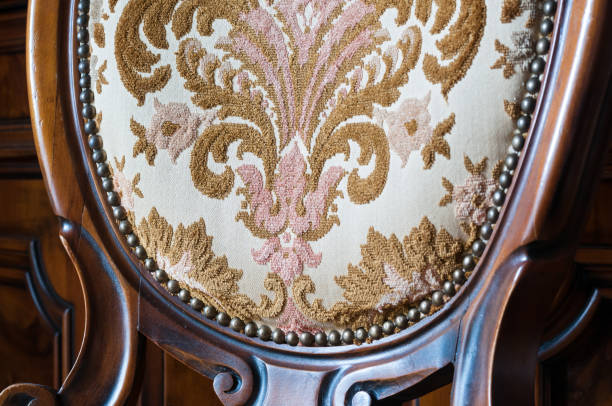 To have a more vivid and crystal clear communication of your reupholstery preference especially if you do not want to DIY it, you will need to go with some visual data, i.e (drawings, images, inspiration boards, fabrics, materials) soft or hardcopy can be both very effective and handy. This is because "A picture really is worth a thousand words!" it will "help and guide your upholsterer to understand his client as well as achieve the look that suits his or her preferences.
Be Clear Your Need to Stick to a Budget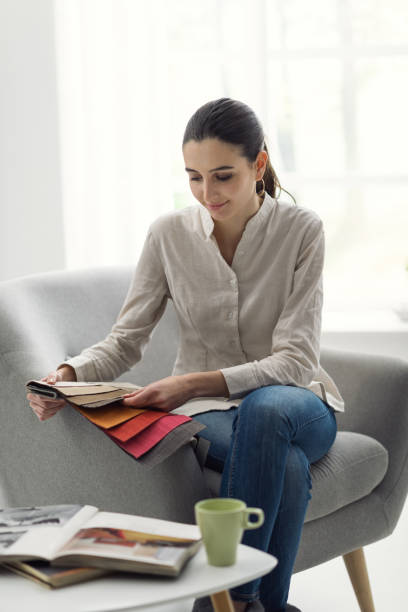 Rather than attempting to walk around the reality of your low budget, by taking credits etc or perhaps overspending from another project's budget, be up front with your upholsterer about your exact budget for reupholstery and find a way you both can work with that. "Example – you could opt for alternative options that are less expensive as regard fabrics but yet durable that is still capable of working well for your furniture, also, alternatives on canvas from the art supply store or vintage fabric, can be a creative and more cost conscious option.
Accept That There Might Be Hidden Costs
After his upholsterer has stripped a given piece down to the frame, Lewis plans a time to come talk through the next steps in person. "At that stage, you'll see the entire frame and see what condition it's in," he says, noting that you won't really know what you're up against until you get to that point. "Does it need to be treated for woodworms? Get the joints fixed? If the legs are scuffed, get the varnish redone before you put the lovely new fabric on." Flourishes, likewise, will up the tally. "The more details added, the more costly the piece," says Michaud, "Nailheads, special trim applications, changing the finish of the exposed wood, etc."
Be Wary of the Cheapest Quote
True in a variety of situations but also with upholstery: "Generally you want to avoid the cheapest quote," Lewis warns, pointing out that if you're upholstering a settee you're going to have for 50 years, such savings (versus a botched or poorly handled job) are insignificant. Michaud echoes this: "At the lower end, glue might be used to apply the material, which can discolor the fabric and will often fail and dry out, while at the high end, labor intensive hand-sewing is the proper way to finish a quality piece."
Hope for Shorter Timespan, Plan for More
Depending on how complex the job is—and how many issues come up once the condition of the frame is revealed—Michaud says that "it generally takes about a full week from start to finish to complete a piece properly" but that obviously they'll require more time for a complicating factor like restoration or refinishing.
Was this article helpful?