An admirable yoga exercise it is indeed. Yes, the scorpion pose also referred to as "Vrischikasana" with Vrischika meaning "scorpion" in Sanskrit, so a literally direct translation. The scorpion pose, been practiced throughout the 20th century and categorized into I and II, it is a pretty advanced and technical yoga posture, not ideal for everybody and craves high professionalism as well as physical and medical fitness to attempt or practise.
It is called scorpion pose because it requires your legs to be bent like a scorpion's tail. Scorpion Pose requires sufficient core strength and shoulder movement, as it involves an enormous backbend to pull off.
What To Have In Mind Before Attempting the Scorpion Pose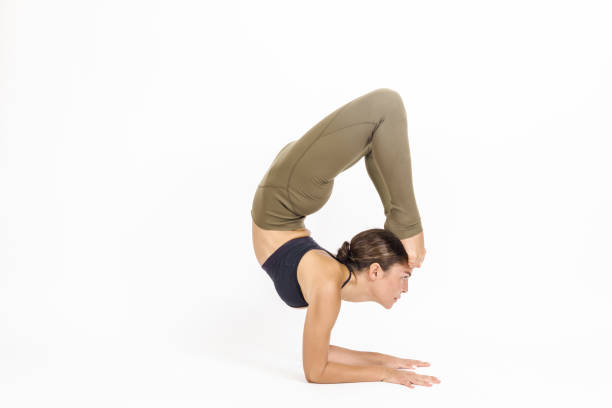 This article seeks to help you achieve your yoga dreams in the safest way possible, read below to be fully guided on what and whatnots to do before trying out the Scorpion Pose Yoga.
Unsafe for yoga beginners
Have a professionally certified Yoga Instructor to confirm that you are safe to progress into this advance form of Yoga
Be comfortable in a handstand before trying the scorpion pose
Start scorpion practice by the wall – ensure you can perform postures like Headstand (Sirsasana), Handstand Pose (Vrisksasana), and Forearm Stand before you attempt Scorpion Pose.
Ensure that you are highly flexible, physically and medically fit,a yoga practise should be free of pain.
Do not attempt this pose if you have hip or back problems, high blood pressure, or pregnancy.
Avoid practicing any inversion if you have glaucoma.
How To Perform the Scorpion Pose
Step-by-Step Guide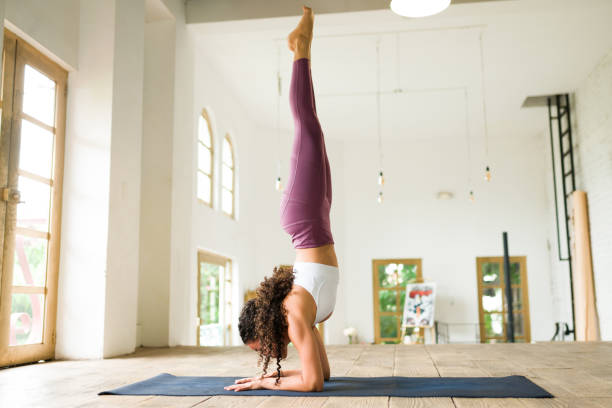 Before you kick start, move your hands about a foot from the wall. Come to a forearm stand on your mat with your legs together.
Begin to bend one knee and charge the straight leg overhead.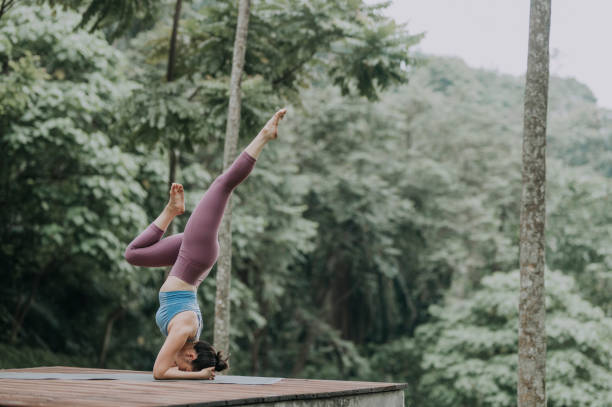 Pull your spine into a large curve, in the process and look forward slightly to lift your head without compressing the back of your neck (cervical spine).
In forearm stand, your hips are pretty much over your shoulders. For your body to move into the classic C-shape of Scorpion, your hips and pelvis will begin to drop forward and hover over the top of your head. This is evident as you begin to curve your spine into extension.
Draw your two big toes toward each other to touch as your knees remain separate and wide.
Be cautious of collapsing into a backbend and compressing your lumbar, ensuring you are emphasizing strength and stability over flexibility. Acknowledge when it's time to stop—you should discontinue if you are experiencing any pain.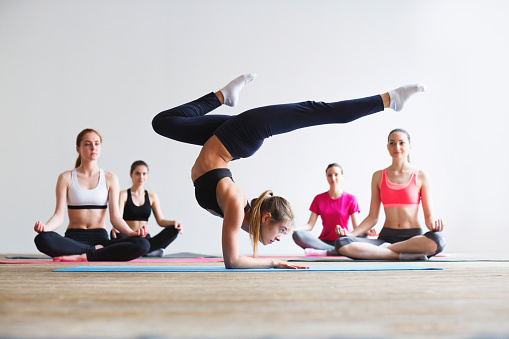 If not, draw your toes toward the crown of your head, you should have a very distinctly deep backbend- scorpion pose Alas!.
To come out, straighten your legs, by passing through a forearm stand before you lower one leg down at a time to the floor to neutralizing your spine.
Rest a while, in Child's Pose can help counter the intensity of Scorpion pose backbend, and help draw your spine into flexion.
Benefits Of Scorpion Pose (Vrischikasana)
It helps to strengthen your shoulders, your arms, your core, and spine by improving it flexibility.
It stretches your hip flexors and chest muscles aiding better respiration.
Was this article helpful?